Looking to step out on your relationship for a little bit of strange? Read on to find out which U.S. locations are the best bet for a fling.
Florida is not only famous for alligators, Disney World, foolhardy COVID-19 policies and its daily "Florida Man" headlines, but it is also the home of three of the Top 20 cities that Ashley Madison recently said have lots of cheaters. No wonder it's been referred to as America's wang!
Miami, Orlando, Florida, and Las Vegas were the top three cities for cheating, according to a report published in The Journal of Sex Research, with Tampa, Florida, landing in the Top 10. While those locations are known for their warm weather and wild nights, more seemingly vanilla locations also made the Top 20 list. Here's looking at you, Boise, Idaho, and Anchorage, Alaska!
One reason the Sunshine State might be jam-packed with furtive fuckers? The sheer abundance of available females to screw around on your spouse with.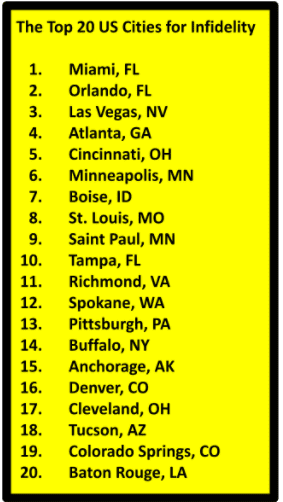 "I cheated on my wife in 2020, but I also did it before the pandemic," Marco* tells HUSTLERMagazine.com. "I live in Miami and there's just girls everywhere. I can meet them on a night out or online. So far, I've never been caught by my wife, and I think cheating saves our marriage. She doesn't like to give head or try new things, and these girls I meet are just more adventurous."
Dr. Ashley Thompson, associate professor at the University of Minnesota Duluth, was the principal author of the Ashley Madison research project. The inspiration for the study sprung from her doctoral work on infidelity, and the study itself gave her unique insights into unfaithfulness. Interestingly, Dr. Thompson learned that sometimes extramarital sex could improve a marriage.