Cartoons
More 'Toons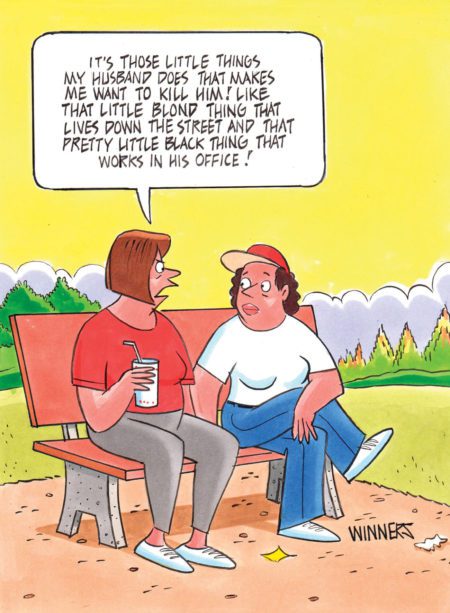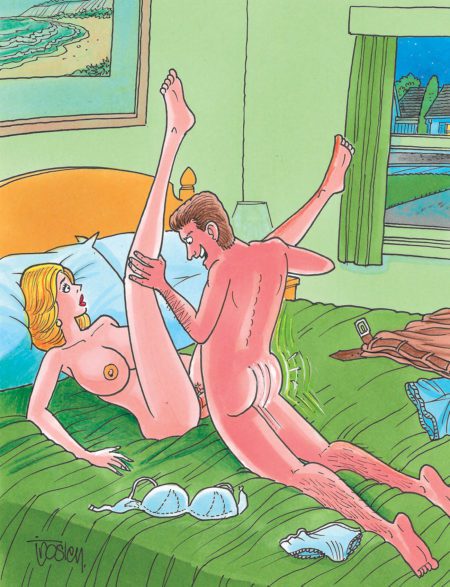 "Quit worrying about your husband coming home. He's at my house, fucking the missus."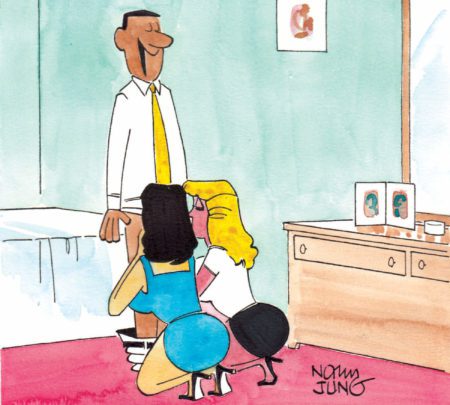 "I've always said, two heads are better than one!"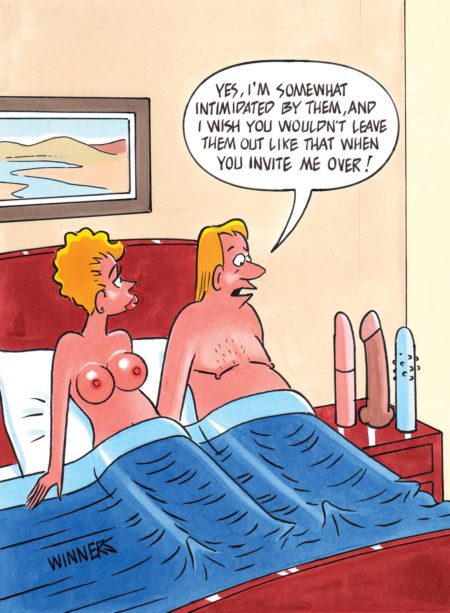 A lesbian went to a gynecologist for a downstairs checkup. He looked inside and exclaimed, "Ma'am, your vagina is one of the cleanest I've ever seen during all my years as a gynecologist."
"And it should be!" the lesbian asserted. "I have a woman come in three times a week."
Fiona and Mark were a married couple who lived on the 40th floor of a condo. One afternoon Fiona was having sex with her lover, a hunk named Jason, when she heard her hubby arriving home early. Fiona told Ja son to stand still and not move a muscle.
"What's this?" Mark asked after noticing the naked dude in their bedroom.
"It's the robot I bought to have sex with when you aren't here," Fiona fibbed.
"Well, since you're already naked," Mark bellowed, "let's have sex right now!"
"I'm sorry, sweetheart," Fiona murmured. "My period just started. Let me get you a glass of wine."
After his wife left, Mark thought, I'm so horny, I'm gonna fuck that robot. As he stepped behind him, Jason announced in a robotic monotone, "System error. Wrong hole. Please step away."
"Damn robot!" Mark shouted. "You're a worthless piece of shit! I'm gonna throw you out the window!"
Remembering he was on the 40th floor, Jason stuck with the robotic act: "Software updated. Please try again."
Question: Why do redneck couples prefer doggy-style?
Answer: They both can watch wrestling while having sex.
When asked by his father if he knew about the birds and the bees, the young boy exploded: "Look, Pop, I found out there was no Santa Claus at six, no Easter Bunny at seven and no Tooth Fairy at eight. If you're going to tell me that grown-ups don't fuck, I've had it!"
Cole and Mimi were invited to a masquerade party. But at the last minute Mimi had a terrible headache and told her husband to go alone. Off he went, and she took some aspirin and dozed for an hour.
Awakening free of pain, Mimi decided to go to the party. Cole didn't know what she'd be wearing, giving her an opportunity to see what he did when she wasn't with him. Mimi spotted hubby cavorting around the dance floor with several attractive women, copping a little feel here and there.
Mimi sidled up to him and, being a seductive babe, let her dance partner go as far as he wanted with his hands. Then he whispered a proposition in her ear, and they dashed off to an empty room and had a quickie.
Just before midnight, when the revelers had to unmask, Mimi slipped away, drove home and put her costume away. She was reading when Cole ambled into the bedroom. "How was the party?" Mimi asked.
"Same old, same old," Cole muttered. "I never have a good time when you're not there."
"Did you dance with anyone?"
"I didn't dance at all," her husband replied. "After I arrived, I ran into Pete and Bill, and we ended up playing poker all night. But you're not gonna believe what happened to the guy I lent my mask and costume to."
As the groom got into bed next to his young bride, he whispered, "Will I be the first to do this to you?"
She giggled, then said, "What a silly question. I don't even know what position we're going to fuck in yet."
During a round of golf a Swedish woman bent over to place her ball on a tee. Suddenly a gust of wind lifted her skirt, revealing her lack of underwear.
"Good God, Inga!" her husband hollered. "Why aren't you wearing any skivvies?!"
"You don't give me enough money to af­ford any," Inga replied.
Her mate reached into his pocket and said, "For the sake of decency, take this money and buy yourself some undies."
Next up was Colleen, an Irish lass. When she bent over to put her ball on a tee, the wind made her skirt fly up too. "Blessed Vir­gin Mary!" her husband roared. "Why aren't you wearing any knickers?"
"I can't afford any with the money you give me," Colleen snarled.
Her husband reached into his pocket, forked over 20 euros and said, "For the sake of decency, go buy yourself some knickers."
Finally a Scotsman's wife bent over to get her ball on a tee, and-you guessed it-a gust of wind blew the lady's skirt clear over her head, exposing her overgrown bush. "Sweet mother of Jaysus, Aggie!" her hubby howled. "Where ta hell are your drawers?!"
"You never give me enough money to af­ford them," Aggie responded.
Hearing that, the Scotsman reached into his pocket and growled, "Well, for the sake of decency, here's a bloody comb. Tidy yer­self up a bit."
Question: When is it okay to kick a midget in the nuts?
Answer: When he's standing in front of your girlfriend and says her hair smells nice.