Cartoons
More 'Toons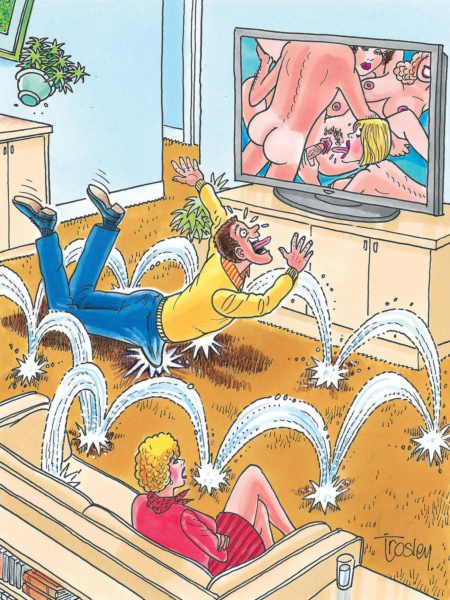 "These sex films leave me cold. Don't you agree, Donald?"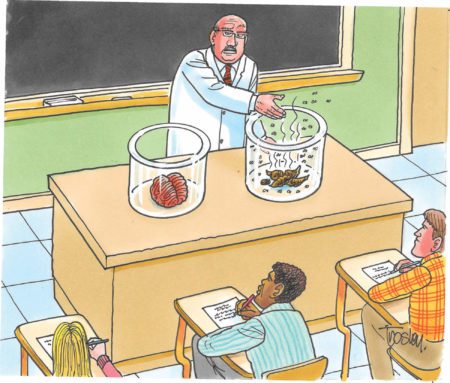 "However, here we have a human brain that was exposed to repeated Republican bullshit."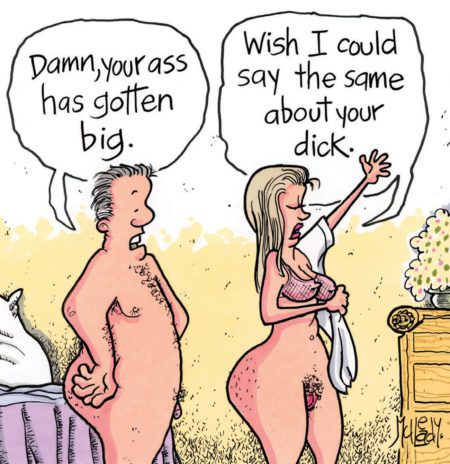 Question: What do a hurricane, tornado, fire and divorce have in common?
Answer: They are four ways you can lose your house.
Liza told her roommate Shelley, "My gynecologist recognized me at the supermarket this morning."
"You're gonna have to start wearing longer skirts," Shelly advised.
Little Johnny was late getting to school one day. "I'm sorry, Miss Evans," he told the teacher. "I had to make my own breakfast this morning."
Miss Evans accepted his excuse, but decided to punish the tyke anyway. She ordered Johnny to stand in front of the classroom and answer some geography questions. "Tell us where the Canadian border is," Miss Evans asked him.
"In bed with my mommy!" Johnny shrieked. "That's why I had to make my own fuckin' breakfast this morning!"
A young man walked into a pharmacy, grabbed some condoms and paid the clerk. Then he walked out the door, laughing hysterically. The pharmacist thought this was weird, but figured that there wasn't a law prohibiting wackos from having safe sex.
The next day the customer returned to the pharmacy and again bought condoms and walked away laughing. This really piqued the pharmacist's interest. What's so damn funny about buying condoms? he mused.
The pharmacist told the clerk. "If that weirdo ever comes back, I want you to follow him and see where he goes."
Sure enough, the following day the guy came back, bought condoms and cracked up as he headed for the door. "Okay, go follow him," the pharmacist instructed.
An hour later his employee came back. "Where did that weirdo go?" the pharmacist asked.
"Your house," the clerk replied.
Did you hear about the night janitor who, thinking it was empty, walked into an executive's office late one night? He scared the boss out of his secretary.
Walt bumped into his ex-girlfriend Janice, from whom he'd recently parted on bad terms. "I was having sex with another woman last night," Walt announced, "but I was also thinking of you."
"Because you miss me?" Janice excitedly asked.
"Nope," Walt replied. "It stops me from coming too soon."
Bubba got fired from his bingo-caller job. Apparently "a meal for two with a hairy view" is not the way to announce "69."
A married couple was sound asleep when the phone rang. The husband rolled over, grabbed the phone and said, "Hello." He listened to the caller and then growled, "How the hell am I supposed to know? It's 300 miles from here." Angrily he slammed down the phone, waking up his wife.
"Who was that?" she asked.
"The asshole didn't say," hubby muttered. "He wanted to know if the coast was clear."