Cartoons
More 'Toons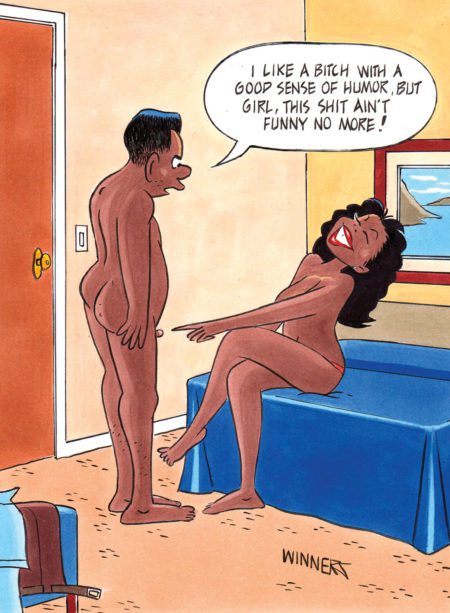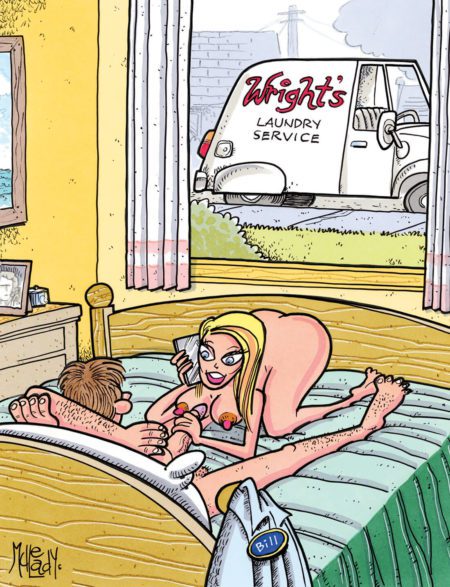 "I'll see you when you get home, dear. I'm just getting familiar with the Bill of Wright's."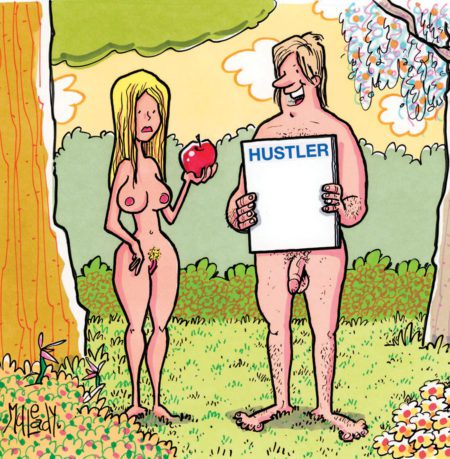 "C'mon, Eve! Bite the apple and we can fill this magazine with hot naked chicks and hilarious fucking cartoons!"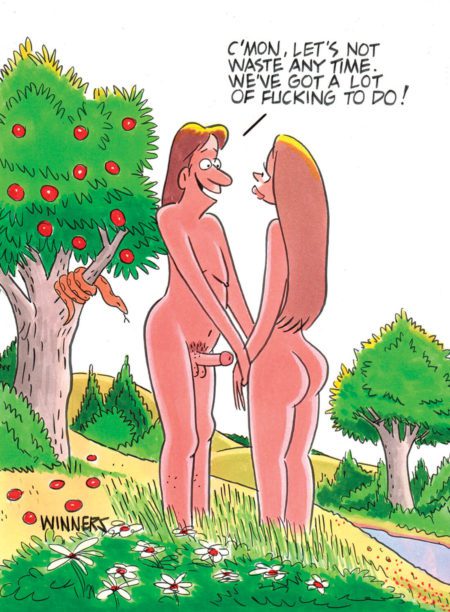 One Sunday morning an old woman named Agnes got to her church service late because she couldn't find her hearing aid. Not wanting to be noticed, Agnes sat in the back pew.
As the pastor continued his sermon, he said, "I want everyone who has committed the sin of adultery to stand up."
"What did the pastor just say?" Agnes asked the teenager sitting beside her.
"He said if anyone wants a mint, stand up," the lad replied.
Without a care in the world, Agnes stood up—no one else had—and approached the altar. Outraged, the pastor demanded to know why she was standing.
"I may be old and toothless," Agnes admitted, "but that doesn't mean I don't enjoy sucking one from time to time."
A duck was about to cross the road when a chicken intervened.
"Don't do it, man!" the chicken exclaimed. "You'll never hear the end of it!"
Ronald died and went straight to hell. Satan greeted the lech and declared, "You have to pick your torment. Pick wisely because this will be your torment for all of eternity."
After going through dozens of rooms, Ronald couldn't decide until he came upon one that looked promising. A man was sitting on a couch, watching a football game on TV and getting a blowjob from a gorgeous cheerleader.
"That's what I want to do for eternity," Ronald told Satan.
"Are you sure?" the devil prodded. "This will be your torment for all of eternity."
"Hell, yeah, Satan!" Ronald screamed hysterically.
With a sinister grin, Satan stepped over to the cheerleader and said, "You can stop sucking that guy's cock now. I found someone to replace you."
Fiona hadn't been home for more than three years. When the Irish lass finally returned, her father yelled, "Where have you been all this time?! Why didn't you call us or send a postcard? Your mother has been worried sick."
Starting to weep, Fiona explained, "I was too embarrassed to tell you, Daddy. I became a prostitute."
"Out of here, you shameless hussy!" her father roared. "You're a disgrace to this strong Catholic family!"
"Aye, Daddy," Fiona murmured, "as you wish. I just came back to give Mum a fur coat and you and Mum the deed to an eight-bedroom mansion, a membership at the Limerick Country Club and a check for 5 million Euros. I also have a Rolex watch for me little brother Seamus, and parked outside is a sparkling new Mercedes convertible for you."
Fiona caught her breath and added, "And I'd like you all to spend the holidays with me in the Caribbean on my yacht."
Fiona's father was flabbergasted. "Now, dear, what was it you said you became?" he asked.
"A prostitute, Daddy. I'm so sorry."
"Oh, good heavens!" the Irishman bellowed. "You scared me half to death, Fiona. I thought you said Protestant. Come here and give your old daddy a hug."
While making his rounds, a policeman checked out a used-car lot and spotted two elderly women sitting in one of the vehicles. Since the business was closed for the day, he walked over and muttered, "This looks suspicious. Are you ladies planning to steal this car?"
"Heavens no!" Esther shrieked. "We bought it!"
"Why didn't you drive it away?" the cop asked.
"We can't drive, Officer," Esther's friend Mabel confessed.
"So why did you buy this clunker?" the flatfoot grunted.
Esther explained, "We were told that if we bought a used car here, we'd get screwed. We're just waiting."
Late one night Pete and Vance were having beers at a bar when a touchy subject came up. "I don't know what else to do," Pete grumbled. "Whenever I go home after we've been out drinking, I turn the headlights off before I get to the drive-way, shut off the engine and coast into the garage. I take off my shoes, tiptoe up the stairs and get undressed in the bathroom. But as I ease into bed, my wife still wakes up and yells at me for staying out so late."
Vance looked at his flustered buddy and said, "You're taking the wrong approach. I screech into the driveway, slam the door, storm up the stairs, throw my shoes into the closet and jump into bed. Then I slap my wife on the ass and say, 'Hi, honey. Are you as horny as I am?' And she always acts like she's sound asleep!"
Dave was recovering from a knee operation when his pal Tony dropped by. "How are you doing, dude?" he asked.
"I'm hanging in there," Dave replied, "but do me a favor. Run up the stairs and get my slippers. My feet are freezing."
Tony went up and saw Dave's 19-year-old twin daughters lying on their beds. "Hi, girls," he said. "Your dad sent me up here to have sex with the two of you."
"Prove it!" one of the twins exclaimed. Standing in the doorway, Tony shouted, "Hey, Dave! Both of them?!"
"Of course both of them," Dave fired back. "What good is fucking one?!"
Question: How do you get Jehovah's WItnesses to quickly scram when they come to your door?
Answer: Ask them if they came by for the orgy.