Cartoons
More 'Toons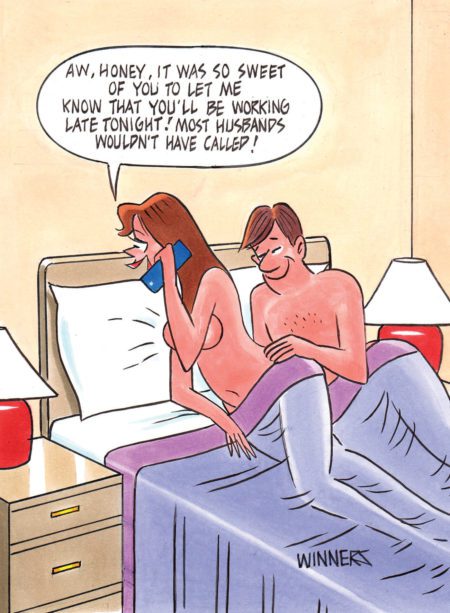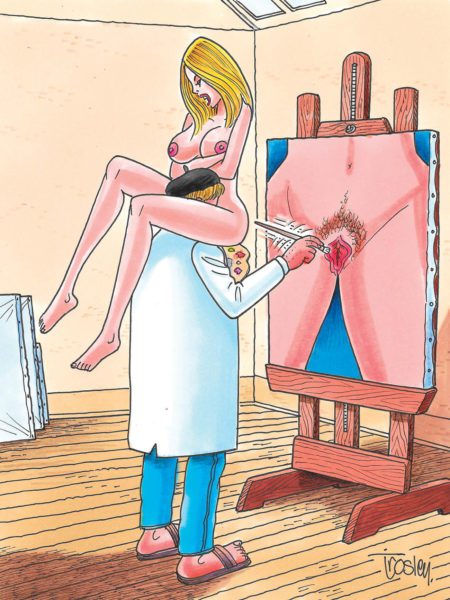 "Just when are you going to face up to the fact that you need glasses?!"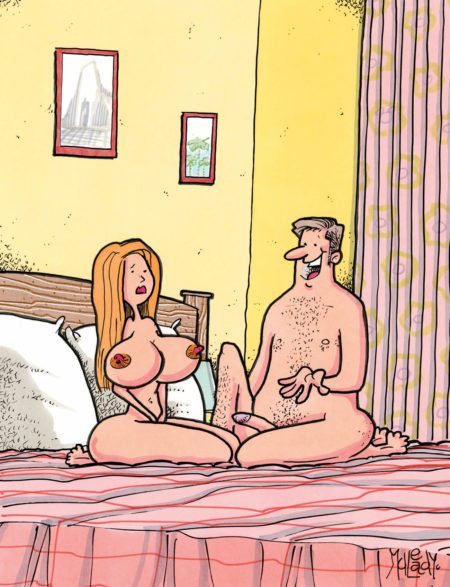 "Saying I married you for your tits just isn't true. I also love your ass, pussy and mouth!"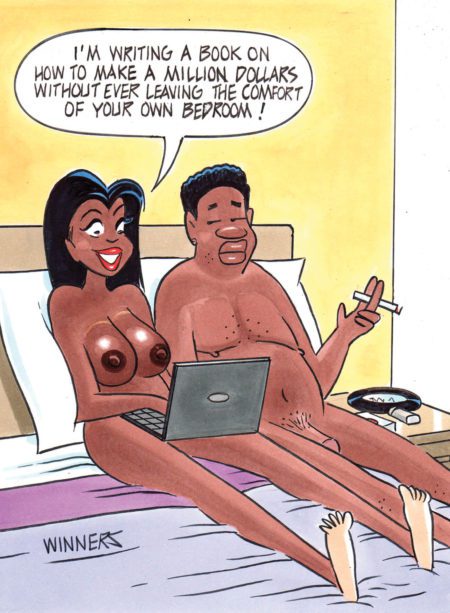 Kate and Victor were lying in bed after having sex. Kate looked at her husband and thought, What a twit! He's clueless that I've been fucking his best friend.
As Victor gazed at his wife, he asked himself, Why does Kate's pussy taste like Steve's dick?
After a movie date, Joey took his girlfriend Sylvia home around… midnight and was feeling horny. Brimming with confidence, he leaned his arm against the door frame and asked, "Will you give me a blowjob?"

Sylvia was horrified. "Are you crazy?!" she yelped. "My parents will see us!"
"Who's gonna see us at this hour?" Joey responded. "Everyone's sleeping."
"It's too risky," Sylvia insisted.
"I love you, darling," Joey said. "Please suck my dick. It's ready to burst."
"I love you too," his girlfriend echoed, "but I can't do it. Can you imagine if we get caught?"
Suddenly the porch light came on, and Sylvia's sister opened the door. Wearing pajamas and her hair a mess, she told Syl -via in a sleepy voice, "Dad said to go ahead and give him a blowjob. Or I can do it. Or if need be, he'll come down and do it himself. But for God's sake, tell him to take his hand off the fucking intercom."
Jed got married before ever being intimate with his virgin fiancée or any woman. On the hillbilly's wedding night he called his father for some advice. "Loretta and I are in the bedroom, Pa. What do we do now?"
Thinking that nature would take its course, Jed's dad barked, "Take off all her clothes and get in bed!"
Five minutes later Jed called back and reported, "Loretta's nekkid, and we're in bed. What do we do now?"
Knowing that his son wasn't the brightest crayon in the box, Jed's father asked, "Did you take off all your clothes too?"
"No, Pa."
"Well, take off your clothes and get back in bed with Loretta."
A few minutes later Jed called back and said, "We're both nekkid and in bed. What do we do now, Pa?"
The father's patience was quickly running out. He growled, "Stick the hardest thing on your body where she pees."
Several minutes passed before Jed called again. "Okay, Pa, I've got my head in the toilet bowl. Now what?"
The first-grade teacher, Ms. Brown, asked her class to share something exciting that had happened at home over the weekend. Little Johnny immediately raised his hand, making the teacher nervous. The tyke could be a tad crude at times. But he was the only kid with his hand up, so Ms. Brown felt she had no choice.
She invited Johnny to share his exciting news. He walked up to the chalk-board and drew a small dot.
Ms. Brown asked, "What's that?" "A period," Johnny replied.
"Yes, I can see that," the teacher murmured, "but what's so exciting about a period?"
"Damned if I know," Johnny muttered. "But on Sunday after church my sister said she missed one, which caused my dad to have a heart attack, my mom to faint and the minister to go into his office and shoot himself."
A Catholic man confessed to his priest, "I missed a short putt while golfing yesterday and said a four-letter word."
"How short?" the priest inquired.
"An inch and a half."
"Holy shit!" the priest cried out. "How the fuck could you miss that putt?!"
The boss had to lay somebody off, and he narrowed the list down to Mary or Jack. It was a hard decision because both were excellent employees. Rather than flip a coin, the boss decided he would fire the first one who used the water fountain the next day,
Mary came to work the next morning with a horrendous hangover. She immediately went to the water fountain to take some aspirin. The boss approached her and said, "Mary, I've never done this before, but I have to lay you or Jack off."
"Could you jack off?" Mary murmured. "I feel like shit this morning."
Tina ran out to the yard, where her father was about to start cutting the grass. "Daddy, what's sex?" the little girl asked.
Her startled father sat Tina down and told her about the birds and the bees. Then he thought, What the hell? He mentioned intercourse, conception, sperm and eggs. Covering a wide range of topics, he went on to tell her about puberty, menstruation, erections and wet dreams. By the time her father was finished, little Tina was awestruck with this sudden influx of bizarre new knowledge.
Finally her dad asked, "Why did you want to know about sex today?"
Tina replied, "Oh, I almost forgot. Mommy said to tell you that lunch will be ready in a couple of secs."
Question: What do you call a gay guy from the Deep South?
Answer: A homo-sex-y'all.