Cartoons
More 'Toons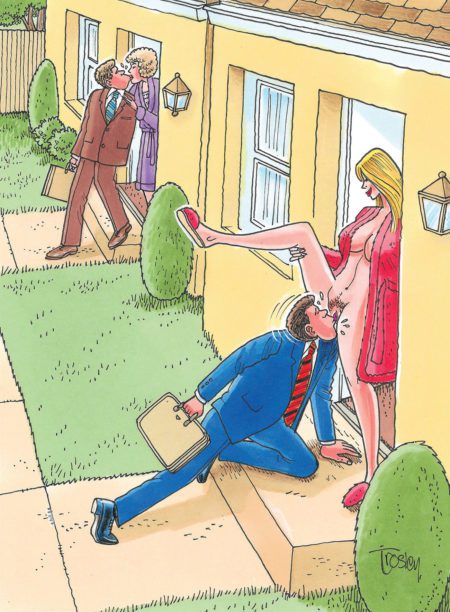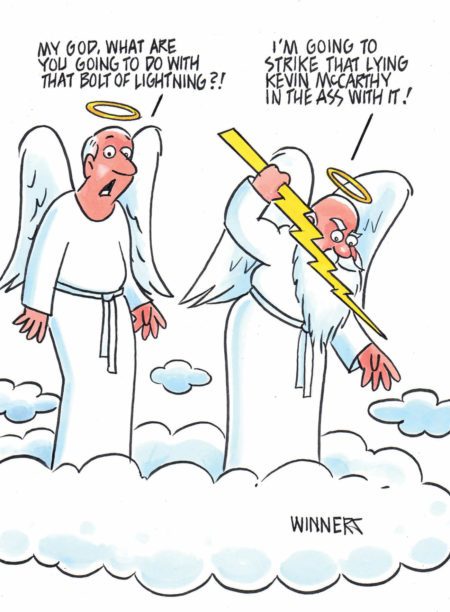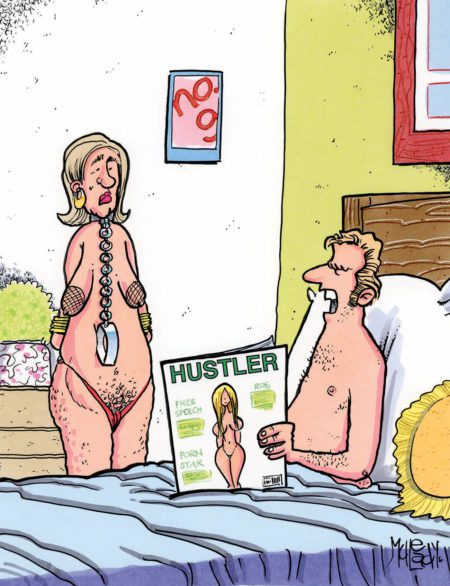 "Don't worry about trying to objectify yourself for me, sweetie. Leave it to the professionals."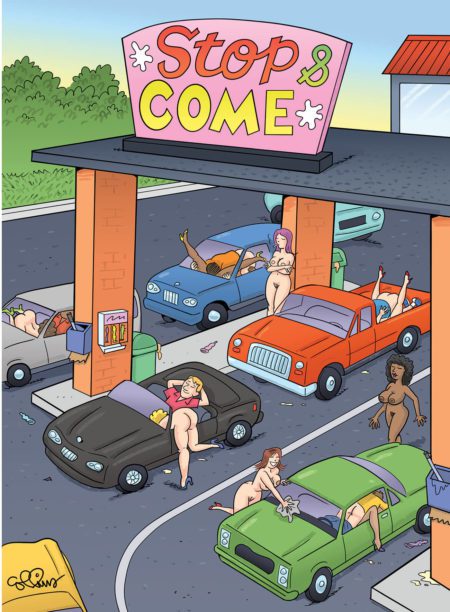 Question: What are those tiny bumps around a woman's nipples?
Answer: It's Braille for suck here.
Question: Why do most men have a foot fetish?
Answer: Because they lost their virginity to a sock.
A Russian soldier ran up to a nun. Out of breath, he asked, "Please, may I hide under your skirt? I'll explain later."
The nun agreed. A moment later two military police officers ran up, and one gasped, "Sister, have you seen a soldier?"
Pointing to her left, the nun replied, "He went that way."
After the officers dashed off, the sol­dier crawled out from under her skirt and said, "I can't thank you enough. You see, I don't want to go to Ukraine."
"I understand completely," the nun remarked.
"I hope I'm not being rude," the soldier added, "but you have a great pair of legs!"
The nun confessed, "If you'd looked a bit higher, you would've seen a great pair of balls. I don't wanna go to Ukraine either."
A kindergarten teacher gave her class an assignment to draw a picture of someone they admired. "What a great picture," she told one little boy. "Who is it?"
"That's my dad," he said proudly.
"Tell me about your father," the teach­er requested. "What's he like?"
The kid shrugged, then replied, "Beer and pussy."
Jon and Bret were on trial for drug possession. The judge declared, "I'd like to give you both a second chance. I want you to help others quit. Come back on Monday, and I'll pass judgment then."
On Monday the judge asked Jon, "How did you do?"
"Your Honor, I persuaded 17 people to give up drugs," he proudly announced.
"That's wonderful!" the judge ex­claimed. "How'd you do that?"
"I used a diagram with two circles," Jon explained. "I said the big circle was their brain before drugs, and the little one was their brain after."
"Very admirable," the judge said. "Not guilty." Then he turned to Bret and asked, "How did you do?"
"Your Honor, I persuaded 156 people to give up drugs."
"Amazing!" the judge bellowed. "Tell me how!"
"I also drew a diagram with two cir­cles," Bret replied. "All I did was point to the smaller circle and say, 'This is your asshole before you go to prison.'"
An 80-­year­-old man snarled, "Arth­ritis is the cruelest disease."
"Even crueler than cancer?" his bud­dy queried.
"You bet," the geezer muttered. "It makes all of your joints stiff except the right one."
An exhibitionist was waiting in line to board an airplane. When the guy got to the female agent examining tickets, he opened his coat and exposed himself.
"I'm sorry, sir," the agent murmured. "You have to show your ticket here, not your stub."
Question: How is nonalcoholic beer like a vibrator without batteries?
Answer: It fills you up nicely, but without the buzz.