Cartoons
More 'Toons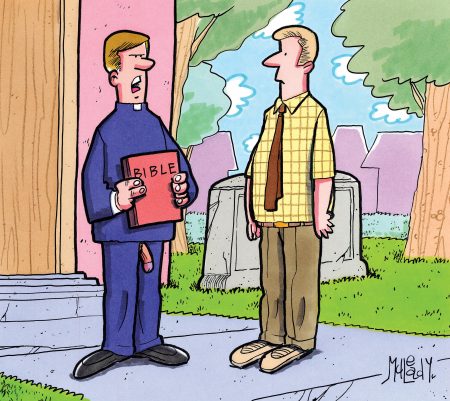 "We're not gonna pray the gay away today, because it doesn't really work. I thought you could just suck my dick instead."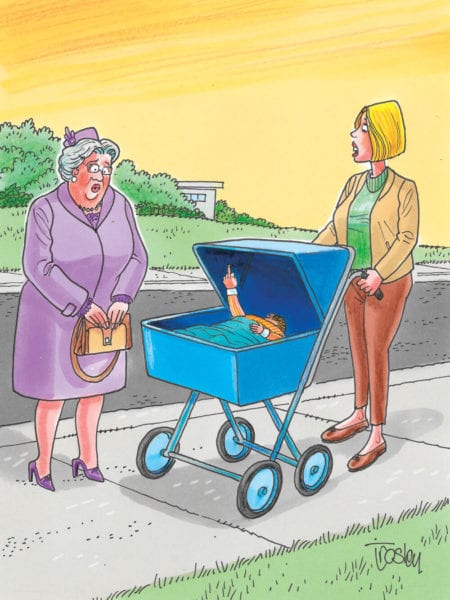 "We think he's a Republican…"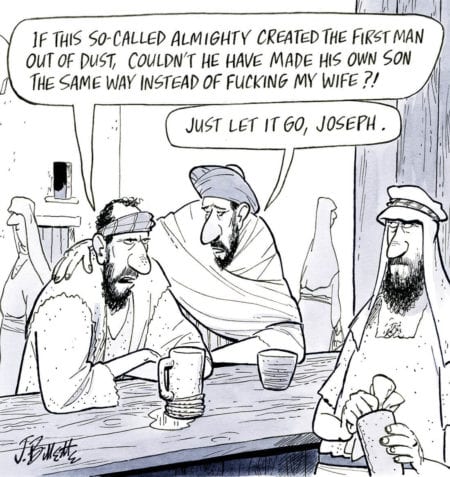 "Sorry…the boss isn't in today."
An eight-year-old girl went to the office with her father on "Take Your Child to Work Day." Soon after they arrived, she started crying and getting very cranky. "What's wrong, sweetie?" the father asked.
As the office staff gathered around, the youngster gurgled, "Daddy, where are all the clowns you said you worked with?"
A married couple in their early 60s were each granted a wish by a beautiful fairy who'd materialized in their living room one evening. "I wish to travel around the world with my darling husband," the wife declared. The fairy waved her wand, and two tickets for a luxury cruise appeared in her hand.
The husband said, "Sorry, dear, but my wish is to have a wife who's 30 years younger than me."
The fairy waved her wand, and the husband immediately turned 90 years old.
Question: What do a redneck divorce and a burning meth lab have in common?
Answer: Someone is gonna lose a trailer.
During a warehouse fire, two firefighters were butt-fucking in a smoke-filled room. The chief walked in and shouted, "What the hell are you guys doing?!"
One of them replied, "Jim's got bad smoke inhalation."
"Well then, give him mouth-to-mouth," the chief advised.
"I did," the firefighter responded. "How do you think this got started?"
Bess was standing at the railing of a ferry and holding on to her hat with both hands. A gentleman approached the old woman and said, "Par -don me, madam. I don't intend to be for -ward, but did you know that your dress is billowing up with all this wind?"
"I know," the biddy responded. "I need to use both hands to hold on to my hat so it won't blow away."
"But, madam, you aren't wearing any-thing under your dress," the gent informed her, "and your privates are exposed."
Bess looked down, then back up at him and muttered, "Anything you see down there is 85 years old. I just bought this hat yesterday."
A dairy farmer in western Canada married a city girl. One day he told his new wife, "I've got to fix some fencing, Carol, so you'll have to help me out. The insemination man is coming by to impregnate one of our cows today. I drove a nail into the wall above her stall so you'll know where to take him."
A short time later the insemination man arrived, and Carol led him to the barn. As they walked through the row of cows, she spotted the nail and said, "This is the one right here."
The guy, who thought that Carol was just another ditzy blonde, was impressed. "Hey, lady, how did you know this is the cow to be bred? They all look the same to me."
"That's simple," Carol replied. "By the nail over her stall."
"Okay, but what's the nail for?" the in-semination man asked.
Starting to walk away, Carol looked over her shoulder and said, "I assume it's to hang your trousers on."
Driving in the snow is like eating pussy. If you don't slow down and pay attention, you could slide into the asshole in front of you.
A big-city doctor was the guest of an isolated Native American tribe comprised solely of men. As they all shared a fine meal, the doctor finally got up the courage to inquire, "How do you guys relieve your sexual tension?"
The tribe's leader replied, "Just come down to the river tomorrow morning and we'll show you."
The next day the doctor showed up and saw the entire tribe gathered around a donkey. "Since you're our guest," the leader declared, "you get to go first."
Not wanting to go against what he thought were tribal customs, the doctor kissed the donkey. Then he stepped behind the animal and began fucking it.
A few minutes later the leader shouted, "Hey, Doc, are you almost done?! We need the donkey to cross the river in order to get to the tribe of women!"