Cartoons
More 'Toons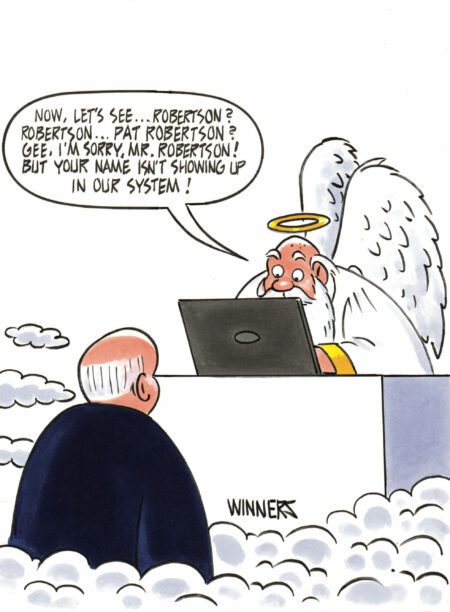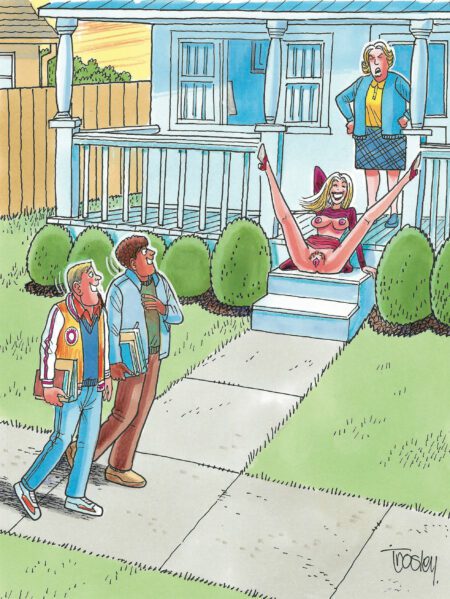 "Yes, Cindy, that is flirting!"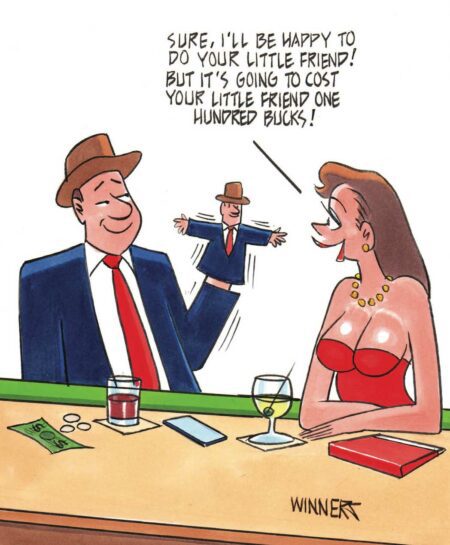 While taking a coffee break, four surgeons discussed their work. The first declared, "I think accountants are the easiest to operate on. You open them up, and everything inside is numbered."
The second said, "I've found that librarians are the easiest to operate on. You open them up, and everything inside is in alphabetical order."
The third chimed in, "I like to operate on electricians. You open them up, and everything inside is color-coded."
"I really like to operate on lawyers," the fourth surgeon told his colleagues. "They are heartless, spineless and gutless, and their heads and asses are interchangeable."
Cliff and Bubba drove to a gas station because they'd heard about a contest for customers who bought a full tank of gas. While inside to pay up, Cliff hit up the attendant about the contest.
"If you win, you're entitled to free sex," she explained.
"How do we enter?" Cliff asked.
The attendant replied, "I'm going to think of a number between 1 and 10. If you guess right, you win free sex."
"Okay," Cliff said. "I'll guess 7."
"Sorry," the attendant told him. "I was thinking of 8. But come back soon, guys, and try again."
A week later, Cliff and Bubba returned. After paying for his fill-up, Bubba asked if the contest was still going on.
"It sure is," the attendant remarked. "What's your guess?"
"Nine," Bubba blurted.
"Sorry," the attendant said. "I was thinking of 3, but come back soon and try again."
As the rubes headed to Bubba's pickup truck, Cliff muttered, "I think that friggin' contest is rigged."
"No way," Bubba insisted. "My wife won twice last week."
HUSTLER Wisdom: If you were born in September, it's pretty safe to assume that your parents started the new year with a bang.
A doctor stepped into the waiting room and announced, "Due to new patient-privacy restrictions, we will no longer call patients by name. So will the woman with the itchy, stinky vagina follow me to the exam room?"
Mr. Hudson came home to find his wife sitting naked in front of a mirror, admiring her tits. "What do you think you're doing?" he asked.
Mrs. Hudson replied, "I went to the doctor today, and he said I have the breasts of a 25-year-old."
"Oh, yeah?" her husband snorted. "And what did the doctor have to say about your 50-year-old ass?"
"Nothing," Mrs. Hudson confided. "Your name didn't come up at all."
An anxious woman went to her gynecologist and asked nervously, "Can you get pregnant from anal intercourse?"
"Certainly," the doctor replied. "Where do you think lawyers come from?"
A blonde had just begun working as a hotel maid, cleaning rooms. One morning she was shocked to find a used condom in a wastebasket.
"What?" another maid asked. "Haven't you ever had sex before?"
"Sure," the blonde replied, "but never so hard that it took the fuckin' skin off!"
A guy was waiting in a doctor's office when the doc walked in. "I have bad news," he told the fellow. "I'm afraid you must stop masturbating."
"I don't understand," the wanker said. "Why?"
"Because I'm trying to examine you," the doctor explained.