Cartoons
More 'Toons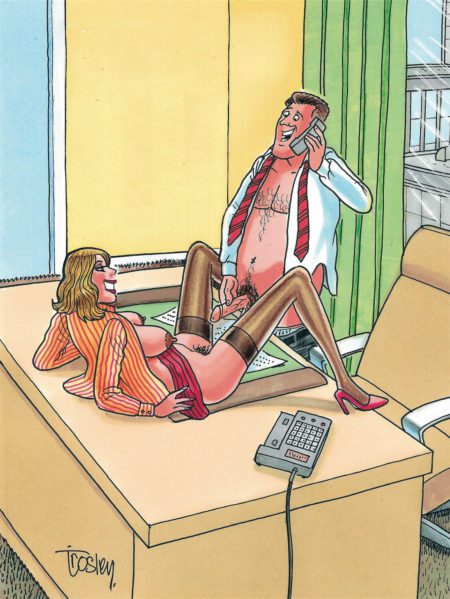 "Okay, Stevens, I'll get right back to you after this merger."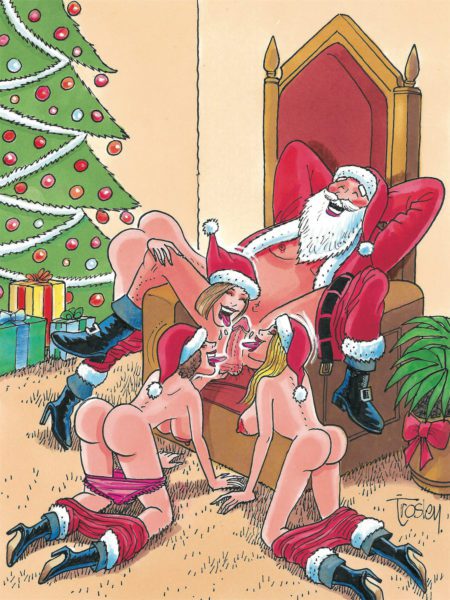 "Santa has Christmas wishes too!"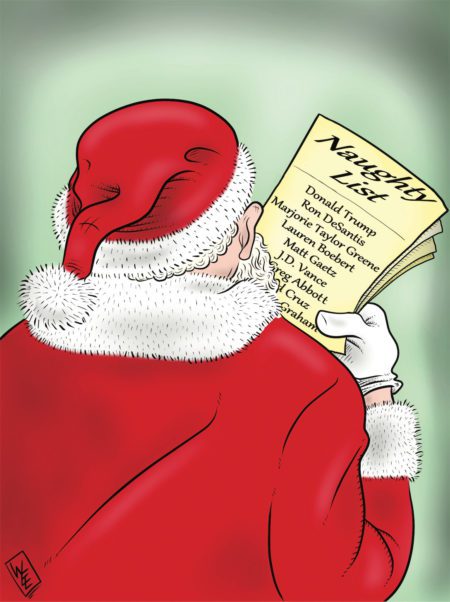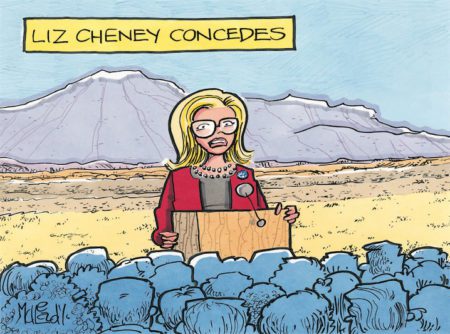 "I'll always cherish my time in Congress, representing Wyoming and working to promote and strengthen America's standing in the world. Did I mention that Donald Trump is a lying, narcissistic piece of shit and a nuclear-secrets-stealing, fucked-up son of a bitch?!"
After their first date, LuEllen and Matt were undressing in her bedroom when she spotted a NIKE tattoo on the dude's right shoulder. Then, as he took off more clothing and his socks, she saw REEBOK tattooed on an ankle.
This guy's got a sports brand fetish, LuEllen thought.
When Matt was stark naked, Lu-Ellen—who was down to her bra and panties—recoiled in horror. AIDS was tattooed on his flaccid cock.
"No way am I going near that damn thing!" she shrieked.
"Relax, baby!" Matt exclaimed. "In a minute it'll say ADIDAS!"
On a visit to the barber, Walt asked if he had any remedies to cure
his baldness.

"It might sound kinda strange, but the best thing I've found is a gal's Vaginal juices," the barber confided.
"Shit, you're balder than I am!" Walt yelped.

The barber shot back, "But you must admit, I've got a great mustache!"
Jason and Abby returned from their honeymoon, and it was obvious to everyone that the newlyweds weren't talking to each other. Clint, Jason's best man, took him aside and asked what was wrong.
"Well, Abby and I made love on our wedding night without any problems," Jason explained. "But as I got up to take a leak, I put a $100 bill on the pillow without thinking."
"Oh, you shouldn't worry about that too much," Clint said. "I'm sure Abby will get over it soon enough. She couldn't have expected you to save your viriginity while she kept you waiting to get it on!"
Jason nodded, then remarked, "I don't know if I can get over this though. Abby gave me $20 change."
Bill admitted to his best friend, "All of the thrill is gone from my marriage, Randy."

"So why not add some intrigue to your boring life and have an affair?" Randy suggested.
"What if my wife finds out?" Bill asked.

"Hell, this is a new age we live in," Randy replied. "Go ahead and just tell her about it."

Bill rushed home, walked in the door and immediately announced, "Honey, I've been doing a lot of thinking lately, and I think having an affair will help bring us closer together.""

"Forget it," his wife snorted. "I've already tried that. It didn't fuckin' work!"
After taking golf lessons for two weeks, Paula felt ready for her first round. But while out on the course the young woman was stung by a bee. The pain was so intense that Pau­la headed back to the clubhouse.
On the way she ran into her instructor, Bill. Noticing her discomfort, the golf pro asked, "What's wrong?"
"I was stung by a bee," Paula whined.
"Where?"
"Between the first and second hole," Paula replied.
Bill nodded knowingly and said, "Your feet were too far apart."
Betty went to the cemetery every Saturday to water the flowers on her husband's grave. After the widow was finished, she always walked backward to her car. One day her friend Sally came along on the cemetery jaunt. As they were leaving the grave, Sally asked, "Why are you walking backward?"
"When Harry was alive," Betty explained, "he often told me, 'You've got such a great ass, it could bring a dead man back to life.' I'm not taking any chances."
Question: How do you know when you've had a great blowjob?
Answer: You have to burp the cocksucker to get your balls back.
Todd went to his psychiatrist and 11 exclaimed, "Doc, you've got to help me! My wife is unfaithful. Every Friday night she goes to Larry's Bar and picks up men. In fact, she'll fuck anybody who asks her! I'm going crazy. What do you think I should do?"
"Relax," the shrink advised. "Take a deep breath and calm down."
"Okay, Doc," Todd responded. He took a deep breath and tried to chill.
"Now, tell me,"the psychiatrist weighed in. "Where exactly is Larry's Bar?"