Cartoons
More 'Toons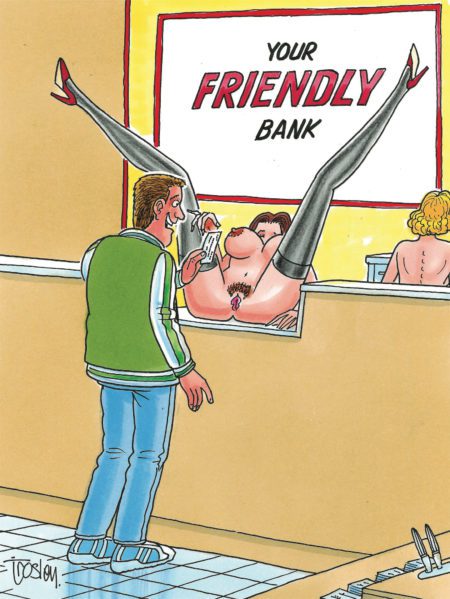 "Boy, you are a friendly bank!"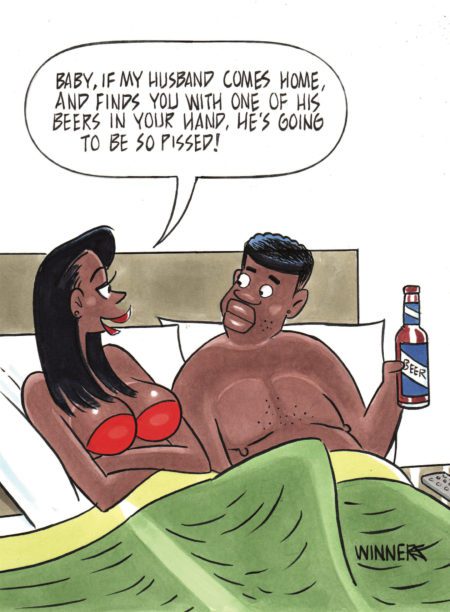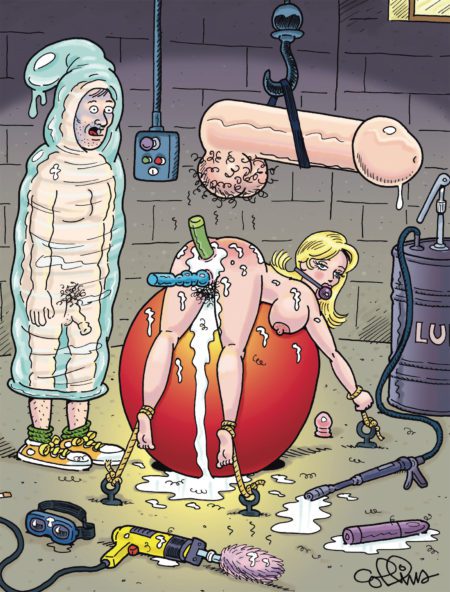 "There are people out there who hate our freedoms, Sylvia. They're called Republicans!"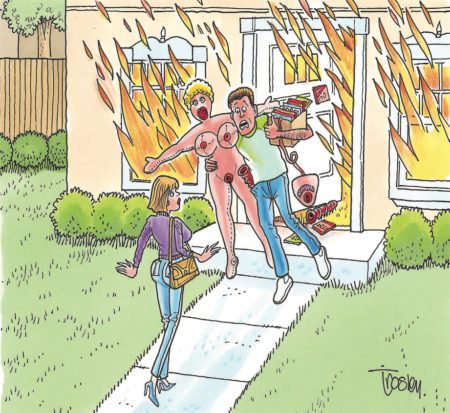 "It's a fire, Donna. Grab your valuables!"
Tom's wife just found out that she had been adopted. Sandra was devastated and kept asking her husband, "Why didn't my birth parents want me?"
Tom comforted her, and eventually Sandra—crying her eyes out—asked him to make love to her. They got down to business, but this led to more tears.
Later Tom reflected, Banging Sandra from behind and shouting 'Who's your daddy?!' might have been insensitive.
A waiter asked the patron he was serving, "How would you like your steak, sir?"
"Like winning an argument with my wife," the man muttered.
"Rare it is!" the waiter exclaimed.
Question: What are multiple orgasms?
Answer: God's way of compensating women for having to sit down to pee.
A wedding reception ended in a brawl and a court appearance. The judge was having difficulty getting to the truth of what had actually happened until the best man offered to outline the facts.
"Your Honor," he began, "I was the best man at the wedding. It is the tradition in these parts that the best man gets the first dance with the bride. But the music kept going, so we continued dancing for around 15 minutes. Then the groom jumped over a table and kicked the bride right between her legs."
"That must have hurt," the judge remarked.
"Hurt?!" the best man yelped. "He broke three of my fingers!"
Fred looked at his wife and said, "Fifty years ago we had a cheap house, a junk car, slept on a sofa bed and watched a ten-inch black-and-white TV, but I got to sleep with a hot 23-year-old woman. I've worked hard our whole married life, and now we have an $800,00 home, a $65,000 car, a nice big bed and a large-screen TV, but I'm sleeping with a 73-year-old woman. It seems to me you're not holding up your end of the bargain."
Fred's wife was a very reasonable lady. She told her husband that if he went out and found a hot 23-year-old woman, she'd make sure that he'd once again be living in a cheap house, driving a junk car, sleeping on a sofa bed and watching a ten-inch black-and-white TV.
Question: Who loses in every election?
Answer: The voters.
Oliver had invited his parents to meet his fiancée, Kristen, over cocktails at the swanky Plaza Hotel in New York City. After Oliver's folks had departed, Kristen wanted to know what kind of impression she'd made.
Oliver said, "I'm sorry to tell you this, dear, but while you were in the ladies' room, my mother told me that she considered you rather uncouth."
"Did you tell your parents that I attended a finishing school in Switzerland and graduated from Yale?"
"Yes, dear," Oliver replied.
"Did you also tell them that my family enjoys the highest social standing in Southampton."
"I certainly did, dear."
"Then what the fuck is all this uncouth shit about?!" Kristen shouted.
Blake was on a first date with Denise. Thinking they were a good match, he asked, "How about us spending a romantic weekend in the nicest hotel in town?"
Denise looked at him and said, "I'm afraid that my awareness of your proclivities in the esoteric aspects of sexual behavior precludes you from such an erotic confrontation."
"Er, sorry, Denise, but I don't fuckin' get it," Blake fessed up.
"Exactly!"