The artist behind the groundbreaking Faust comic book series discusses his inspirations, how he got his boundary-pushing creation off the ground and what he thinks of extreme imagery in comics.
In the realm of superhero comic-book artists that push major boundaries, Tim Vigil has been a prominent name since the '80s. His delightfully grisly work in books such as Grips and Faust brought him both notoriety and devoted fans. The Faust comic, which was written by David Quinn, was one of the first comic book series to turn the superhero concept on its head by depicting a caped protagonist who graphically eviscerates his enemies; furthermore, the series features graphic sexual situations as the titular character slices and dices his way to the truth behind his own identity while combating hallucinations and demonic influences.
Since then, he has worked on other projects, such as Mona Lisa: Eve of All Saints and Gothic Nights. Faust, meanwhile, was made into a movie (Faust: Love of the Damned directed by Brian Yuzna). Vigil also has several collected volumes of his titles in the works (including an omnibus hardcover edition of the Faust books, funded via Kickstarter), and he routinely engages with his fans and collectors via Instagram, his Patreon and Deviant Art pages.
HUSTLERMagazine.com recently spoke with Vigil about his inspirations, getting Faust off the ground, his thoughts on extreme imagery in comics and where fans can find his upcoming work.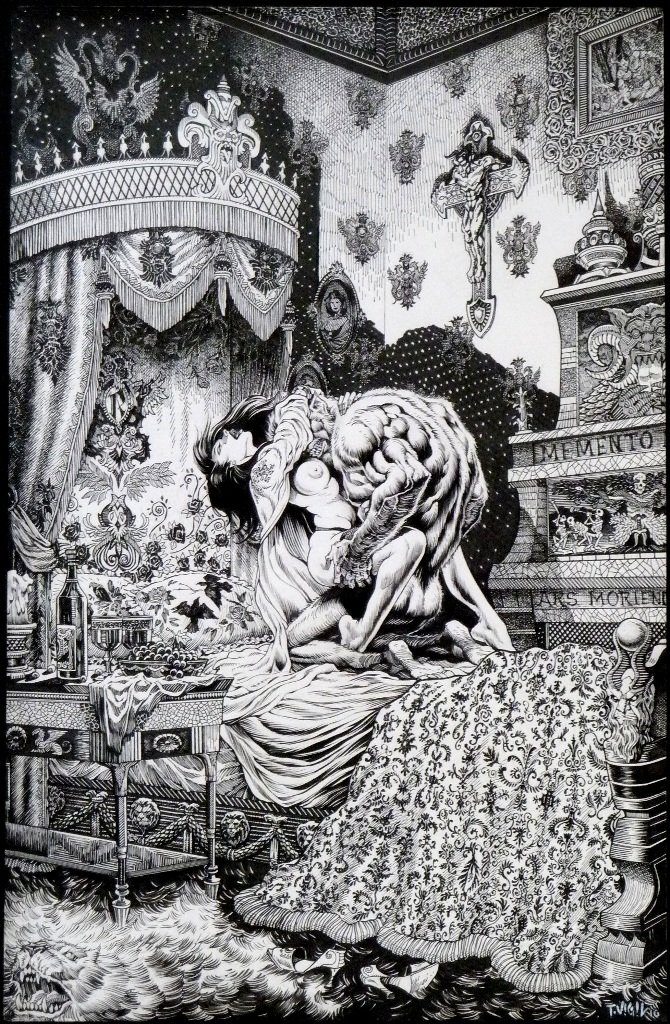 HUSTLERMagazine.com: What films or artists inspired you the most?
Tim Vigil: A big film that really influenced me was The Wild Bunch. When I first saw that movie, it was like, "Oh my God," you know, you're seeing slow motion; you're seeing blood splattering. And that's where I really started to understand the beauty of violence in a way. I started incorporating blood splatters and stuff like that into my art from that. Other than that, I like movies. I like most horror stuff, but I lean more toward the classics. And even with artists, I lean more to the classics too. I was a big fan of the Creepy and Eeries [published by Warren Publishing], like the first 15 or so; they had some just stunning illustrators in there. If I get stuck on anything or if I'm just not inspired by anything, I'll go back and just pull those magazines and look through 'em, and see their illustrating processes, and usually it gets you on the right track.
Bernie Wrightson, who contributed to those books, is one of my favorites—him and Graham Ingels, who used to do the EC horror comics that preceded the Warren publications.