International activist Jil Love combines dissent, performance art, pulchritude and nudity in her demonstrations. From the shores of the Mediterranean isle of Ibiza to the sands of North Africa to the boulevards of Hollywood and beyond, this statuesque European beauty stages "art protests" for causes including human and animal rights, environmentalism, the homeless, marijuana legalization and free speech. The nearly six-foot-tall dissident's signature style is to demonstrate naked, ensuring attention is paid to the movements Jil passionately supports.
The 30-something self-described artivist was born in Tarragona, Catalonia, located in the northeastern region of what is now Spain. Jil dropped out of high school to study acting and has made and starred in several films, including the 2010 short Waves: A Tale of Love and Obsession and the 2012 feature Saving Isis . In her lavishly illustrated book, Jil Love Revolution: We Are the Voices of the Unheard, the self-identified onetime go-go dancer and party girl of Madrid documented her rise as a global crusader of consciousness and conscience.
Jil's outrageous artivism is backed by devoted volunteers. On January 26 of this year I arrived at her Hollywood Hills home to find Jil's team in the living room busily completing two mock blocks of silver-painted walls. In an adjoining bedroom, costumer/makeup artist Thomasina Castillo and others put the finishing touches on the stark-naked Jil. Like James Bond's bedmate Jill Masterson in the 1964 thriller Goldfinger, Jil is being painted head to toe with a silver water-based nontoxic paint. Her pubic hair and nipples are coated as well so that she can seamlessly match the wall being prepped in the next room.
"I'm feeling great," Jil tells me, speaking with a slight Spanish accent. "I love to carry my body with this stuff. It's like a second layer of skin. I'm most in my element when I'm naked." Her acolytes carefully carry the fragile faux wall outside to a waiting van, where a silvery Jil gives instructions while standing totally nude in the street.
Next stop: Donald Trump's star on Hollywood Boulevard's fabled Walk of Fame. Months before, after Trump called Haiti and African nations "shithole countries," Jil protested there sitting on a gold-painted toilet in a golden lamé dress, pink panties around her ankles. This time her backers mount the wall, which Jil form-fits into with outstretched arms in front of Trump's star. She's a real wonder woman, surrounded by superhero street performers, celebrity impersonators and throngs of tourists at the intersection of Hollywood and Highland, near where the annual Academy Awards ceremony takes place.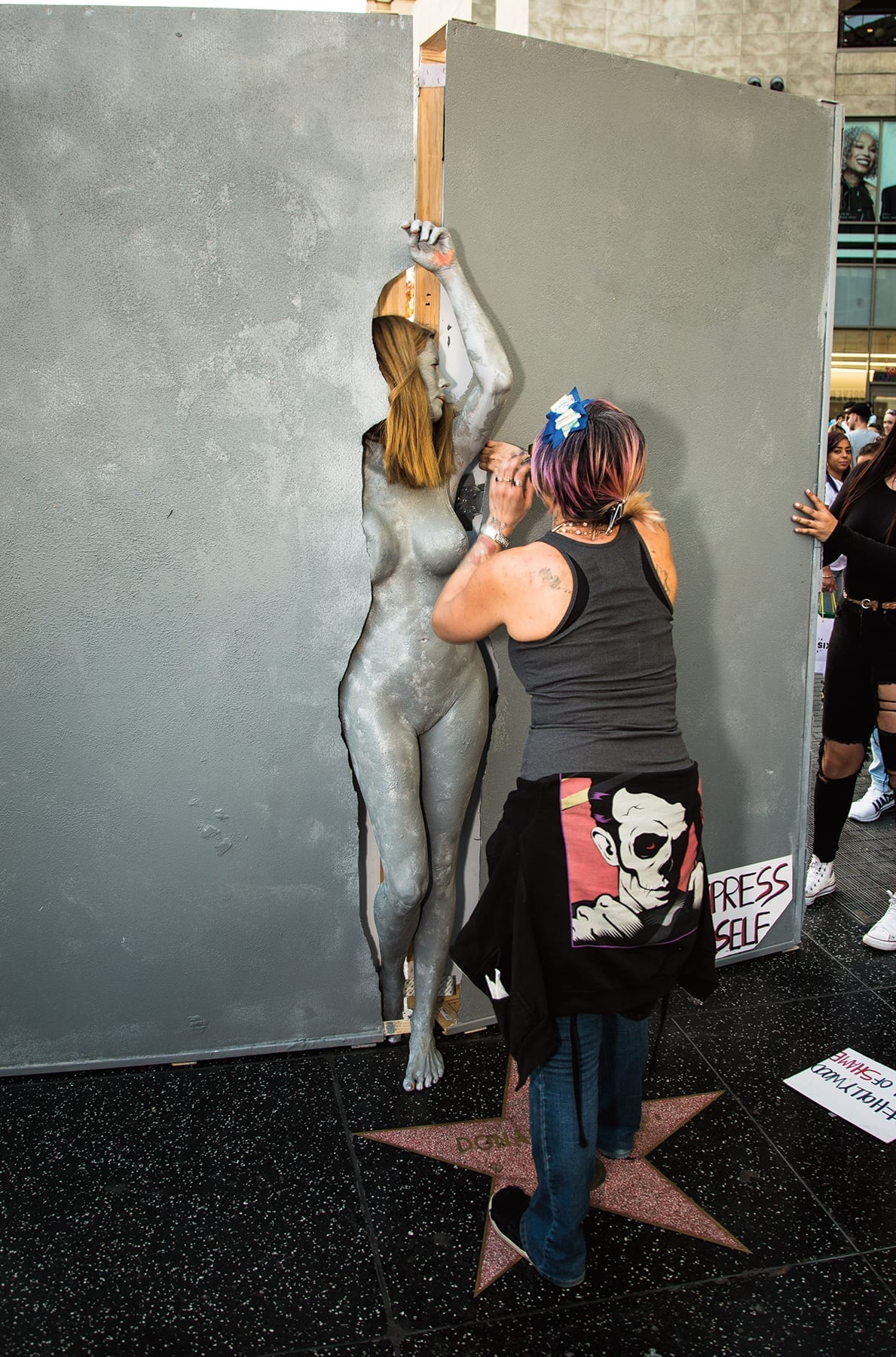 The audience is astonished at the sight of the beautiful, totally naked woman and her gigantic prop in front of The Donald's star—an obvious reference to the wall President Trump wants to build on the border between Mexico and the United States. Jil is quiet as her assistants explain to members of the shocked crowd what this voluptuous woman is doing, and encourage the startled onlookers to express themselves, offering eggs, tomatoes, magic markers and spray paint cans to do so.