Ted Rall is a cartoonist, columnist and author with an independent, unique point of view. Skewering sacred cows and the status quo is his specialty. The ink slinger's slyly subversive wit lampoons the power elite, and his radical departures from mainstream media groupthink court controversy and consternation from both conservatives and liberals.
Over the years Rall's work has appeared in newspapers and magazines—The New York Times, Rolling Stone and Time, to name a few—and websites including WhoWhatWhy.org and SputnikNews.com. A Pulitzer Prize finalist in 1996, Rall's 'toons have won two RFK Journalism Awards and numerous other accolades. Rall served as the Association of American Editorial Cartoonists' president, and his cartoons and opinion columns are syndicated, respectively, by Andrews McMeel Publishing and Creators Syndicate.
From an artistic perspective, Rall says his "contribution to the form" is combining the single-panel political cartoon with "the four-panel comic strip format developed by Charles Schulz with Peanuts, plus other strips." In this candid conversation the artist opines about the decline of cartoonists, Larry Flynt, graphic novels, covering a war, death threats and more.
HUSTLER: Your website cites an astounding statistic: A century ago there were 2,000 editorial cartoonists, but now there are only 40 full-time editorial cartoonists in America. Why?
TED RALL: The source for that is a [2011] study by the Herb Block Foundation in Washington. At this point there's really about 15 editorial cartoonists today. There's lots of contributing factors to the attacks on editorial cartooning. First is the general deterioration of print media, followed by the failure of online media to start using cartoons. For over 100 years having a staff cartoonist was standard for newspapers or magazines, even small ones. So no self-respecting magazine or newspaper would not have a cartoonist on staff alongside people writing prose.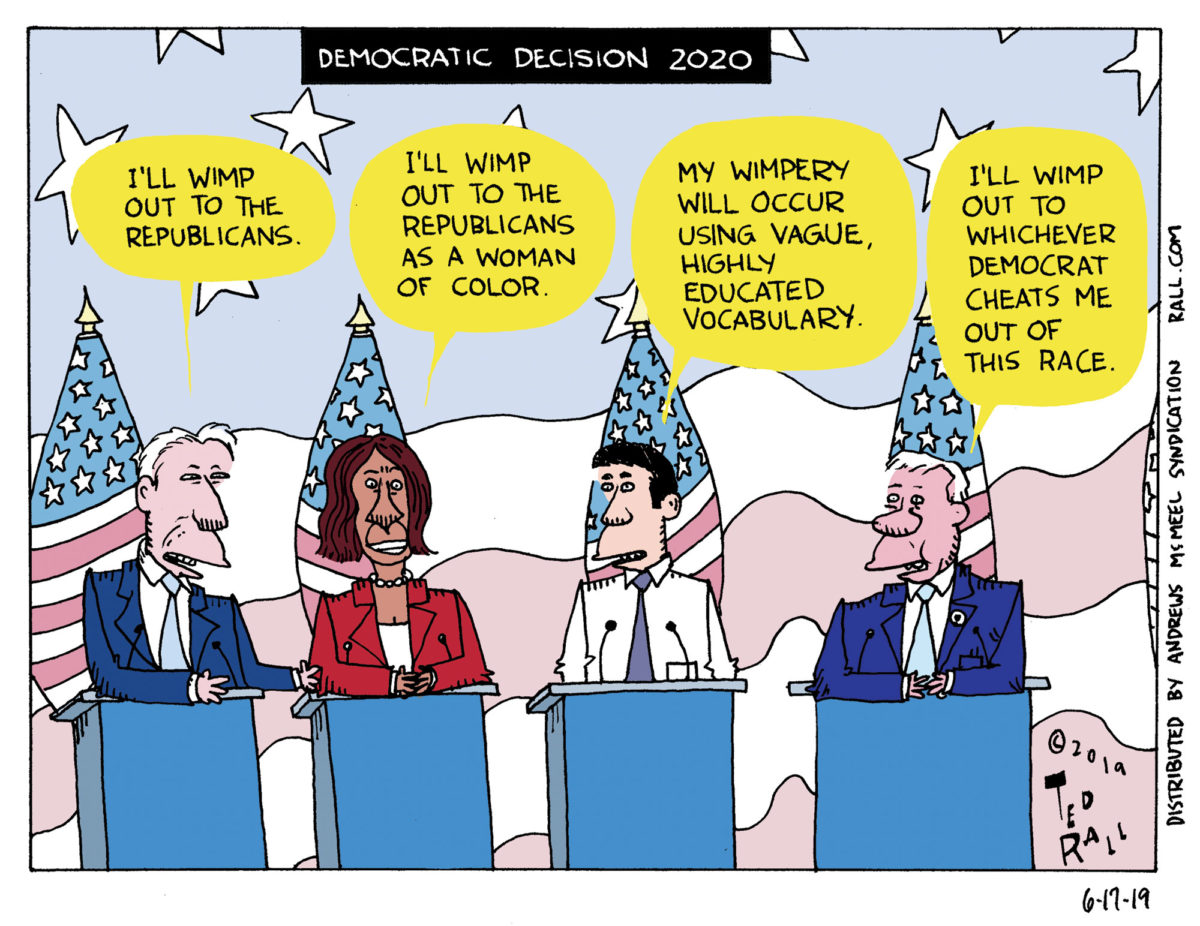 Everybody knows print is in crisis. Cartoons have been hit particularly hard. Lots of editors started feeling cartoons were a luxury, and when they cut the budget, cartoonists were often fired first. During the race to the bottom, lots of newspapers dropped staffers who drew local cartoons in favor of nationally syndicated cartoons that were lots cheaper. Online outlets like Vox, Slate, Salon, etc., almost none of them have hired cartoonists.