Most burlesque troupes entertain their patrons with a combination of striptease and bawdy dance. Little Miss Nasty is not like most burlesque troupes. Their approach to the art form is heavily steeped in punk, heavy metal and gothic aesthetics. From the moment their show begins, before any of the performers appear onstage, the tease starts…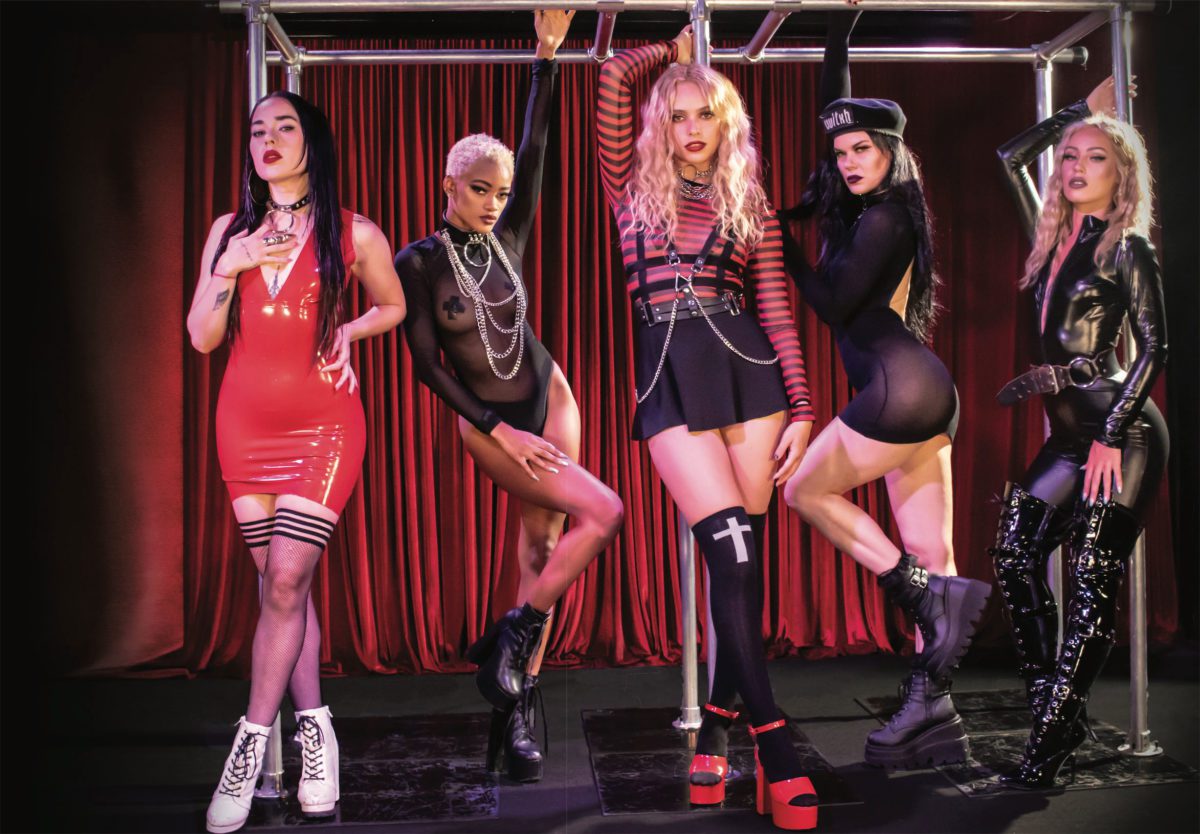 Lighting and sound establish the kind of hard-hitting atmosphere that dominates industrial dance clubs. Throughout the show, Little Miss Nasty rocks, dangles and swings from metal set pieces. The dancers stray from the stage rocking looks that reflect the troupe's style. There are ripped tights, fishnet shirts and frayed denim shorts; a heavy-metal, Catholic schoolgirl outfit; Che Guevara with a dash of Paris chic; good old-fashioned white lace; good old-fashioned black lace; military gas masks; and black cross pasties. Performers crawl down the aisle, strut down the bar, straddle furniture and patrons or swing from various suspension points at venues like the Harvelle's in Santa Monica and Long Beach, California.
I was lucky enough to see them perform late this summer, when the troupe showcased yet another talent for their final number. The women performed original music. Little Miss Nasty writes, records and performs original songs. They also appear in music videos, are prolific posting polished content to their social media and now star in their very own cartoon series.
HUSTLER caught up with the couple who runs the show—founder/lead choreographer Gina Katon and manager/producer/musician Marc Jordan—to discuss the origins of Little Miss Nasty, the horizons it has reached and what the troupe plans to conquer next.
The Little Miss Nasty story begins, suitably enough, in Hell, Michigan. "I started dancing in Michigan when I was super young," Katon recalls. "I did all of the competition circuits and convention life, where choreographers come from L.A. and New York to teach kids all around the country. So I kind of had that taste in my mouth. As soon as I graduated high school, I moved to New York, and I danced there for a few months. I was training hardcore under some choreographers, and one person said to me, 'You have feet for L.A.'"
With that, Katon loaded up her "broken down Pontiac Sunfire with a clothes hanger holding the trunk shut" and headed for California. "My air conditioning broke in the Rocky Mountains, but I was like, 'Oh, hell, no! I'm coming for you!'" In L.A. she attended a dance school that set her up with an agent, and her network expanded.