"Bukkake Tears," "Pussywhipped," "Fucking My Heart in the Ass" and "Gangbang at the Old Folks Home." New HUSTLER flicks? No, songs on the latest Steel Panther album, All You Can Eat. After this interview with Guitarist Satchel and lead singer Micahel Starr, you may want to head over to the free clinic.
HUSTLER: Welcome to America's Magazine.
SATCHEL: I can't tell you how many jacks I've thrown thanks to looking at HUSTLER.
Do you remember the first time you saw it?
MICHAEL STARR: My dad had Playboy, and it was cool, right? But when I opened up a fucking HUSTLER, I blew my nut right away.
SATCHEL: It was the big leagues.
STARR: Chicks are fucking fine.
SATCHEL: And they do nasty shit. Don't mind taking it in the ass.
STARR: Playboy was too airbrushed. They are like Disneyland for pussy. HUSTLER is Six Flags Magic Mountain. Good rides but they are a little dirty and run-down.
SATCHEL: More dangerous. You may die, but fuck it's a great ride.
STARR: Your dick wants to go on the roller coaster, not the fucking tea cups.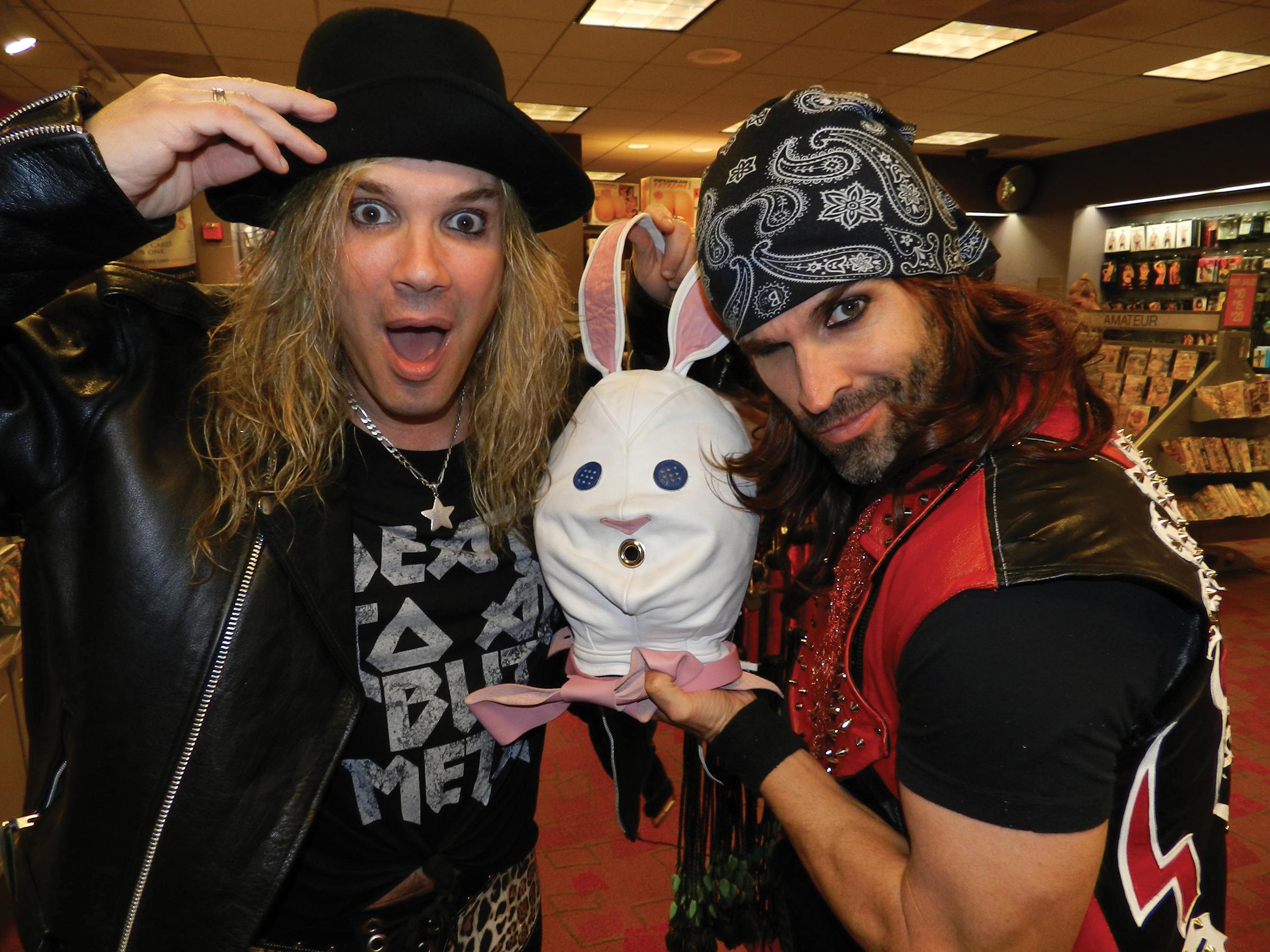 Is Steel Panther the filthiest band in the world?
SATCHEL: I think if you ask any of the girls or transvestites that get off our bus after fucking us, they would say, "Fuck yeah!" We're the filthiest, and not just because we don't shower on a daily basis. It's because we are not afraid to try anything.
What is the ratio of girls to transvestites getting off on your bus?
SATCHEL: I will say this, nobody knows for sure. And that is a testament to how really badass we are. Because if you know for sure what the regular girl to transvestite ratio is, it means you care too much. We don't give a shit.
Which STDs do you currently have?
SATCHEL: Currently? Well, you can't really get rid of genital warts. I will have those forever. They just sneak up on you from time to time. I've pretty much got every STD available.
STARR: I thought you had foot to mouth disease?
SATCHEL: No, I can bend my ankle around the back of my head. Not a disease, but it is very useful, especially in prison.