First and foremost Hannibal Buress is a stand-up comic, but in recent years he's also been racking up the acting gigs. He was the sidekick on The Eric Andre Show, is the love interest on Broad City and has landed parts in Hollywood comedies from Neighbors to Baywatch, Daddy's Home to Blockers. And while Buress seems chill both onscreen and off, the funnyman is a bit of a troublemaker too. He's been in the news of late for—among other things—a red carpet prank, an aborted standup show and a YouTube video of his Miami arrest. Over a Brooklyn breakfast, Buress sat down with HUSTLER to talk about his first major role in the blockbuster Tag, his thoughts on amateur porn and just how he differs from Kanye.
---
HUSTLER: From your stand-up shows I imagined you as a drinker and carouser, so what are we doing here at 7 a.m.?
HANNIBAL BURESS: Well, for one, I stopped drinking.
Et tu, Buress?!
Yeah, I stopped drinking, and I'm working out—probably the most I've worked out since I played high school football. The time, the energy doesn't go anywhere, so you gotta figure out what to do with your time. I do get up earlier, no hangovers. I understand morning people now, where it used to be I'd be coming from a late-night bar and thinking, Who the fuck are these people out here jogging? This person is crazy! Not that I'm crazy to be out till 5 a.m. drinking. They're crazy!
I discovered you on Broad City, where you play boyfriend to that minx Ilana Glazer. Is it true your sex scenes with her are real?
Are my love scenes with her real? [Laughs.] Yeah, that's in my contract. I had that written into my contract: It has to be legit, no pasties, nothing.
I knew it! So how's the show treating you?
Broad City is good. It's different, because it's the first thing I was in with a narrative. You see how people connect to characters differently than they connect to stand-up or comedians, as far as being out and about in the street at night—the way women started acting because I'm onscreen dating a woman and, you know, faking like I'm having sex with her.
Speaking of women, no one ever answers this question, but tell me about the groupies.
You said no one ever answers this? Everyone blows the question off?
Yeah, everyone always scoffs, like "I didn't get into this business for women."
I've met some wonderful people and some terrible people because someone recognized me. I'll tell you though, it was more exciting when I was on the road doing clubs, when I didn't really have a fan base. It was just people who patronized that particular comedy club, and when you would get a girl after one of those shows, that would be exciting. That felt like something.
Tell me, why is your name so hard to spell?
People struggle with Buress. I'll see articles where it's back-to-back spelled differently. I'll see it spelled with two r's and then spelled with one r in the next sentence, like how'd you do that? Like, what, you're hedging your bets or some shit? You didn't want to take a stand with just one? I've seen that multiple times, and I'm just like pick one! No, pick the right one!
And Hannibal?
That came from the Carthaginian general. My dad was really into history back then, and he wanted great things for me.
So how did you become a comedian?
My dad was a funny guy, super dry and sarcastic, but I didn't really consider comedy until college. It wasn't as accessible back then. In the '90s, even in the early 2000s, to watch stand-up you had to go buy DVDs and shit. I had everyone's specials on DVD. Then I went to an open-mic in college, and that's how I found out about it.
Did you go up that night?
I went up the next time. I wrote some jokes, had some stuff that was really bothering me. I think one of my first ones was that I was really upset that the National Spelling Bee was on ESPN, like, hey, this isn't a sport! That was my position.
Do you still use that one?
Uh, no, I don't.
Tell us about your podcast, Handsome Rambler.
I came up with that kinda high, just trying to come up with a name that sounded goofy and obnoxious.
So what are the advantages to a podcast? Why did you take that up?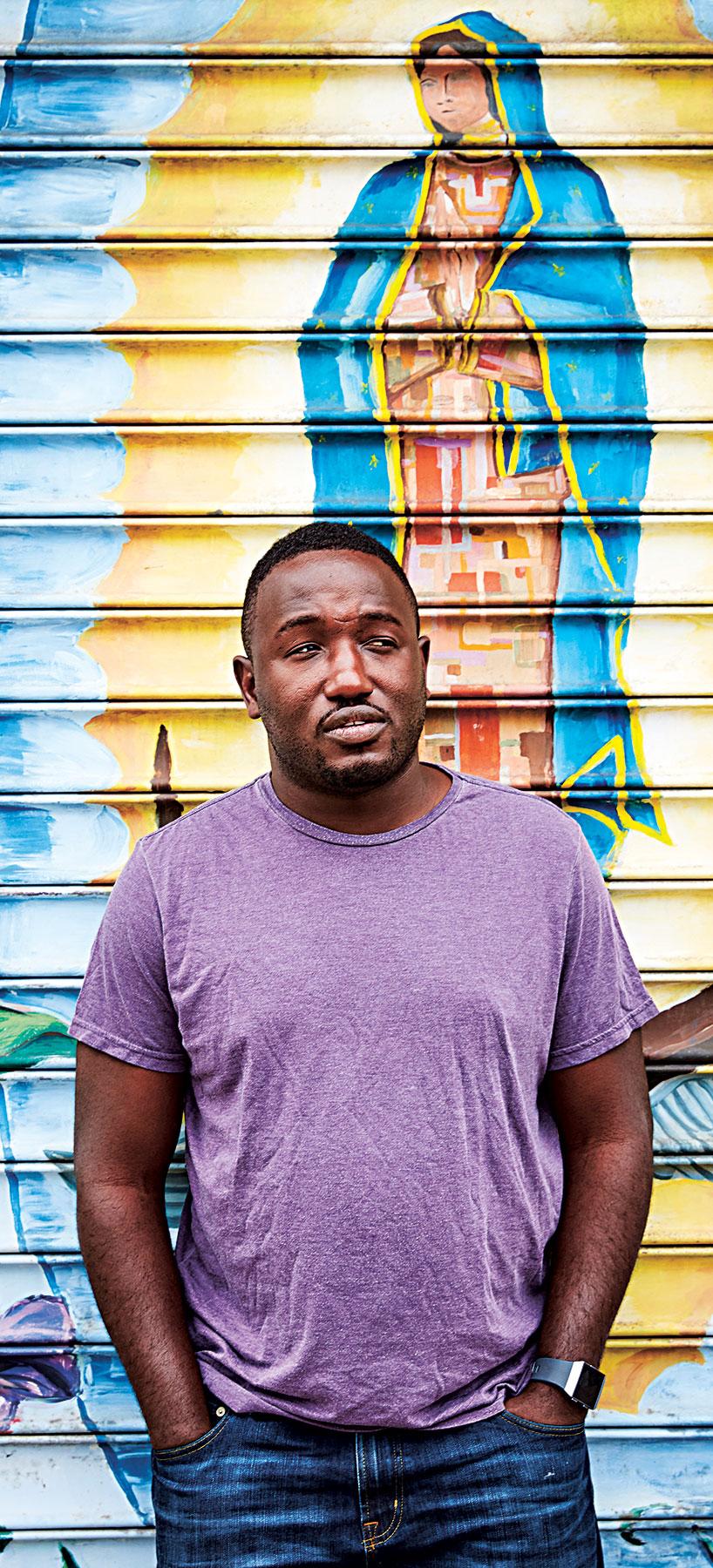 It's a lot of things. It's a way to connect and put stuff out for people around the world. It's unfiltered. I don't have restrictions standing in the way—no time limit; no subjects are taboo; it doesn't have to be funny. You play a big venue, you gotta make them laugh—that's what people pay for—but in a podcast you can keep it looser and turn stuff into a conversation, just talk about anything.
You've been doing quite a bit of acting this past decade, but before that you were writing for Saturday Night Live. How was that experience?
I enjoyed it, but I didn't get stuff on. It's just that creatively I think I was better suited to be on camera. I'm not writing for a living now. I'm acting and doing stand-up. But that was my first regular paycheck, so that was a good boost, and yeah, I wanted that gig. I wanted to work toward being on "Weekend Update" or something. I had one sketch that we tried, but it got cut in dress rehearsal. And I got the feeling of doing it live with the crowd, and I was like, yeah, I could do this shit. This shit feels good.