Tommy Pistol might be one of the funniest and most reliable performers in XXX, but he's much more than a quick wit and a relentless penis. Join us as we explore the vast, multilayered oeuvre of porn's reigning Renaissance man.
Tommy Pistol is an artist who does porn. He doesn't get nearly enough recognition for all the magic that goes into his work, both mainstream (as Aramis Sartorio) and XXX. Though, of course, Pistol has received some pretty impressive recognition; at the time of this writing, Tommy had just won an AVN Award for Best Actor – Featurette (for Another Life, directed by the incredible Whitney Wright). For a kid from Queens who dreamed of fame, 2020 wasn't a complete washout.
Don't let the Aqua Teen Hunger Force tattoo fool you—it would be dismissive to simply chalk him up as the Clown Prince of Porn. This guy has range, and "performer" is only one of the many creative hats he wears. That's right, Tommy Pistol is also a bona fide auteur. The Gruesome Death of Tommy Pistol, released in 2010, is a directorial tour de force that he wrote, self-financed and starred in. And come on—the guy has his own damn action figure. If that doesn't command respect, then I don't want to live in this world.
While we all wait patiently for his first TED Talk and/or MasterClass Online video, HUSTLERMagazine.com is taking you on a deep dive into Tommy Pistol's process—penis in or out, he is a consummate professional who loves every second of what he does. And it shows.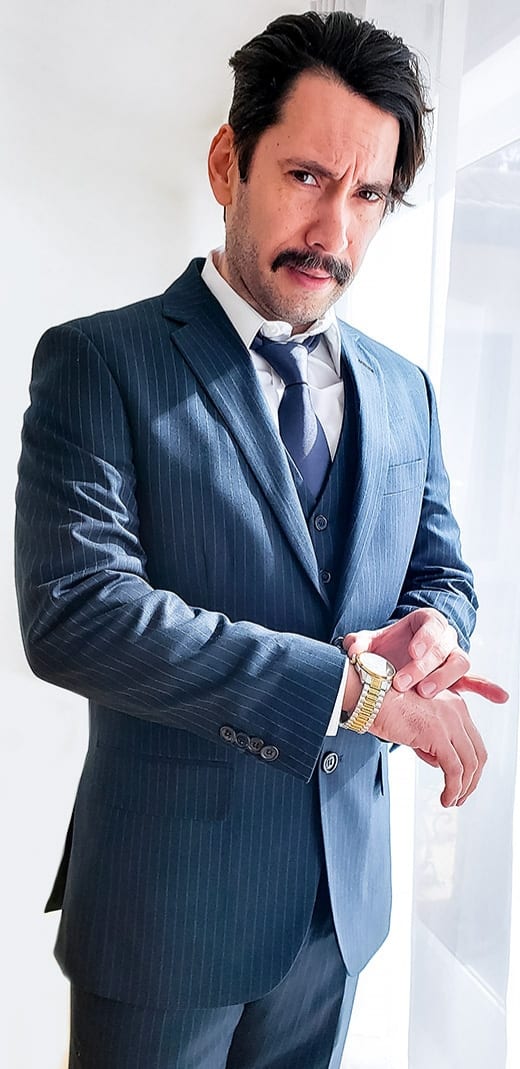 HUSTLERMagazine.com: How does your background in improv and comedy influence who you are as an adult performer?
Tommy Pistol: A good half of the dialogue I say on camera is usually improv. During sex, it's all improv. What makes a male performer stand out from the rest isn't just the size of his ding dong (of course that helps). It's his personality and what else he can bring to the scene. Using those improv skills made a world of difference for me in my adult career. Most people are usually terrified if they have to speak to an audience. I'm at a point where I can speak to an audience with a boner while plowing my gorgeous scene partner and making a room of strangers laugh out loud while also staying aroused. Now if that isn't being professional and a master of your craft, then I don't know what is.
"To be honest, if I don't have to pull my penis out while on set, I'm not worried about anything … After the years of pressure from doing porn, it honestly makes all other acting jobs kinda easier."