For over 30 years, burlesque icon Dita Von Teese has dazzled us with her showmanship and pinup perfection. Now the celebrated author, performer, entrepreneur and goddess graces HUSTLER with a very special interview. Learn about the evolution of the art form; Dita's love of corsets and stockings; her new book; and her history with HUSTLER. Plus, revel in the premiere of her stunning new lingerie line, modeled by the beauty herself.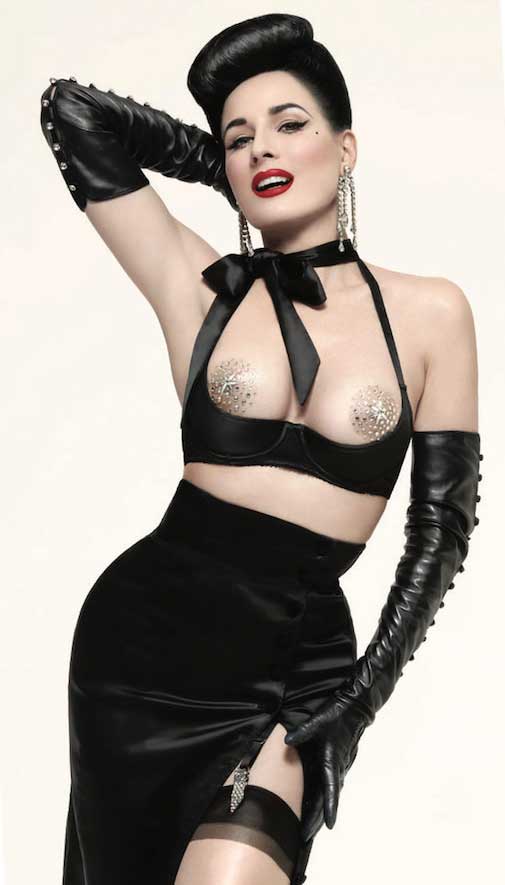 HUSTLER: Trends come and go, but burlesque is forever. How do you explain its enduring appeal, and what do you do to keep it fresh and new?
DITA VON TEESE: I think it's here to stay because it's evolving and being introduced to new audiences and next generations. When I partnered up with Catherine D'Lish, we vowed to evolve burlesque, and we have always created new show concepts with innovative costuming rather than merely recreating the past. In addition, there are so many different genres and types of burlesque to indulge in, and so there's a wider audience.
What was it like to return to your Glamonatrix tour once the worst of COVID was behind us?
It was thrilling to be back onstage for the Glamonatrix tour. In fact, we were one of the first shows to reopen in the U.K., so the feeling in a sold-out theater of 2,800 people was absolutely electric. It was emotional for everyone, and I don't think I will ever forget those first shows back. The Glamonatrix tour is now finished, and I am preparing an all-new show, a residency in Las Vegas in the Jubilee Theater. The show will include the legendary vintage showgirl costumes of Bob Mackie—and tickets are on sale now.
Dita, you are a vision of timeless beauty. Having recently celebrated your 50th birthday, inquiring minds want to know, are you an immortal alien or a time-traveling super-being?