BRUCE CAMPBELL HAS BEEN KILLING IT AS ASH WILLIAMS IN THE EVIL DEAD FRANCHISE FOR NEARLY FOUR DECADES. HE FIRST DECAPITATED DEADITES IN THE 1981 CULT CLASSIC THE EVIL DEAD, MURDERED MANY MORE IN THE 1987 SEQUEL EVIL DEAD 2, AND CONTINUED THE HEAD-HACKING SPREE IN THE TRILOGY'S 1992 CONCLUSION, ARMY OF DARKNESS. SINCE THEN CAMPBELL HAS ALSO BECOME A NEW YORK TIMES BEST-SELLING AUTHOR, TAKEN A STAR TURN ON USA'S BURN NOTICE AND PLAYED A VITAL CAMEO ROLE IN EACH OF SAM RAIMI'S THREE SPIDER-MAN MOVIES. STILL, HE WILL SURELY ALWAYS BE KNOWN AS THE MURDEROUS ASH, THE DEMON KILLER WHO'S NEVER TOO BUSY SLAYING MONSTERS WITH A BUZZING CHAINSAW THAT HE CAN'T DROP A QUIP OR RAISE AN EYEBROW. WITH SEASON 3 OF ASH VS EVIL DEAD SET TO PREMIERE ON STARZ, THE MAN WHOSE TWITTER MONIKER IS @GROOVYBRUCE CHATTED WITH HUSTLER ABOUT THE OREGON COMPOUND HE CALLS HOME, HIS WINK MARTINDALE DREAMS AND WHY BLOODY AND FUNNY DON'T HAVE TO BE MUTUALLY EXCLUSIVE.

---


HUSTLER: Is it true that after nearly 40 years of Ash Williams slaying Deadites, in Season 3 we're about to see the man's softer side?
BRUCE CAMPBELL: Heck, yeah! You're gonna see a paternal side, even a responsible side, God forbid. But yes, it's time to add a little more depth to the character. In Season 2 we met Ash's dad, Lee Majors, and adding a daughter this season is gonna heighten the stakes in the world of demons. Those bastards are like the Mafia: They go after your family if they can't get to you, so Ash's daughter in Season 3 instantly becomes a target.
Speaking of Lee Majors, he had a memorable role in Season 2 but ultimately didn't make it. He was in one scene, and then wham-o, his brains were literally falling out of his skull.
Well, yeah, in Ash's wake there are usually a lot of bodies [laughs].
It was actually touching how that went down, with Ash sort of delicately picking up his father's entire brain and trying to stick it back into his smashed skull.
Yeah, ha ha, Ash was just trying to save his father. But Lee Majors will be back as Ash's dad this year, although maybe that's just to give advice from beyond the grave.
And Season 3 has an evil stuffed animal too?
Yes, from demons. Poor Cougie the Cougar, the school mascot, gets possessed. It's gonna be brutal.
Speaking of brutal, why do you think people are such fans of a show that is sooo bloody?
Look, I think it's just so over-the-top that it doesn't even matter anymore. It's just one of those things, sort of a bloodfest or a bloodbath, so much so that it's almost an orgasmic experience. I've never really liked grim horror myself, the stuff that has no sense of humor and is very protracted. I'm for having fun with the genre, and that's really what we're trying to do. So we tell our writers to remember that we're supposed to be doing 50% horror but also 50% humor.
Still, not being too subtle in terms of the horror, right?
No, I think it's as bloody as you can probably get. It's essentially unrated television.
Is that because you're on cable?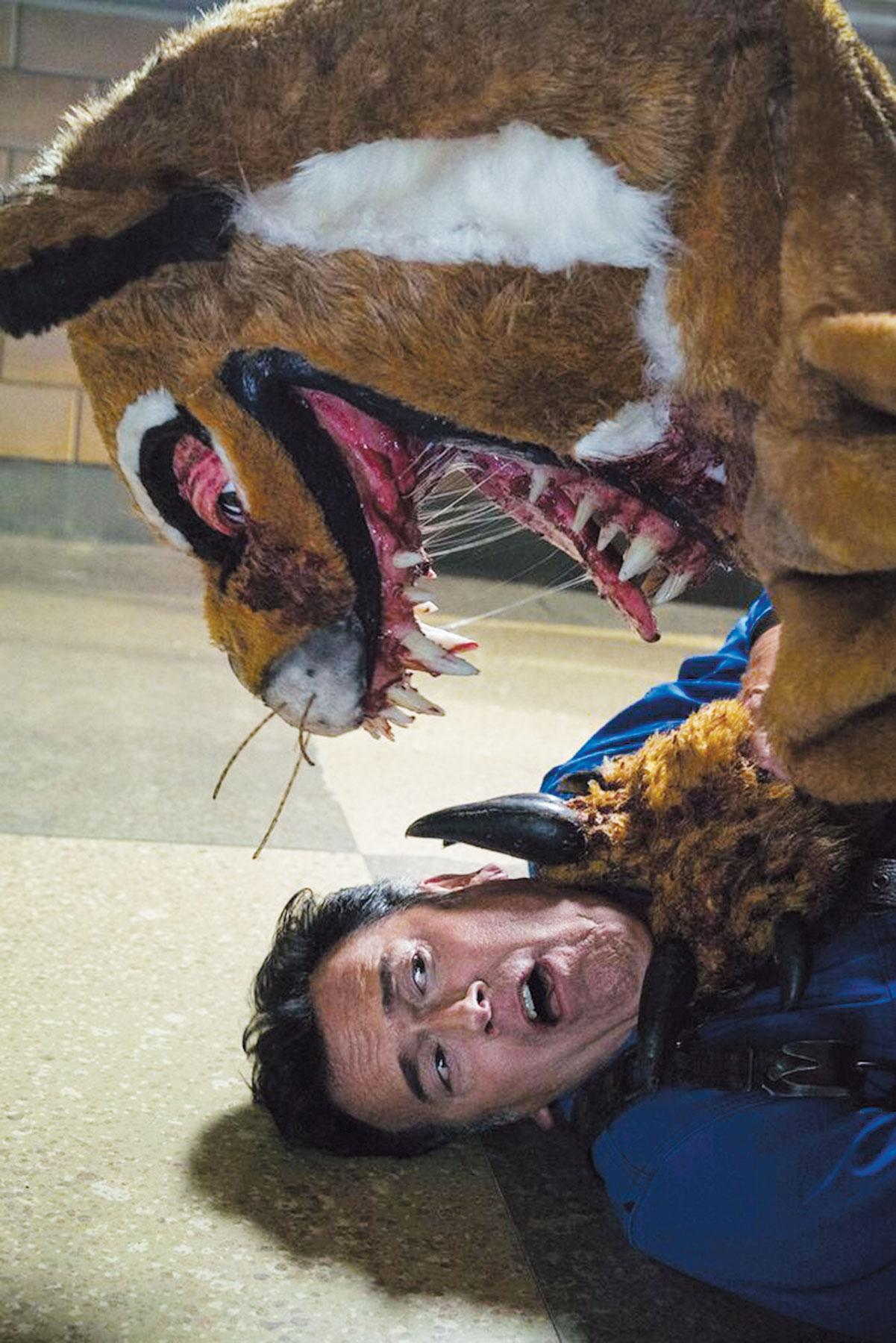 Yeah, we have zero content restrictions. Zero! That was one of the key aspects of making the decision to work with Starz. When we were pitching the show, we asked the question of all our suitors—we were like, "What are the content restrictions?"
The other cable channels you talked to had restrictions?
Absolutely, oh, yeah. I mean, I worked on Burn Notice, and cable TV would let your character smoke and drink, but there were still things you couldn't say and couldn't do. Of course network television is even worse. So we were very pleased, with Ash vs Evil Dead, to work with a premium channel like Starz, where they just didn't have the same standards and practices they had to abide by.
You're saying Starz has no particular standards and practices?
Yeah, ha, that's it. But look, Ash is a very antihero guy. He's very inappropriate, and that's what I like about him. The guy gets drunk. He gets wasted. He was smoking angel dust last season while grieving the loss of a friend, so this guy is very damaged goods, and that's why I love it. That's why I love him. You know, heroes can be boring to play. I've turned down hero parts because the bad guy was the better role. I've taken bad guy parts over good guy parts, but Ash to me, written as he is, is just the every man. He's you fighting evil. He has no special powers or skills whatsoever, which is why people can root for him.
And he's funny too!
Well, you know, Ash calls it like he sees it.
Okay, but given everything on the show—the blood and sex and drugs and death—what does it all mean, Bruce? What's the message?
It's a hero's journey—
Wait—what? That question was totally tongue in cheek!
It is. It's the Joseph Campbell journey. Ash is at his core a mythical character who is written about in an ancient book, so we're actually going to explore that mythology in Season 3, the story of who Ash is and what his purpose is, which is cool. I think it adds another dimension to that world.
Tell us how the whole Evil Dead franchise came to be.
Very lumpily, very unplanned. We made the first Evil Dead in 1979 and then made our second film, which bombed. So we made a second Evil Dead, which did well. We did one sequel in the '80s; then we did another one in the '90s, Army of Darkness. We spent a lot of money on it and went over budget and just had a lot of problems. And it killed the franchise. Then there was a sort of DVD resurgence. They were doing all these DVD extras in the '90s, and that really brought Evil Dead back for a lot of people. The movies got repackaged and sent out, and it became like the good old days, almost nostalgic. So finally we did a remake of the original in 2013, which did well worldwide, but people still seemed to want the real thing. At the time Rob Tapert had just finished Spartacus and I'd just finished Burn Notice, so we convinced Sam Raimi to adjust his thinking, to think about Ash vs Evil Dead as a TV show instead of another movie. Sam wrapped his head around that, directed the pilot, and away we went. Now we're three seasons in with Ash vs Evil Dead and hoping to get more.
Spider-Man director Sam Raimi was a childhood friend?
Sam and I met in high school, in drama or radio/ speech class, and found out we had similar interests. We pretty much immediately started making amateur movies together on weekends. Then we met some other guys, so about three neighborhoods joined together, and we each combined our assets, our cameras and our lights. I have to say we were incredibly industrious. We weren't out getting drunk every weekend or chasing the ladies —we made about 40 of these little movies. It was the whole gamut, anywhere from ten minutes long to an hour and a half. It was war movies, comedies, slapstick, but they were mostly just really zany movies.