The late Frank Sinatra, whose likeness porn star Bonnie Rotten has tattooed on her left leg, once famously said, "I'm for anything that gets you through the night, be it prayer, tranquilizers or a bottle of Jack Daniel's."
Frank Sinatra is Bonnie's hero, and as I spend the afternoon with her, I understand why. Sinatra grew up rough and still managed to become a music legend with the hand fate dealt him. Bonnie Rotten had a soul-crushing childhood. Yet she's not only managed to become a XXX superstar, but perhaps more impressively, she's a well-adjusted, happy adult. Porn, to paraphrase the words of the Chairman of the Board, is what gets her through the night.
It's nearly Halloween, and it's my assignment to accompany Bonnie to the world-famous HUSTLER Store on Sunset Strip, in Hollywood, California, as she shops for a suitable costume to showcase her hellacious, well-toned and seriously tatted body for the upcoming holiday. As Bonnie slips in and out of an assortment of skimpy, revealing outfits (for the record, the slutty soldier is an instant dick-hardener), I ask her how she discovered her career calling.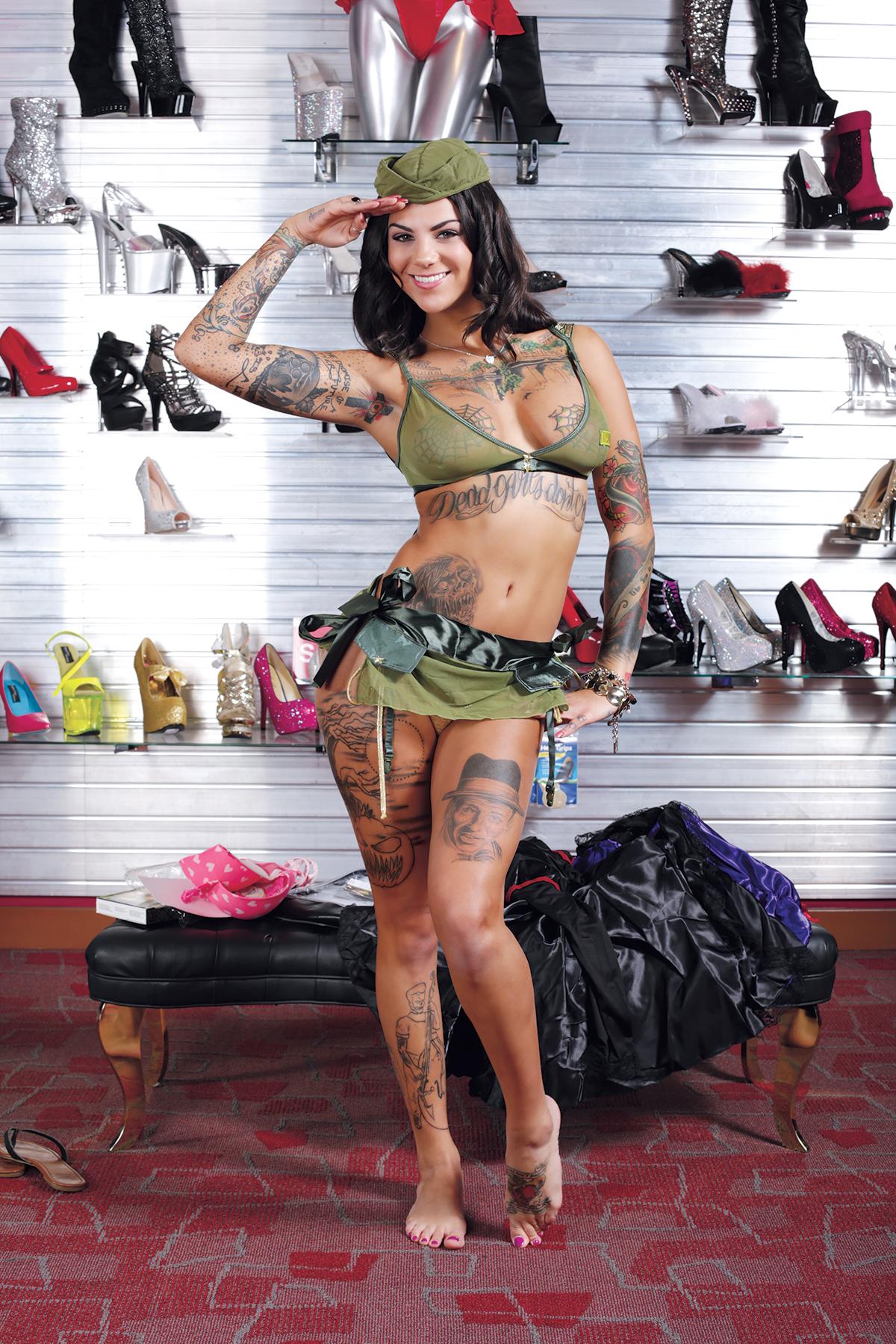 "It was an accident," she says with a laugh. "When I was a little kid, I wanted to grow up to be a lawyer, like the character in the movie Clueless. I liked working on cars too," she adds. "So if the lawyer thing didn't work out, I figured I'd become an auto mechanic… that is, until I discovered sex."
As a kid, her parents were not in her life. Mom and Dad abandoned Bonnie to her grandparents when she was two years old. Mom dropped off the face of the Earth, never to reappear, and Dad didn't come back into the picture until she was 18. And to make her domestic situation even more of a mishmash, Bonnie's grandparents separated when she was in grade school. So the girl grew up without a helluva lot of supervision; i.e., she grew up quick. Her domestic life was beyond her control, and it made her, in her words, "want to be a control freak." Sex seemed like an area she could control.
"I loved sex right away," Bonnie recalls, "and I knew I wanted more. I just didn't know what more was."