Chicago grew into a mecca of industry and power in the decades following the Great Fire of 1871. It became a bustling city offering a wealth of opportunities, and the lure of a new life and a new job drew thousands. With them came Emeline Cigrand from Dwight, Illinois, in 1892. Young, blond and striking, she was eager to explore the possibilities of the Windy City's booming economy.
Emeline proved herself ambitious. After a short spell working at a rehabilitation clinic for alcoholics, she took a post as personal assistant to a young doctor in the Chicago suburb of Englewood. She found her new employer to be a handsome, commanding individual. She greatly enjoyed the work and his company, and it wasn't long before she fell deeply in love.
Soon her employer became her world. Every day she traveled to his extensive property on 63rd and Wallace. A modern, oddly Gothic structure, it was gargantuan in size and easy to get lost in; corridors would taper off at unusual angles for no clear purpose, and occasionally she'd open doors that literally led nowhere. Still, who was she to question anything when she was so happy?
So she paid no mind to the bizarre warnings of a caller named Ned Conner, who warned her to get away from the building. Nor did she take note of her uncle's suspicions about both her employer and workplace. By that fall, she was completely besotted, and now a proposal of marriage was offered, one she accepted without hesitation.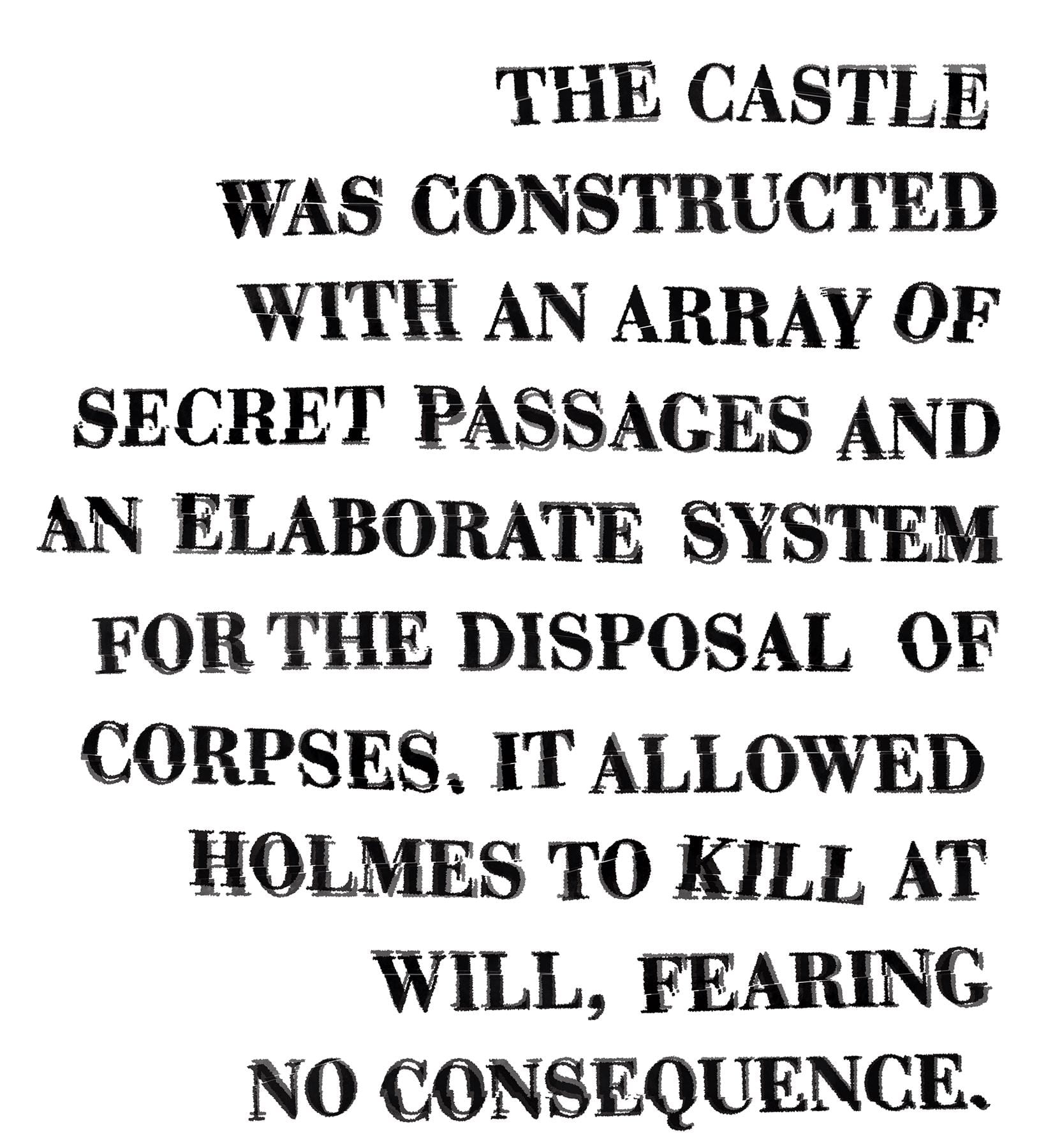 Emeline dreamed of the European honeymoon she was promised and the prospect of having children with her beloved, who told her he was the son of an English Lord. She allowed him access to her savings (a sum of around $800), and life seemed to be perfect. Soon she'd be wed to a successful doctor, a member of the aristocracy at that, and her family would no doubt be ecstatic.
One night the doctor asked Emeline to retrieve something from one of the rooms, a dark and foreboding chamber with a heavy door. Upon entering, she felt a slight burning sensation on her bare feet. The thick steel door closed behind her with a quiet thud. Very quickly the room grew warm, uncomfortably so. The air became scarce. Her chest tightened. An acrid substance burnt the back of her throat. She pounded at the door, growing frailer by the minute, calling for her lover. He did not respond. It was not that he was unaware that poor Emeline was trapped. On the contrary, he was watching from a peephole as the life drained from her. He had experienced all the carnal pleasures her body would allow, but nothing could match the height of arousal that came to him from observing her slow demise.