There are few things more beautiful than the beach at sunset. The beach at sunset with Honey Gold on the sand is one of them. As the 25-year-old, multiethnic adult-film phenom takes in the scenery at Venice Beach, it's a tough call as to which natural wonder is more breathtaking: the fading light glimmering on the water or the sprightly sexpot frolicking in front of it. The ocean breeze provides the tiebreaker, as it lifts Gold's dress, revealing the wonders beneath. The sun might be retiring over the horizon, but the temperature just seemed to rise.
---
HUSTLER: You came from an intensely religious family. How was that for you?
HONEY GOLD: I wouldn't say that I am against religion—just for the record, I'm not. I was homeschooled from third grade all the way through high school. It was a Christian homeschool program. Both my parents were Christians, still are. Very devout, hardcore Bible-thumpers, the kind that will jam the Bible down your throat. And I was very involved in the church my entire life. I have a background of being a Sunday school teacher, worship leader. I worked with a lot of kids from the inner city, and I helped run Vacation Bible School. I truly enjoyed it. I was definitely very committed to it. It's just, I got to a point where I wanted to explore things for myself. I started studying theology and then biblical archeology and world religion, and I was intrigued by what each religion had to offer. So once I learned about different religions, I was like, you know what, I grew up learning about Christianity. I am curious about what else is out there, because every religion has something in common. I'm searching right now.
Do you think that religion and pornography have to be at odds with each other?
I'm still discovering that for myself. I don't really know how to answer that, because growing up, masturbation is something I struggled with while I was in the church. It started at age nine, and I didn't understand my sexuality, and I was taught that it was a sin. I couldn't talk to anyone because it was considered so shameful. I don't agree with the fact that Christianity teaches that masturbation is wrong and yet they teach that you shouldn't have sex before marriage. I don't agree with the fact that porn is considered a sin. Porn has taught me how to have sex at home behind closed doors and how to be a performer. Porn has given me an outlet, instead of going to have a one-night stand. It's prevented me from getting into situations that I shouldn't be in. Religion teaches that porn is essentially a sin, masturbation is a sin, self-gratification is not a good thing. And I just don't agree with that.
I believe more in energy…that there is a higher power putting good into the universe, good thoughts, and I guess it's karma generally. But I'm still trying to figure it out.
You come from a diverse ethnic background. Do you identify with one ethnicity more than the others?
I'm half-Cantonese, black, Cherokee Indian, Mongolian and Irish. I personally don't necessarily identify with one more than the other. On camera I'm cast as ebony. But I don't identify with ebony. I feel like you have to fit into a category in the adult industry. So I go against that, and I'm like, hey, I'm a mixed kid. So I don't really pick one. I like to just celebrate the fact that I am a diverse human being.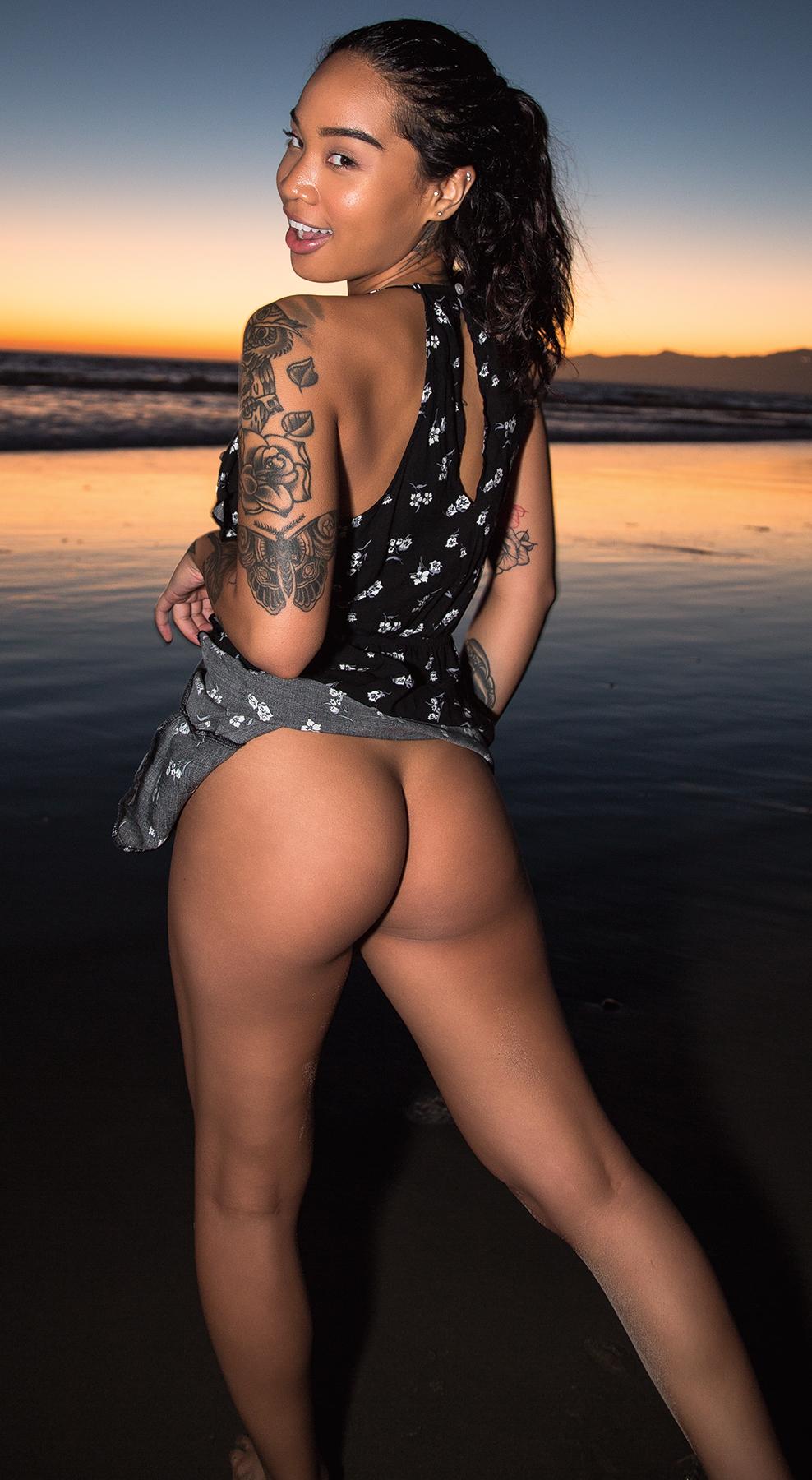 You've shared that you've been homeless. When was that?
This was when I first ran away from home. I think I was on the brink of turning 20. I left home to make a way for myself. My parents did not want me to go to college, and I was not okay with that. I got my first job, and I was told that I had to quit and work for the family business. And when I was working for them, technically it could be classified as child labor. I thought, I can't go to college. I can't have a job. These are normal things that parents should be proud of their kids for. So I decided that I would rather run away and try to make it on my own than try to comply with their wishes, because where would that get me? It would leave me uneducated and dependent. That's not what I wanted for my life. It wasn't easy at first, because I couldn't get an apartment. I had not known about credit. I had not known about renting history, references. There's a lot. I didn't have a bank account. So it was sink or swim for me, honestly. I started sinking to the bottom, but then I figured it out really fast, because when you sleep on cold cement, that's not a feeling that you want to experience again.
Did being homeschooled make you isolated from the world?
It definitely isolated me from society. There are pros and cons to homeschooling. I feel like it really depends on what type of teacher/parent you are. My parents weren't necessarily heavily involved. I started working when I was 11. I was working by day, studying by night. It was not an ideal situation to get the most out of homeschooling. It was definitely isolating. I didn't have friends. It gave my parents a sense of control, so they got scared to even let me leave the house. That's the cons of it, but I think the pros of it is, because I was shielded from people, I was shielded from media. I was shielded from the internet. It gave me a really great sense of self. I got to develop certain character traits and an idea of who I am, free of influence, and that's something that makes all of it worth it. I love the fact that it gave me a firm sense of who I am, because who I am is me. It's not me trying to be someone else.
You had a lot of nine-to-fives between homeschooling and entering the adult industry.
Do you want to know which one I hated the most? I hate Chick-fil-A. I love their food, but I hate them. Oh, my goodness. That was the worst job I have ever had. I just didn't like the fact that out of every single place that I worked, that was the one place where people abused their power the most. But it helped me better communicate with people and grew my business skills, so I have a love-hate relationship with them. There's a lot that I learned. And their chicken nuggets are good. The Chick-fil-A sauce is so good.
Was it difficult to go from the isolation of homeschooling to the adult industry, where you have to create an instant intimacy?
The transition was rough. Going from homeschooling, college—and I was a complete hermit in college—to going into just working every single day, not having a social life—and then jumping into porn. I knew I wanted to do it, which overrode that fear of, Oh, my God, I have to interact with people and have sex with them. I wanted to do it so badly, and I knew that it was something I was generally going to be passionate about.
Do you get recognized by fans when you're out?