Politics
Asshole of the Month: Rick Snyder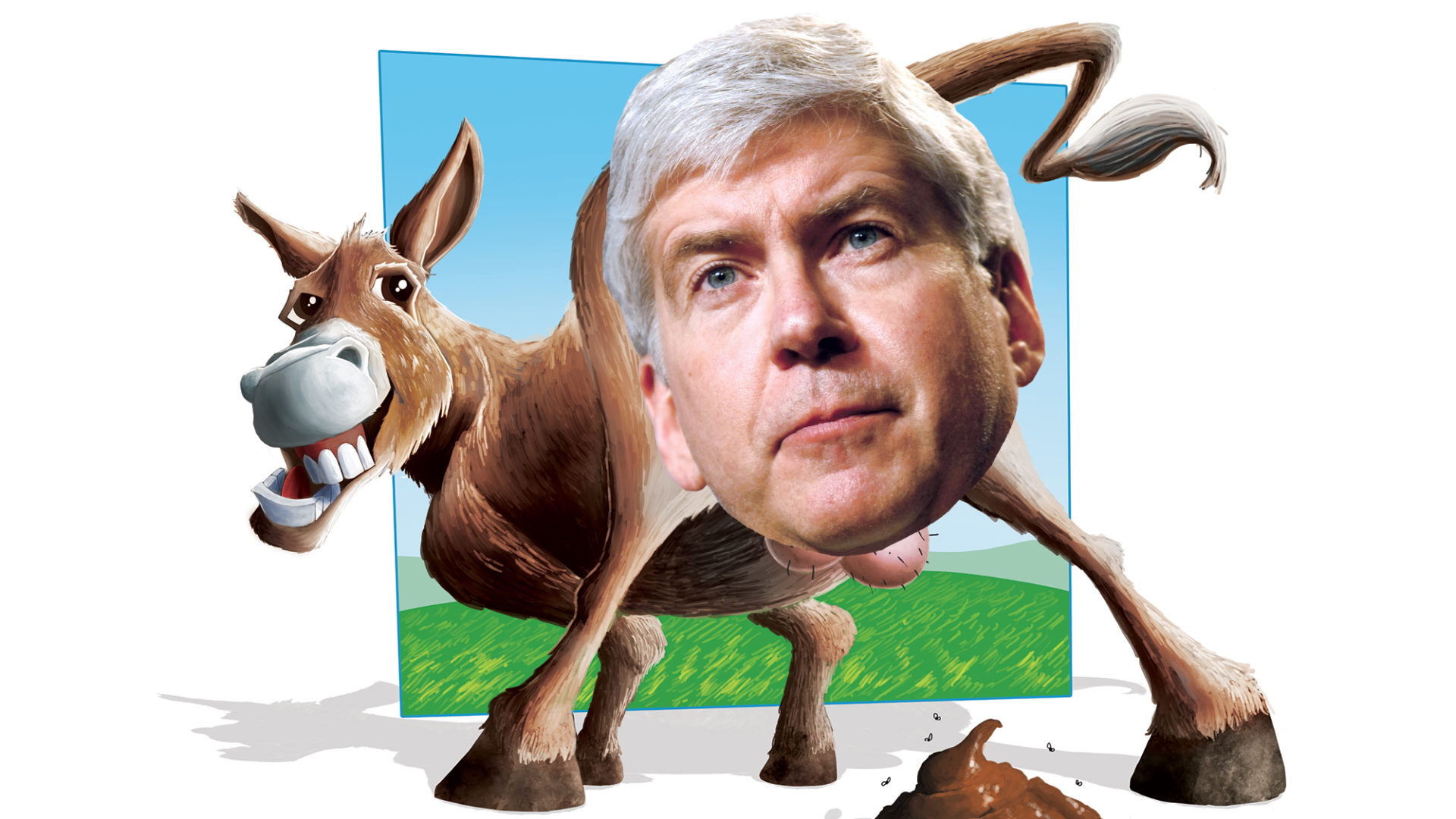 Life has been tough for Michigan Governor Rick Snyder this year. His approval rating has tanked, and he has been constantly heckled by irate citizens everywhere he goes. Dining out in an Ann Arbor restaurant with his family back in January, he was nearly run out on a rail. If tarring and feathering were still commonplace, Snyder would be quacking and fluffing like a duck now. Yeah, it's a tough slog toward the next election when your own greed and incompetence are responsible for poisoning an entire city's water supply with lead—damaging, perhaps permanently, a whole generation of maturing youngsters.
It started when Snyder pushed through a quasi-fascist bill granting him authority to install an unelected emergency manager (EM) in any Michigan municipality deemed to be in fiscal crisis. After voters repealed Snyder's first emergency bill, he rammed through a second one—the Local Government and School District Fiscal Accountability Act, with a provision inoculating it against being overturned. The act allows the emergency manager to determine budgets, trump elected city councils and school boards, sell off assets, decertify public unions and even abolish the city as a political entity.
This, of course, meets the original definition of a dictator: a magistrate in ancient Rome granted absolute power to deal with a crisis, usually involving barbarians at the gates. In Michigan's case, the barbarians who destroyed Flint and Detroit—once the world capital of the automotive industry, the big V8 of the American economy—wore suits and ties while being wined, dined and bribed by corporate lobbyists. The GOP (with a little help from Demo– crats on the corporate payroll) engineered all the "free trade" pacts in the last few decades that have transformed the industrial heart of America into the Rust Belt. Snyder's contribution was to add lead to the mixture.
He became governor in 2011 with a plan for "Michigan's reinvention." His first budget cut spending by $1.8 billion while enacting new tax breaks on corporate profits, yet raised the tax on state pensions by eliminating exemptions—the old, reliable fuck-over-the-worker-so-overpaid-CEOs-can-get-richer routine beloved by all Republicans. His plan cut corporate taxes by 81% while raising taxes on the poor and elderly by 36%, blowing a hole in the state budget. To fill it, Snyder and his Republican allies in the state congress passed a bill to raid over a quarter billion dollars from the School Aid Fund. Fuck the kids so we can bloat the corporate fat cats!