Politics
Asshole of the Month: Kristi Noem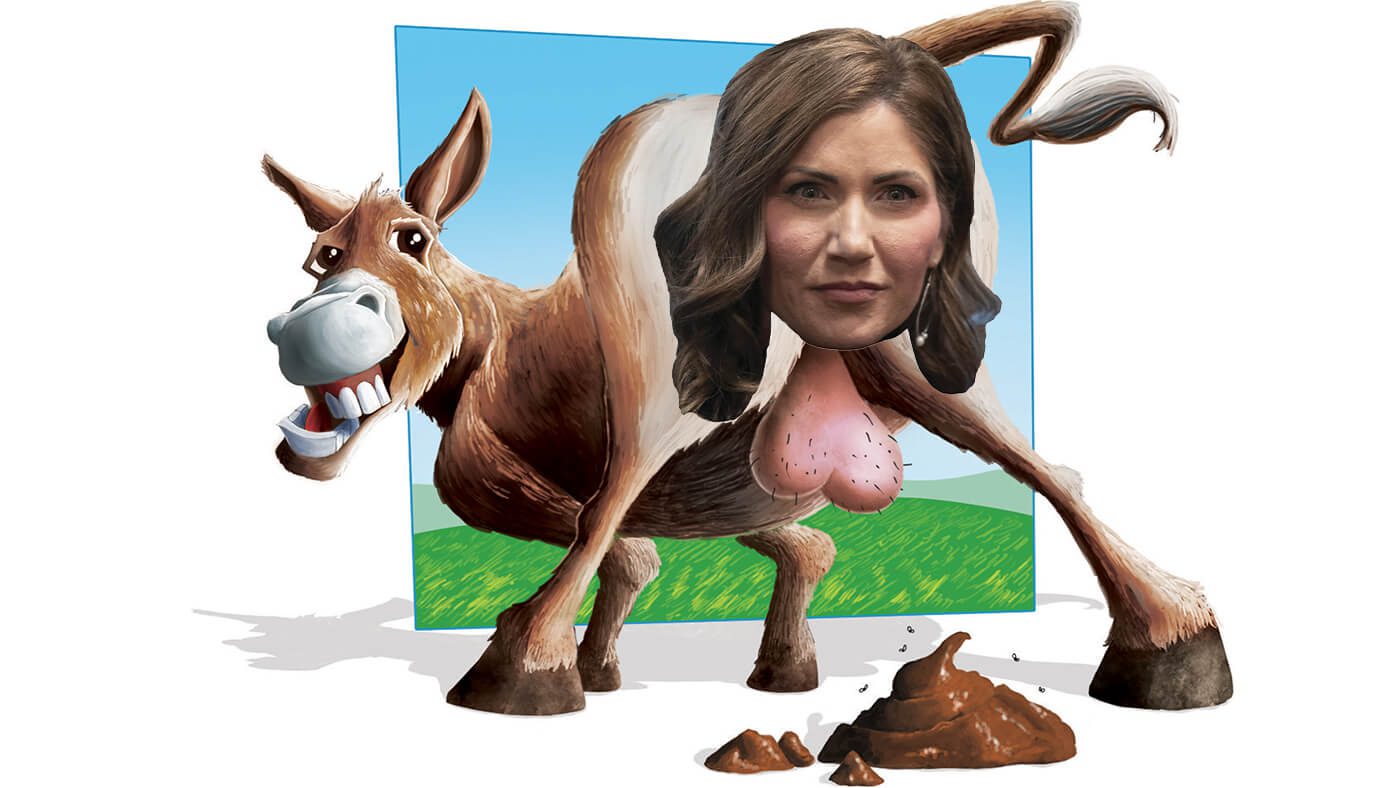 Donald Trump may be out of the spotlight for now, slumping down in the fever swamps of Florida like a submerged gator, plotting his 2024 comeback, but his brigades of loyal Trumpites—many of whom got elected on his coattails—are still in power in Washington, D.C., and numerous states.
They despised him at first, along with the rest of the Republican establishment, but then the big con happened—Trump bamboozled half of the common folk in America with his big, blustering P.T. Barnum act—so they flushed their principles down the shitter and jumped on the bandwagon too.
Kristi Noem is one of them, holding down the fort in South Dakota as governor since 2019. During her first meeting with Trump at the White House, she invited him to visit South Dakota: "We have Mt. Rushmore," she said. It was a gracious prod: Trump probably thought it was in North Dakota or Kansas, like he thought the Super Bowl LIV-winning Kansas City Chiefs were based in Kansas instead of Missouri—a common enough mistake for schoolchildren, but cringeworthy for an American President.
And Trump actually said: "Do you know, it's my dream to have my face on Mt. Rushmore." "I started laughing," said Noem. But "he wasn't laughing, so he was totally serious." That should have been a clue that the boss was a delusional megalomaniac, but Noem ignored it. Two years later, on July 4, 2020, Trump did make it to South Dakota, to watch fireworks at Mt. Rushmore. To commemorate the wondrous honor, Governor Noem presented him with a scale model of Mt. Rushmore—complete with Trump's head added in the fifth position! Yes, it sounds like a Saturday Night Live skit, but we are not making this up. The 27-inch-wide bronze model cost $1,100 (paid for with private funds, Kristi explained). We hereby nominate this for Greatest Suck-Up Act of All Time.