Politics
Asshole of the Month: Josh Hawley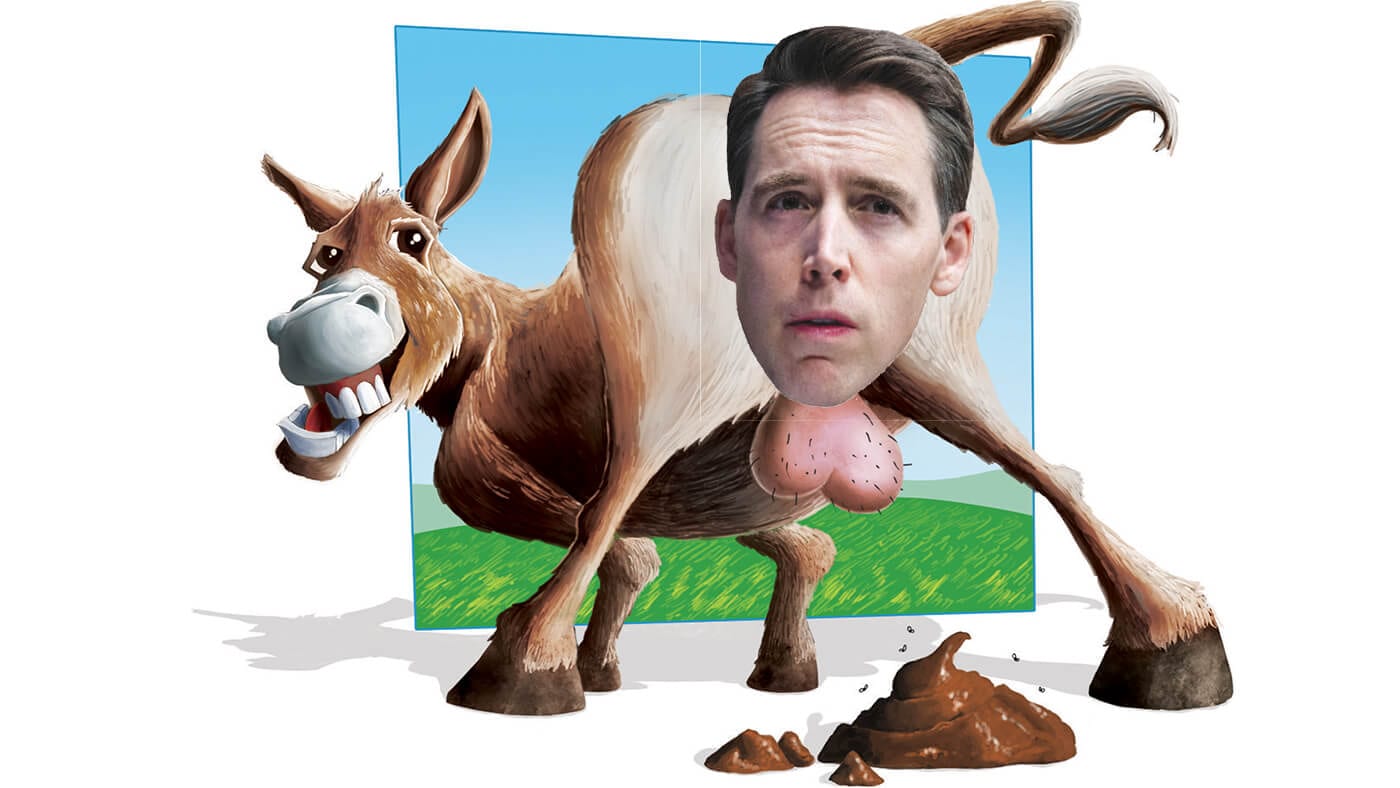 Some people born with all the stars aligned for a successful life nevertheless manage to fuck things up with a few horrible decisions; they bet the whole farm on the wrong horse or hitch their wagon to a leader who turns out to be a false prophet. Then their soaring ambition flames out like a shooting star. Such is the case with the junior Republican senator from Missouri, Josh Hawley, made infamous by his clenched-fist cheerleading of the Trumpite mobs that trashed the U.S. Capitol building on January 6.
Born in Arkansas and raised in Lexington, Missouri, by banker and schoolteacher parents, Hawley went to Stanford, the Harvard of the West Coast, where history professor David M. Kennedy judged him to be "arguably the most gifted student I taught in 50 years." So he does have a brain; unfortunately, it was hobbled early on by the blinders of strict religion. His Stanford classmates recall that Josh never drank, toked, partied or banged girls in his dorm room. He was too busy with Bible study and political ambition. "The joke was—and it wasn't really a joke—the assumption was that he had his eyes on the Presidency eventually. And I think he conducted himself with that in mind," said college friend Brooke Eisele. Beware the man seeking ultimate power who, like Hitler, enjoys no vices!
After Stanford, Hawley went to Yale Law School, where more classmates deemed him "politically ambitious and a deeply religious conservative." After graduating, he worked a brief stint as a private lawyer, then for the Becket Fund for Religious Liberty—a conservative Christian advocacy group that defended Hobby Lobby and similar cases in front of the Supreme Court. He moved on to become faculty member for the Blackstone Legal Fellowship, funded by the Alliance Defending Freedom, which the Southern Poverty Law Center lists as an anti-LGBTQ hate group. In 2016 he successfully ran for Missouri attorney general. In that role, he joined the wingnut AGs from 19 other red states in launching legal warfare against Obamacare. These Assholes never spent one ounce of energy on improving the Affordable Care Act or replacing it with a better plan; no, just blow the whole damn thing up and let the carnage of our uniquely insane healthcare system continue!