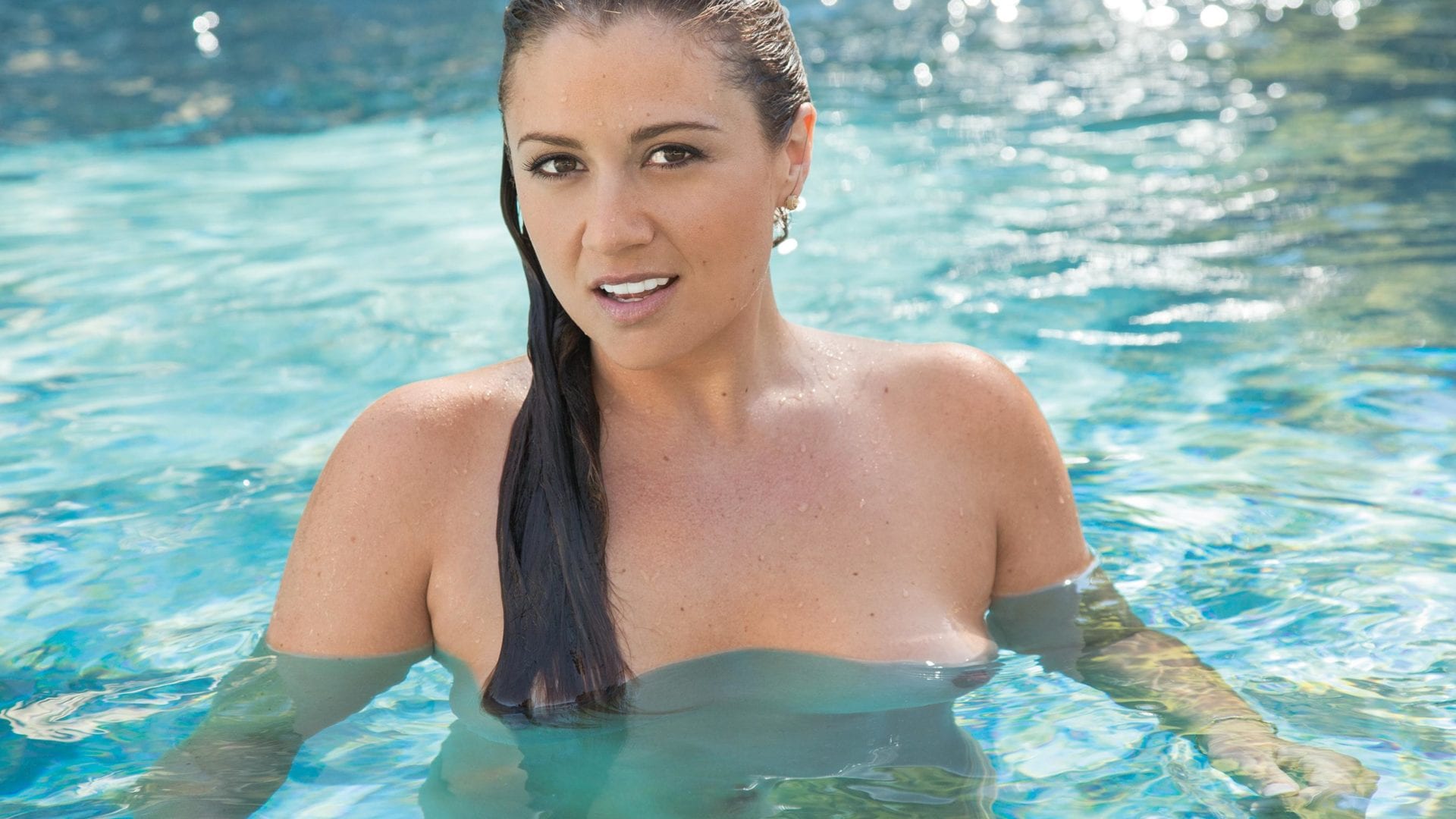 About Victoria James
"Schoolteacher Fired by Local Prudes!" It's a regular news item these days. But the story of Olivia Sprauer aka Victoria James represents a new level of sexophobia. She hadn't sexted anybody or been in porn. She was just trying to make ends meet by moonlighting as a swimsuit model. Now the former English teacher, booted out of Florida's Martin County High School, bids a full-frontal farewell to her past and indulges her inner Lolita.
HUSTLER: How did the school find out you were a model?  
VICTORIA JAMES: I had already resigned and planned to model full-time. I was disheartened by the education system. I don't like teaching students for a test; I don't think it teaches them anything. The day I turned in my resignation letter, I felt very liberated. I linked my model pages with my personal social media. I said, "Fuck it. There are only four weeks left in the school year. I'm not ashamed of what I do. The pictures I've taken are beautiful."
Monday morning I started teaching. One of the deans came in and said, "What are you doing here? You're supposed to be in the principal's office." When I got there, the principal said something like, "Do you have any modeling photos on the Internet?" I said, "Yes." He pulled up a photo. "Like this one?" I could tell it was embedded in an email. I said, "Yes."
And he said, "I don't have anything good to say, so I'm not going to say anything at all, but I need you to give me a new resignation letter effective today. We can escort you back to your classroom to get your things, and you'll be escorted to your car." I worked there for two years and dealt with these children every day, but all of a sudden I needed to be escorted like I was some sort of criminal. When the vice-principal walked me out, she said, "It must be hard to have to leave everything." I said, "No, not really." In the back of my mind I wanted it to happen. I was actually relieved.
Did you think this is going to be great publicity?  
Actually, no. The first interview I had afterwards I was like, "Who gives a fuck about this? I'm just some teacher in Florida who was a model." It blew my mind. I'm not saying I don't like it. It's been good for me. Ninety percent of things I read about myself were very supportive. A lot of the feedback was "I'm a teacher. I don't make any money. Good for you. You're gorgeous. Do your thing." Most people would have been just glad to have a job, but I wasn't okay with that. That's the entire reason I started modeling. I could make in a weekend what it took me two weeks to make as a teacher.
Do you think other teachers who get fired like you should fight for their jobs?  
If the teaching profession right now was something worth fighting for, yes. If that's what you want to do with your life, then absolutely you should fight for it. That's just not me. Honestly, I think the best thing that you can do as an educator is not educate because then maybe something will change. But as long as everybody's working for shit money, nothing's going to change.
Did you ever have sex with your students?  
No. I would get students who would joke around and say, "Oh, Ms. Sprauer, you know if you were my age, you would totally want to go out with me." I said, "I'm not a pedophile. Dream on." They would say, "Oh hey, Miss Beautiful." That was my nickname. I handled it in a way that never let it get serious. But after everything happened, I had a student text me: "Hey, Ms. Sprauer. I just turned 18. Do you want to go party?" I'm like, "We will never be partying together because your mentality is still that of a child." I get men sleeping with high-school girls, but women sleeping with high-school boys? Really? They're not men yet.
What have you learned from this whole experience?
I've learned more than I could have ever foreseen. I feel like even though I'm intelligent, my body is still a commodity in a patriarchal society. As a woman you can gain power for yourself through the Achilles' heel of the power structure: sex. Sex will always sell. If you can gain power through your sexual person and it betters your life, then I think that is a new wave of feminism and a new way of looking at being a woman in the 21st century. If getting naked betters my life, that's a positive thing for me.
By power you mean money?
No. I haven't made a ton of money, but there are a lot more people who pay attention to me now, which ultimately, as a writer or whatever endeavor I want to do, gives me a public arena.
Is your sex life different now?  
I have always been a very sexual person. Not necessarily promiscuous, but sexual in my nature and my aura. All this hasn't affected how I act in bed. Still, I didn't really feel comfortable shooting full nude at first. Everybody was like, "Ew, you're going to get into porn." Then a photographer I've worked with a couple of times said, "Why do people like you now? Because you have sex appeal." I thought about it and that's me. I think about Kate Upton or Marilyn Monroe. They were sex icons, not porn stars, but people were drawn to their sexuality, their femininity. I'm never going to be vanilla, so I'm just going to be me. This is coming from someone who lost her virginity very early.
How early?  
Thirteen. I had boob implants at 14.
Is that legal?
My mom signed for it. She said, "If you can convince the doctor, you can do it." And I did. Until I was about 16 I denied it and just said, "My boobs grew over the summer," but everybody knew. They were like, "They have to be fake!" When I was about 16, I was like, "Yes, they're fucking fake. All right? And they're nice. You wish you had these boobs. So big middle finger to you!"
What do your boyfriends think of all this?  
The men I had in my life had a hard time with me modeling because they are very territorial. I'm now dating a woman, and she is completely supportive. She's just happy for me, proud of me, never jealous, and we have amazing sex.
You don't miss having a penis around?  
Not yet.
Are you bisexual or just experimenting?  
Yes, I'm bisexual. I had a girlfriend when I was 18 for a while. When I was dating men and was married, I always masturbated to lesbian porn. I'm very clitorally stimulated. The idea of a girl's tongue being there just blows my mind. You don't have to have a penis if you're good at that.
Girls do it better?  
Eighty percent of the time, yes.
How can guys do it better?  
Calm the fuck down. I want you to make love to that with your tongue. I don't need some lizard action going on. That's not sexy. Chill out. Enjoy it. When I moan, yes, keep doing that. If I push your head down closer, keep doing what you're doing, don't change it up.
Men get impatient.
Well, so do we when you're gagging us on your cock. If you're excited, we're going to keep doing it because then you're going to get off faster. I'm not going to stop and lick your balls. You'll be like, "No, wait! Hold on."
Why don't you become a sex-ed teacher?  
I don't want to deal with anybody under 18 anymore. No, thank you.
Was teaching your life's dream?  
Absolutely not. My life dream, my calling, has always been to be a writer. I always wanted to do a memoir, but I also thought, who gives a shit about my life? The writers that I love, like David Foster Wallace, they had some great social commentary to make. In the recent months I've felt like I have had experiences that would afford me that perspective.
Who are your favorite writers?  
Thomas Pynchon. I love his Gravity's Rainbow and The Crying of Lot 49. They were my first intros into postmodern literature. David Foster Wallace, T.S. Eliot and Vladimir Nabokov. Lolita is my favorite novel. Wise writing.
If you were a character in a book, who would be writing it?  
Oh, gosh, I think I have to do it. I have been Harvard-bound to homemaker to teacher to model to stripper. I've been through an abusive childhood. When I was growing up, people would say, "How is it that you're not addicted to all kinds of drugs and in some kind of rehab?" This was before I was even 18. I was always top of my class. Parents would tell me, "I wish my son or daughter was like you." After I got pregnant, I still wanted to finish my graduate degree, but my husband wasn't supportive of that. That was the breaking point.
You're living a postmodern life.  
Yes. I think that's why I was naturally attracted to postmodernism, because I think a lot of things mean nothing, and a lot of nothing means something sometimes.
---