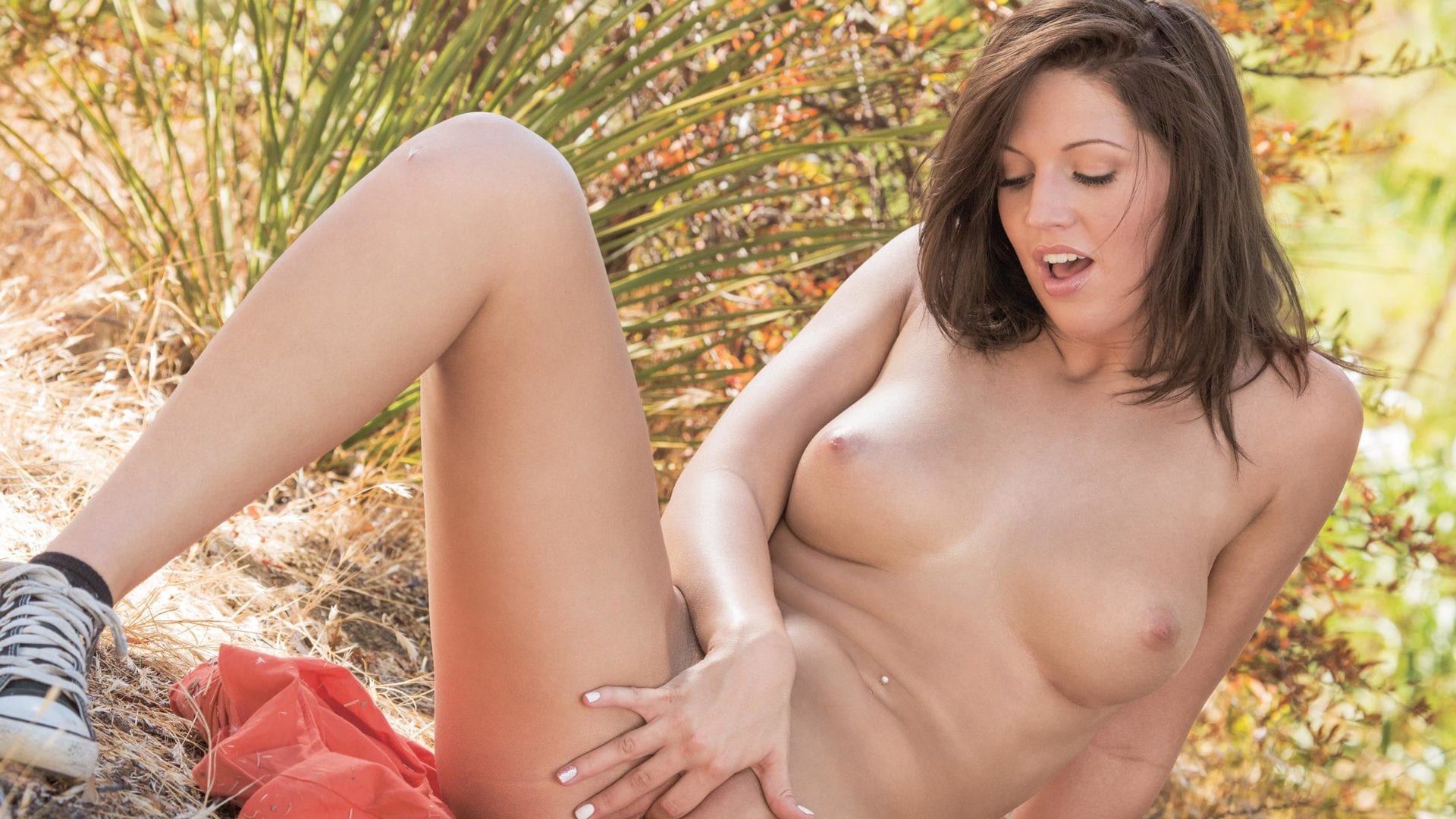 About Val Midwest
Val Midwest grew up a sweet Catholic girl in the heartland locale of Lincoln, Nebraska. Wild at heart and with guts of steel, she broke out of the small-town straitjacket overnight by posing nude in front of her high school and posting the hot photos online. Val incurred the wrath of local law enforcement, but she got back at the prudes and got what she craved: instant fame and her first stroker-magazine spread. Right after being charged with public nudity and still waiting for the judge to slap on the shackles, Val Midwest hit the road and hooked up with HUSTLER to show the world what an all-American rebel is made of.
HUSTLER: Tell us about your arrest.
VAL MIDWEST: There were a bunch of kids in my class [at Pius X High School], and they were really mean to me, saying, "You shouldn't be starting your website. You're Catholic." I understood that, but they would come at me saying names, calling me a slut. So I decided to go to Pius and do a photo-set on the school grounds.
I hopped the fence and did a little set on the football field. I wanted to see how many people would go look at the website after I did that set. Everyone found out for themselves, and then it was all over Twitter and everything. So Catholic people do go to my website, and they do look at porn. I thought that was funny because I didn't tell anyone to go to the website. They went there on their own and saw that I was at Pius. Then Pius got me in trouble with the police.
The police came and gave me a trespassing ticket and a public-nudity ticket. I'm fighting the public nudity. I don't think I should get a public-nudity ticket if I'm trespassing onto private property, which makes it not public nudity.
Did anyone see you?
No one saw me. Pius does have cameras on their football field, so they got me on their cameras. So I couldn't say that I Photoshopped it or anything; they have proof. I went at night because I wasn't going to have a huge big deal going on as far as people seeing me.
When I got my tickets, I went down to the courthouse. They arrested me and took my mug shot. The police were really stupid when they were taking my mug shot. There was a little note card right on their computer with the username and password, and they were having the hardest time logging in to their computer because they didn't know their username and password. I said, "Hey, boys, your username and password are right there," and I pointed to it. They were all mad. I had to help them take my mug shot.
Did you consider doing your mug shot in the nude?
I wanted to. I had a tank on, and it was kind of low cut, and they had me put on this blue jacket.
Were you attending Pius X High School when they saw the photos?
No. I graduated. They only found out about it because they look at porn and stuff, even though [they think] porn is bad. I used to be friends with these kids. I know how they are, and I've been to parties with them, where some of the girls were sluts or they'd gotten so wasted that they took all of their clothes off. So don't come at me publicly saying I'm so bad when you yourself have done things that you would say aren't Catholic or Christian.
What's happening with your case?
I had a court date and I pled not guilty. I have the best lawyer in Nebraska, so I'm not really worried about it.
Did you mean this to be a publicity stunt?
No. The website is like my life. I show what I do, what is going on in my life on my website. I went back to Pius the day that I got arrested and was like, "Hey, guys, I'm back at Pius. Thank you for getting me arrested." Then out of nowhere five cop cars pull up. They told me that I could wear pasties and panties, but I couldn't go naked because that's public nudity. Everyone thought I was getting arrested right then. I didn't. They were just there because people were calling in saying I was going to do something, which I wasn't. I was just back there shooting another set saying I got my tickets that day.
What does your family think about all of this attention?
They don't like the website. They don't like porn or anything like that, but they do support me as a person, so we just don't talk about anything like that. They actually have had a lot of news reporters calling the house, and they say, "We don't deal with anything with her website. She's our daughter and that's it." They're just glad that I'm happy and doing okay.
Do you eventually want to do porn flicks?
If an opportunity comes my way, I'll think about it.
Do you still consider yourself a Catholic?
I don't know. I definitely have my own views. I wouldn't call it Catholic, I guess, because if you don't believe in one thing, then you aren't Catholic. I have my own views religionwise.
What made you decide to start your website?
I started working at a restaurant in Lincoln. I didn't want to have a job like that, and I wanted to do something different than everyone else did. I saw Melissa's website [Melissa Harrington aka Melissa Lincoln aka Melissa Midwest] and saw how much fun she was having, and that's what I decided to do. I definitely don't regret doing it at all.
You've since done a bunch of photos at different churches, but you haven't released them yet. Are you going to?
I don't know. We are still talking about it. I don't think the churches would do anything if I post them, but everyone is going to freak out when I post them.
Are you worried about getting more citations?
That's what I'm wondering. I want to wait to see what my lawyer says. I'm not scared. I really do want to put the photos up.
What's the worst you'll face if you get convicted?
Just a fine. I really don't want to be on probation though because I like flying out to Vegas and everything. I want to tell them that if they put me on probation, I will do a lot more sets here. It will be worse for them to keep me here.
Do you dance at strip clubs?
I don't do clubs because I like being myself. I don't need a club because people hire me for bachelor parties just by myself, and we do the Midwest Girls stuff. Or I do one-on-one work. If guys want a one-on-one with me, they can set one up.
What's next for your website?
I am going to do a set down by the courthouse soon.
---