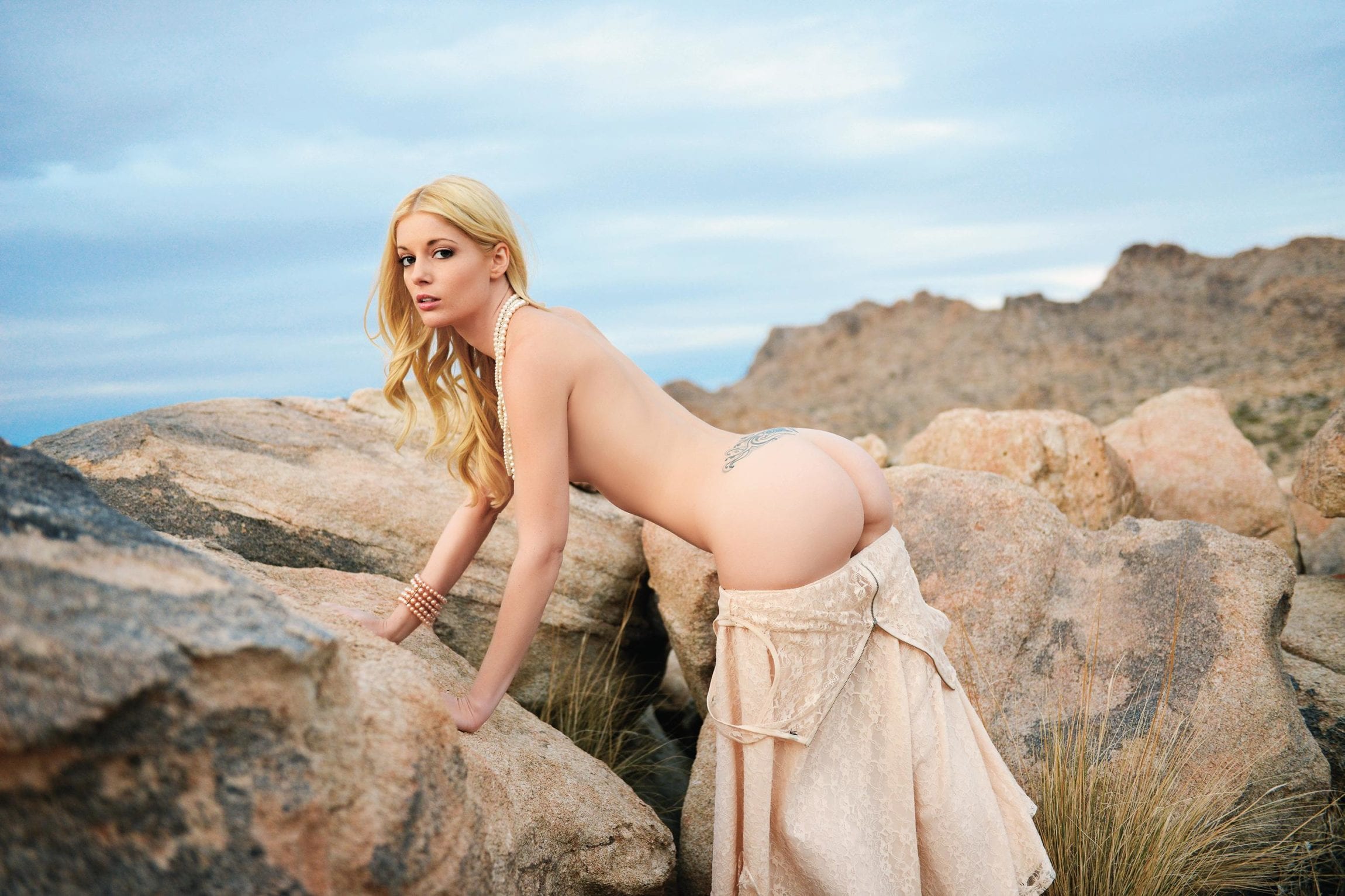 About Charlotte Stokely
DrivenByBoredom.com's public-nudity specialist takes one of porn's most elusive beauties into the wild.
The first time I got into a car with Charlotte Stokely was right before the 2013 AVN Awards in Las Vegas. It was Charlotte's first AVN since 2008. She had left the adult industry for a while to go to school, but she was back, and we were running late. She was supposed to be on the red carpet at 6 p.m., and it was now 6:30. But if nothing else, Charlotte is a very thoughtful person and insisted on driving me to my car.
She pounded a small bottle of wine in front of the valet and told him she needed to finish it before she got in the car. She is so cute and charming that all he could do was laugh as she handed him a $10 tip.
She drove 50 mph through the MGM Grand parking deck, slowing to 45 at stop signs. She screamed at pedestrians to get out of her way. The smell of burning tires was all that remained only seconds after I got out of her car, flustered but really excited to have met someone as intense as Charlotte. Needless to say, I volunteered to drive a few days later when we headed out to the desert in search of great adventures and even better photos.
I had rented an absurdly small car during my week-long L.A. trip, and I had already put more than 600 miles on it driving to Vegas and back and all over L.A. taking photos of porn stars. It had been an eventful week for this tiny car, but it was about to get better.
I picked Charlotte up at her place, and we headed to Joshua Tree National Park, about 150 miles due east in the Mojave Desert. We had a destination, but the trip was the real goal. As we rolled down the I-10, we didn't really have a plan. But as soon as we saw a billboard advertising robotic dinosaurs, I knew we had to stop.
After a few illegal U-turns, we managed to make it to Cabazon Dinosaurs. Driving up, I suddenly realized that these were the dinosaurs from Pee-wee's Big Adventure. Holy shit, we had to shoot some nudes inside of a giant T-rex!
This moment was pretty much what each of our lives had led up to. For a mere $7 we were let into a weird gift shop full of robotic dinosaurs. Charlotte seemed legitimately nervous that one of them was going to jump out at her at any second. Next, we headed out to where the life-size dinosaurs made their home. Charlotte dug for bones and sluiced for fossils and ended up with some shiny rocks.
When we finally made it into the head of the T-rex, I could not have been more psyched. Security cameras watched our every move. I couldn't imagine the trouble you could get into for exposing yourself at an attraction aimed at little kids, but we just had to shoot there. It turned out that Charlotte was, of course, not wearing underwear. I got the shot. Pee-wee would have been proud.
Somehow evading arrest, we dropped by the Wheel Inn restaurant, where an awesome Native American waitress served Charlotte a hot turkey sandwich that may have been bigger than her head. I bought a shot glass with a dinosaur on it, and we both bought postcards for our loved ones back home.
On the way out, we stripped Charlotte naked and took a few photos of her dwarfed by the giant brontosaurus made famous in the climax of the classic Fred Savage flick The Wizard. There were people everywhere. Charlotte jumped into the driver's seat of my rental car stark naked, and we sped away toward Joshua Tree. I snapped photos voraciously.
Charlotte remained naked until we exited the highway. I don't know what was more amazing: how few people noticed the beautiful blonde driving naked down the highway or how effortlessly Charlotte managed to get her dress back on at 75 mph.
As we pulled into Joshua Tree National Park, the sun was beginning to set. We drove all this way, and we were barely going to have any time to shoot. It got colder and colder. Charlotte was a trouper. She spotted a good place to pull off and ran into a patch of desert studded with Joshua trees and climbed a cluster of rocks only about 100 feet from the road. People in passing cars could easily see us as Charlotte stripped, put on a pair of brand-new heels and clambered on the huge rocks.
Despite the cold, Charlotte ended up spraying a $10 bottle of champagne all over herself. Her only reaction was "I ruined these shoes. I guess I can always sell them to a fan."
We got some great shots. As the sun crept behind the mountains, we headed back. On our way we stopped at a Denny's to eat more gross food and terrify the waitress with some diner nudity.
We finally made it back to Charlotte's place more than eight hours after we'd started. I took a few more shots as she got ready for bed. Then I drove downtown to hang with friends for my last night on the West Coast. The perfect end to a fantastic day.
---
Find Charlotte Stokely In