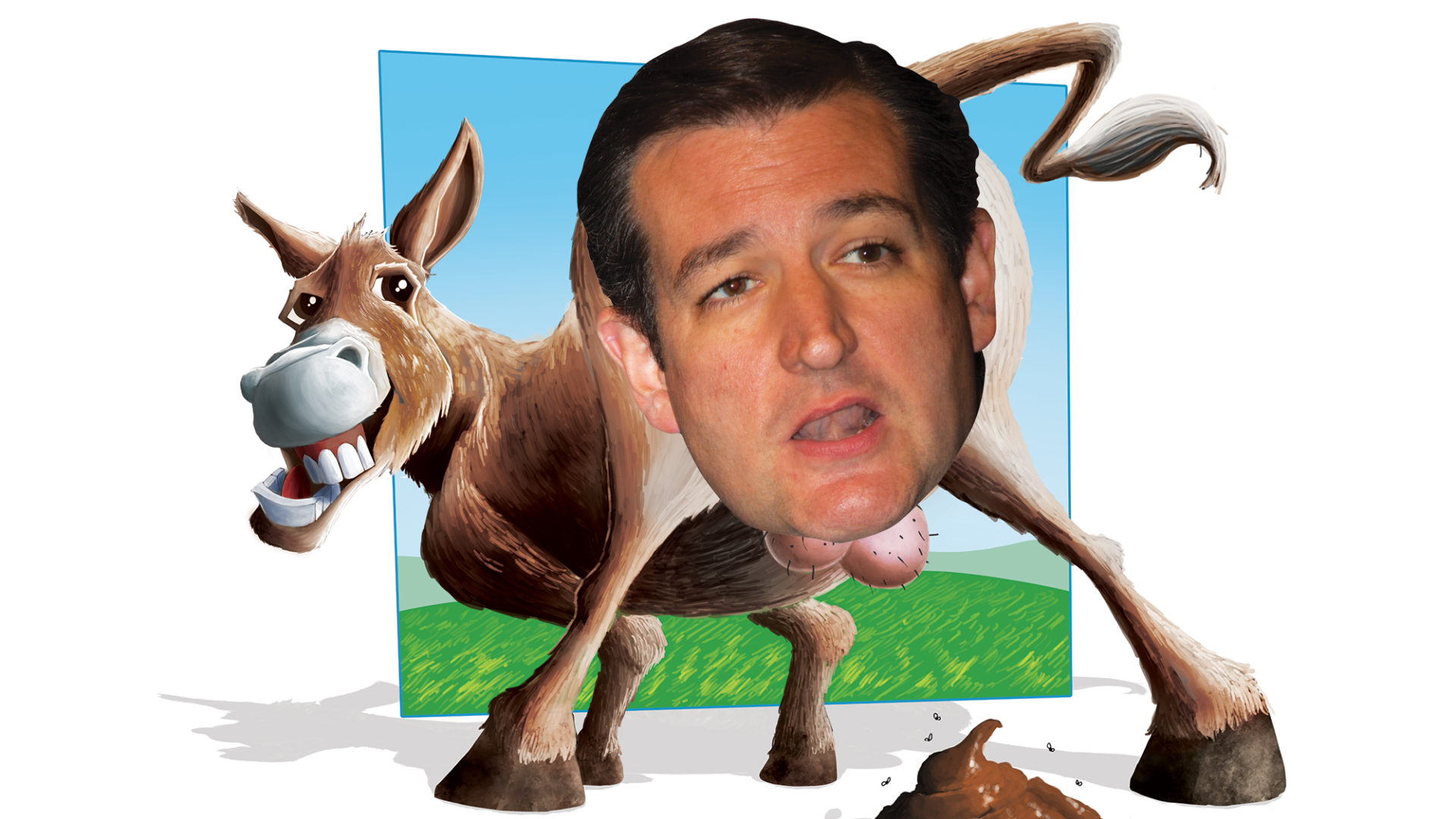 In the proud tradition of our very own Graffilthy, let's kick off this crapfest with a verse cribbed from a shithouse stall: "Here I sit, my buns a flexin'. Just gave birth to another Texan!" The Lone Star Stater this time is the Tea Party pile we like to call Turd Cruz.
Now brace yourselves for a shock: We're actually going to give crusty ol' loser John McCain some props for nailing Cruz and his fellow Tea Party thugs Rand Paul and Justin Amash in a TV interview as "wacko birds." That's the great thing about dementia: Sometimes it lets the truth come out. What McCain should have added is that Cruz is a wacko by design—a cold, calculating opportunist spoonfeeding fanatical dogma to the GOP's hardline fringe.
Just about everything about this guy is a lie. He likes to play the good ol' boy gone up to War-shin-tin to kick some ass around, but Texas is only where he got his Ph.D. in douchebaggery. Like droolin' Dubya Bush, Cruz is actually an Ivy League one-percenter. Born in Canada, he was groomed for power at Princeton and Harvard. He honed his forked tongue as a college debater, learning to say anything—even outright falsifications—to win no matter which side he was on.
Logically, Cruz was drawn to the lawyer profession like a blowfly to roadkill. He was one of the legal goons Bush sent to Florida during the 2000 recount fiasco that led to the worst American presidency of all time. For that reason alone, Cruz should be considered for Asshole of the Decade. Sidenote: Cruz's wife, Heidi, is a Goldman Sachs banker. So much for Cruz's outsider myth.