Politics
Asshole of the Month: Mike Pompeo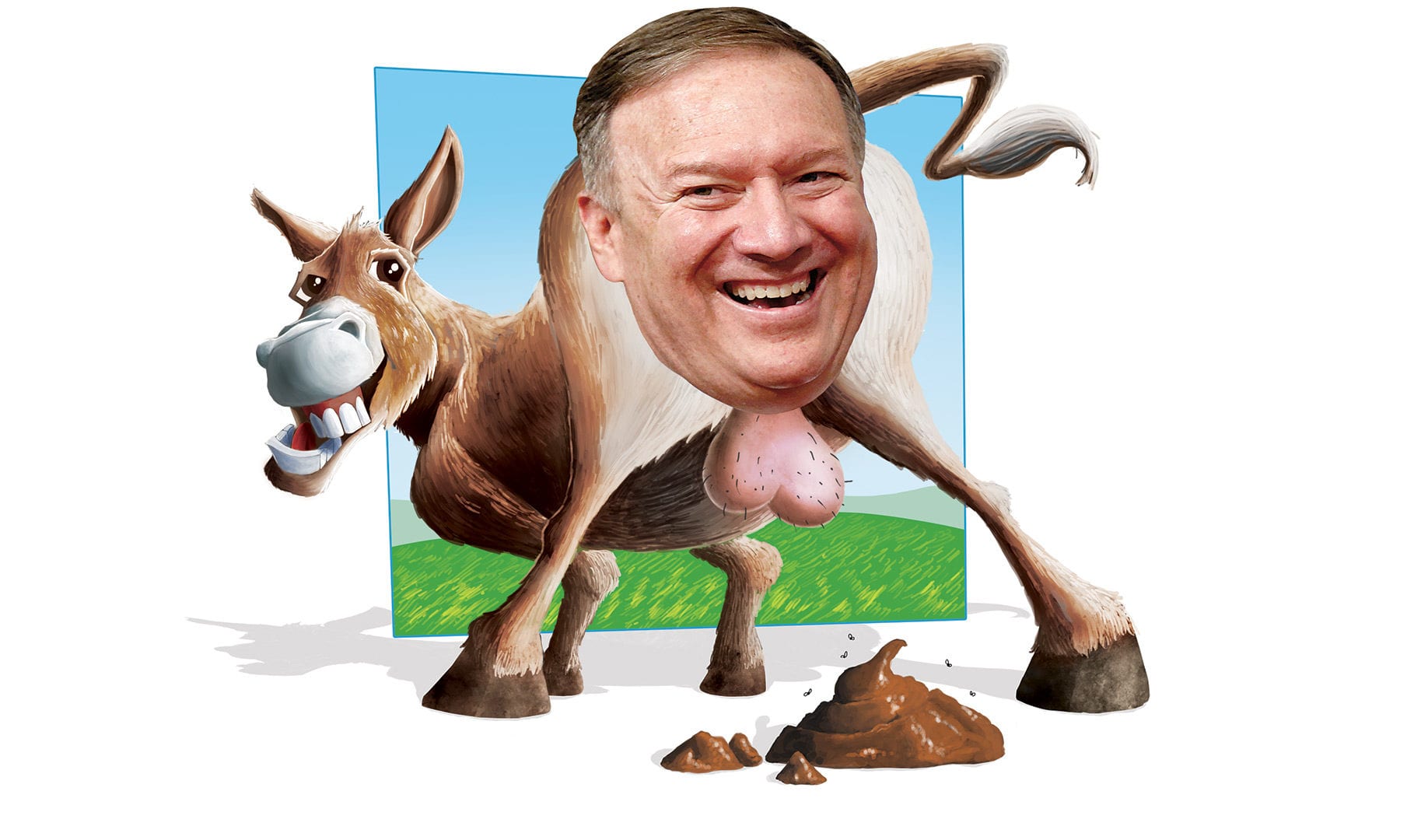 The swamp in Washington, D.C., teems with as many Assholes as there are rats in the sewers, but few piss us off more than the slimy warmonger acting as current secretary of state, Mike Pompeo. That Trump appointed this berserker—along with superhawk John Bolton— after promising to wind down our disastrous, costly "War on Terror" demonstrates that he's either an utter fraud or total ignoramus. The simple answer to that riddle: Trump is both.
Pompeo Maximus began his career serving the military-industrial complex as a cadet at West Point, graduating first in his class. Then he served in the Army for five years, stationed in West Germany as a tank platoon leader and maintenance officer. He never served in combat, however, which plagues such wannabe warlords with a raging guilt complex. So they become squawking chickenhawks to prove their doubted machismo.
The second reason that Pompeo Maximus is such a belligerent dick: It fattens his own wallet, along with those of all the other Daddy Warbucks and Big Oil hogs he pals around with. After graduating from Harvard Law School, Pompeo moved to Kansas and got into the defense contractor business, investing in Thayer Aerospace along with his sponsors, the Koch brothers. He eventually sold interests in that company and invested in Sentry International, a producer of oil-drilling equipment. For these two industries peace in the Middle East and a Green New Deal to save the planet would be unmitigated disasters. Bad for business! So it's up to front men like Pompeo to weasel their way into political power and stoke the flames for more environment-damaging oil consumption and profitable bombing campaigns.
In 2010 Big Mike made his shill move by getting elected to Kansas's 4th District U.S. House seat, defeating the Indian-American Democratic candidate Raj Goyle, a "turban topper" who "could be a muslim, a hindu, a buddhist etc who knows?" according to a tweet sent out by the Pompeo campaign. Mikey was forced to apologize in public, although as a radical Christian soldier, he was probably comfortable enough in private with the ethnic slurs.