Politics
Asshole of the Month: Marjorie Taylor Greene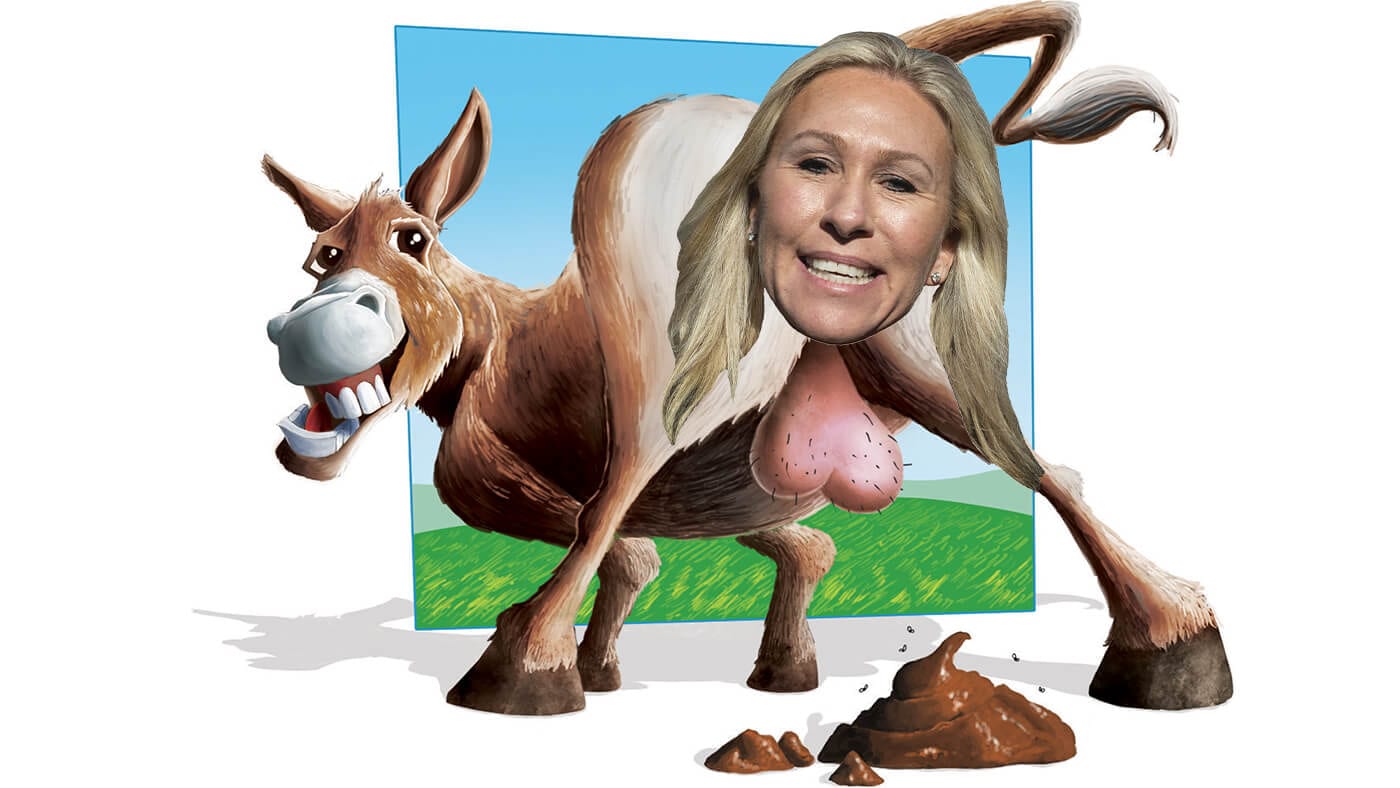 Over the years, Asshole of the Month has featured a bounteous parade of blithering idiots, con men, habitual liars and hypocrites, the vast majority of them either Republican politicians or right-wing pundits and players. So we've grown a little complacent, thinking we've pretty much seen it all—and then along comes a new Asshole so outrageously batshit crazy that even we are shocked to the core.
Enter Marjorie Taylor Greene, from stage right, of course—the newly minted House rep from Georgia's arch-conservative 14th district. She's only served since January of this year, but has already stirred up storms of controversy with her promotion of every whacko conspiracy theory in recent history. Now, don't get us wrong: not all conspiracy theories are loony tunes. The danger, however, is that once you go down this rabbit hole and believe one conspiracy theory, you risk losing touch with reality and interpreting everything as a sinister conspiracy.
So it is with Greene. First and foremost, she's a devotee of the QAnon cult, with its bizarre quasi-religious belief that Democratic Party leaders and Hollywood A-listers are a nest of satanic child sex traffickers, and Donald Trump was a holy man sent by God to clean up the mess—if you can read that sentence without gagging. Almost every prediction by the mysterious Q about "the Storm" of righteousness that would clean up the nation has proven false—so much so that even Alex Jones has now condemned QAnon as a steaming pile of delusionary bullshit. But worst of all is Marjorie actually endorsing the hideous "frazzledrip" nightmare: that Hillary Clinton and her longtime aide Huma Abedin actually sacrificed a young girl and sliced off her face to wear as a mask in some kind of sick occult ritual; the evidence supposedly being a video found on Anthony Weiner's laptop that shocked NYPD cops who viewed it. And some of them have been murdered to cover up the bloody scandal!
If this sounds insane, that's because it is. This kind of sick sexual innuendo has been a stock in trade for defaming "enemy" politicians for centuries: Catherine the Great supposedly liked to get banged by stallions (yes, horses), and Hitler was supposedly a solo-testicled coprophiliac (he liked women to shit on his face)—disinformation campaigns by intel agencies to smear an enemy (the Hitler perversion was likely invented by the Office of Strategic Services). But what sick fantasies like frazzledrip really discredit are the legitimate political/pedophilia scandals, from the Catholic Church priesthood, to Craig Spence, to Jeffrey Epstein and many more, both foreign and domestic. It's very possible that these outrageous concoctions are made up by some of the people actually perpetrating sexual blackmail ops, as a red herring to undermine serious investigations. See, it's all just another whacko conspiracy theory—like frazzledrip!