Politics
Asshole of the Month: Marco Rubio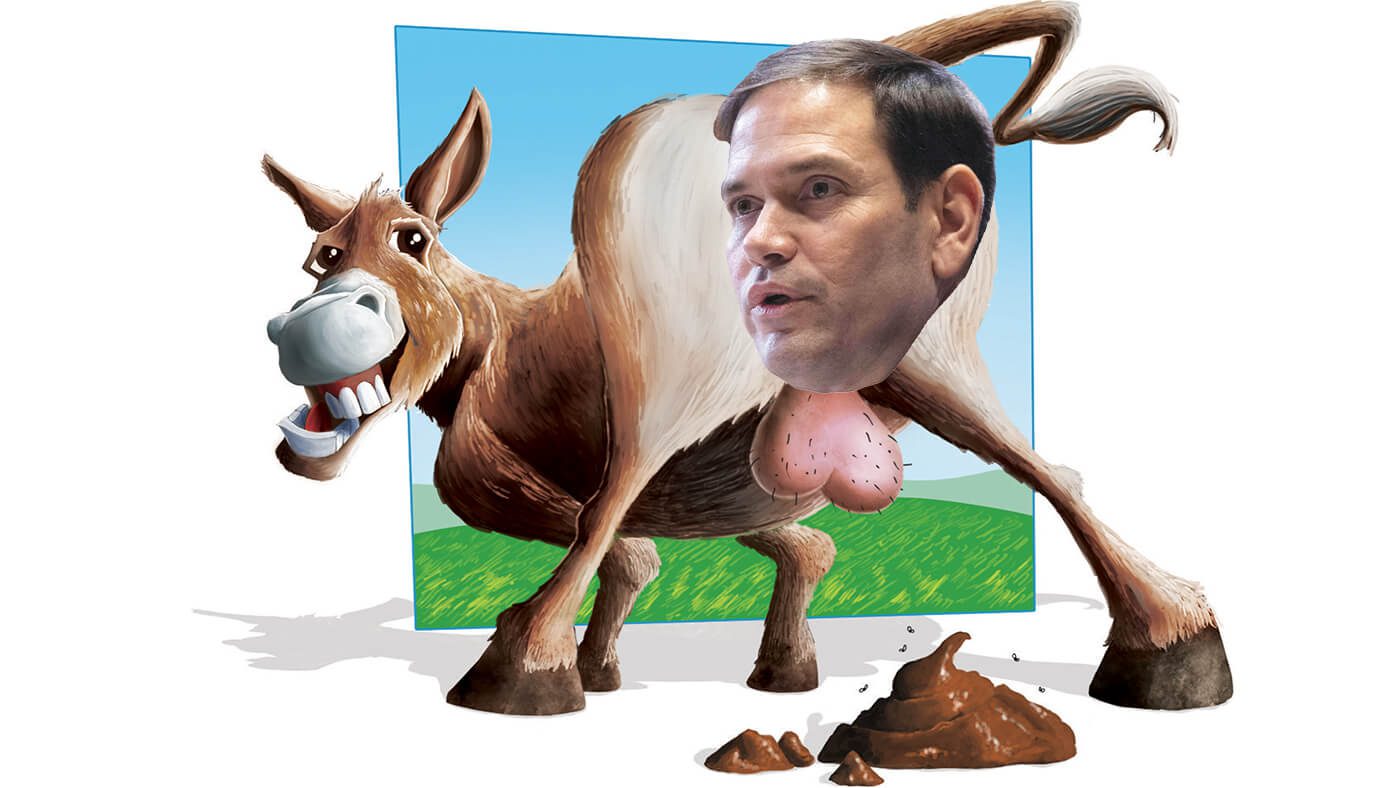 During his failed Presidential campaign in 2016, U.S. Senator Rubio was nicknamed "Little Marco" by Trump. Trump loved dishing out folksy monikers to belittle opponents, mostly dumb schoolyard bully taunts, but he may have really hit the mark with Rubio. Not because Marco stands only 5-9, but because he seems to possess a genuine Napoleonic macho complex. And in modern America, insecure masculinity and macho complexes too often find expression through the barrel of a gun, whether you're actually pulling the trigger or promoting policies that guarantee more carnage.
If it has anything to do with weapons, Rubio is one hundred percent for it, whether in foreign countries or in the American streets, homes and schools that have turned into domestic war zones, largely due to our national love affair with weapons. He's a bloody Dick Cheney neocon when it comes to foreign policy and the NRA's cabin boy here in the States. Rubio tries to wear a nice-guy face, but invariably it masks the ugliest of policies.
His early political career was helped along by a little fib: He portrayed his parents as brave, anti-communist refugees from Castro's revolution in Cuba, but there was a problem with his story, journalists discovered—his parents landed in Florida in 1956, almost three years before the world had even heard of Castro. Caught in the lie, Rubio stated he was only repeating "the oral history of my family." More like family bullshit. But he demonstrated two of the talents essential to rising in the political world: embellishing your resumé and lying with a straight face.
While serving in the farm league of the Florida state legislature, Rubio frequently clashed with Governor Charlie Crist, a rare moderate Republican who recognized the seriousness of climate change and imposed new limits on auto and utility emissions that Rubio later helped gut, because they were "European-style big government mandates." Marco also introduced a plan to reduce state property taxes, while raising the sales tax, the tax that hurts poor people the most. These kind of stances endeared him to the Tea Party, and he rode that far-right train to a Senate seat in 2011. There he helped fellow Republicans' attempts to obstruct everything President Obama tried to do, from the Affordable Care Act to federal climate change mitigation, even though climate change leaves his native state incredibly vulnerable, with ever stronger hurricanes and rising seawater.