Politics
Asshole of the Month: John Kelly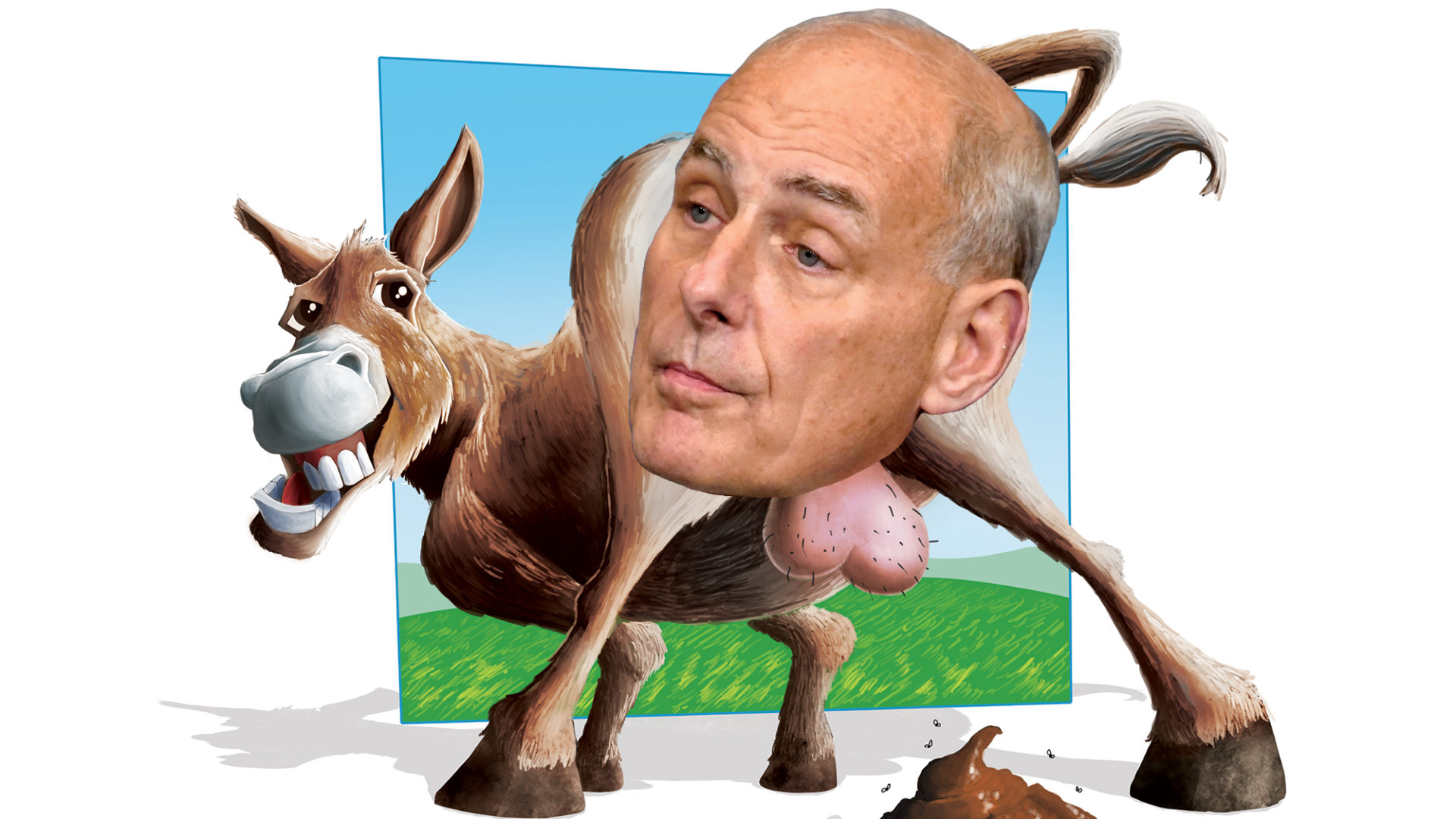 When retired four-star Marine general John Kelly was installed as Trump's chief of staff, there was a huge sigh of relief across the land. It seemed that the "adult day care center," as Republican senator Bob Corker called the White House, was finally going to be supervised by someone who had at least an inkling of how to run a country.
Kelly did put some new restrictions on Trump's romper room, limiting which cronies and idiots had access to his ear. And he appeared appropriately disturbed listening to some of Trump's absurd rants. But the hope that he was a white knight rescuing the nation from our bloviating Dufus in Chief has thoroughly soured by now; Kelly has turned out to be more of a bootlicker than a boot camp disciplinarian. And he's 100% gung ho on Trump's whole MAGA (Make America Gag Again) agenda.
The bloom came off the rose after yet another of Trump's verbal farts—this time into the face of a Gold Star widow whose husband, Army Sergeant La David Johnson, was killed on a mission in Niger. Like the crude jackass that he is, Trump allegedly told her, well, hey, "he knew what he was signing up for." Which is true, of course, but it sounds more like some Mafia don regretting a whacked capo than a Presidential condolence to a grieving widow. He reportedly made Myeshia Johnson cry and couldn't even remember her husband's name.
Given Trump's thinly concealed racism, we have to wonder if he might have remembered La David Johnson's name if he were white instead of black. Frederica Wilson, the black Democratic congresswoman representing the district where the Johnsons lived, blasted Trump for his gross insensitivity. And that's when Kelly stepped out of his hidey-hole, blasting back at Wilson for daring to criticize his commander in chief. He even lied when he claimed Wilson bragged about snagging federal money for her district under Obama, calling her an "empty barrel making the most noise." The video of the event in question actually showed Wilson bragging not about money for the new FBI building, but about getting it named after Ben Grogan and Jerry Dove, the two agents killed in the notorious 1986 Miami FBI shootout. That's how you truly honor fallen warriors, sir: their names engraved for all eternity on a big public building. Somewhat more genuine than Trump's shitty blurt: He got what he asked for.