Politics
Asshole of the Month: Jerry Falwell Jr.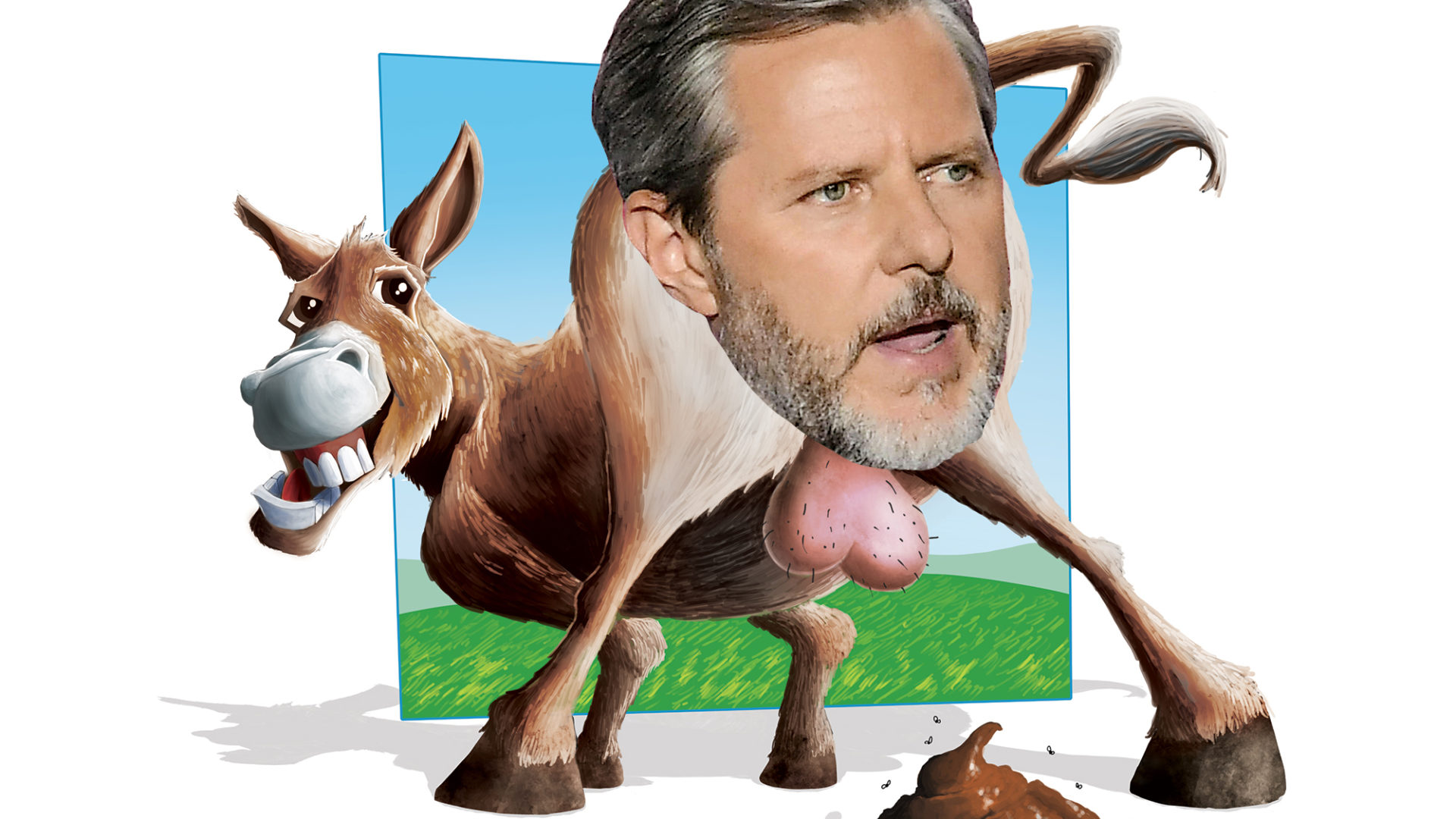 If we can hold one man responsible for getting Trump over the hump in the Presidential election, it would be Jerry Falwell Jr., son of the late Jerry Sr., founder of the Moral Majority and scourge of LGBTQ people everywhere. Falwell Sr. actually blamed gays for the 9/11 terrorist attacks. Before this, he sued HUSTLER in the '80s over a parody depicting him as an incestuous drunk. He took it all the way to the Supreme Court and lost—a case forever enshrining the First Amendment right of satirists to lampoon public figures without the chilling effect of defamation lawsuits.
Jerry Jr. inherited the mantle of white Christian leadership along with the family enterprise, Liberty University in Lynchburg, Virginia. Trump's main rival during the 2016 campaign, Ted Cruz, launched his candidacy at Falwell's university and lobbied hard for Jerry's support. Once Trump surged in the polls and Falwell realized that Donald was destined to become the anointed savior of the nation, he jumped on the bandwagon. But there was a problem: The white evangelical base, crucial for any Republican victory, had not warmed to Trump—for good reason. How could sincere practitioners of Christian ethics support an egomaniacal liar who fucks around on his wives, mocks disabled people, advocates torture, amplifies racist dog whistles and harbors a sneaky admiration for neo-Nazis? The humble flock needed to be bamboozled into supporting the creep by a trusted shepherd. That was Jerry's job: herd the reluctant flock to the polls.
In January 2016 he endorsed Trump as a man who "lives a life of loving and helping others as Jesus taught in the great commandment." Jerry conveniently forgot—or just whitewashed over—all of the defrauded investors, contractors and students Trump had swindled in his long, "Christ-like" career.
After the Access Hollywood tape aired, wherein Trump bragged about grabbing women's pussies with impunity, Falwell jumped to his defense once again, writing, "God called King David a man after God's own heart even though he was an adulterer and a murderer. You have to choose the leader that would make the best king or President and not necessarily someone who would be a good pastor." Again, his evocation of scripture was half-assed: King David cried out for forgiveness. Trump never apologizes for shit.