Politics
Asshole of The Month: Greg Abbott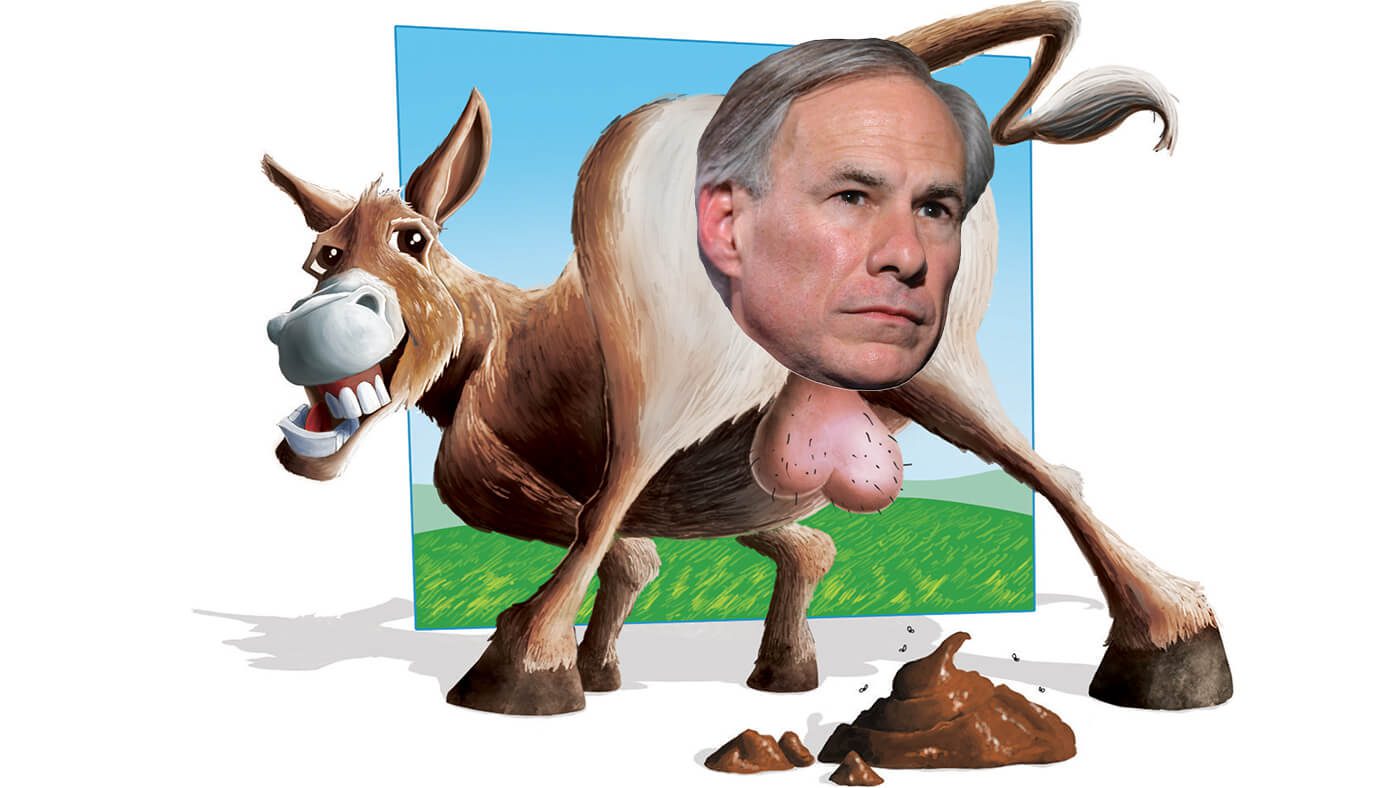 Republican governors now control a majority of U.S. states, 27, meaning there is stiff competition for most backward Asshole governor in the nation. Leading the pack, along with Ron DeSantis of Florida and a few others, is the cretinous caudillo of our most populous red state, Greg Abbott of Texas, who proves the old adage "never judge a book by its cover." On the surface, he looks and sounds like someone's kind, sweet uncle in his wheelchair—he was paralyzed from the waist down at the age of 26 after an oak tree weakened by a recent storm snapped and fell on him while he was jogging; it crushed his lower spine. You might think that tragedy would have made him a more empathetic soul, like FDR, who was crippled by polio. But you'd be dead wrong. Behind the easygoing manner and gentle smile lies the cold, cold heart of a callous right-wing fanatic.
Another icy dimwit Texas governor, George W. Bush, appointed Abbott to the Texas Supreme Court in 1995; then he served as Texas attorney general from 2002 to 2015. In that role, he racked up a record of wingnut obstinacy unparalleled in a state infamous for producing stick-in-the-mud wingnuts. Launching his Christian crusade against modern times, he fought to defend Texas's legislative ban on same-sex marriage, but lost.
While giving a speech to fellow Republicans in 2013, he said his job as AG amounted to this: "I go into the office in the morning, I sue Barack Obama, and then I go home." He wasn't exaggerating. He filed a whopping 31 lawsuits against the Obama Administration, targeting nearly all of Obama's environmental regulations, his Department of Education policies, his policies on transgender rights and, of course, the Affordable Care Act—more suits than any other state AG. This amounts to "lawfare"—legal harassment, whatever a lawsuit's intrinsic merits or lack thereof. By forcing an administration to deal with these incessant legal attacks, that government is distracted and obstructed from doing what a majority of Americans elected it to do. That's not how our democracy is supposed to work; it's really an abuse of the system, just like the frivolous lawsuits that Republicans are so fond of outlawing.
In 2015 Abbott rolled his wheelchair into the governor's mansion, his campaign greased by massive donations from the usual suspects: ExxonMobil, Chevron, ConocoPhillips, Koch Industries, and other giants of the fossil fuel racket. Now you understand why he's so hostile to any and all environmental regulations: They put a dent in his backers' bottom lines, and that's all Greg really gives a shit about. After major metropolitan areas of Texas went three days without power during the polar-vortex deep freeze last winter, Abbott blamed wind and solar power failures for the disaster. But those renewable sources account for only 10% of the energy production in Texas during the winter months; it was natural gas freezing in the pipelines and unwinterized fossil fuel power plants responsible for the lion's share of the grid shutdowns. But Governor Gasoline couldn't utter a word about that.