Politics
Asshole of the Month: Brit Hume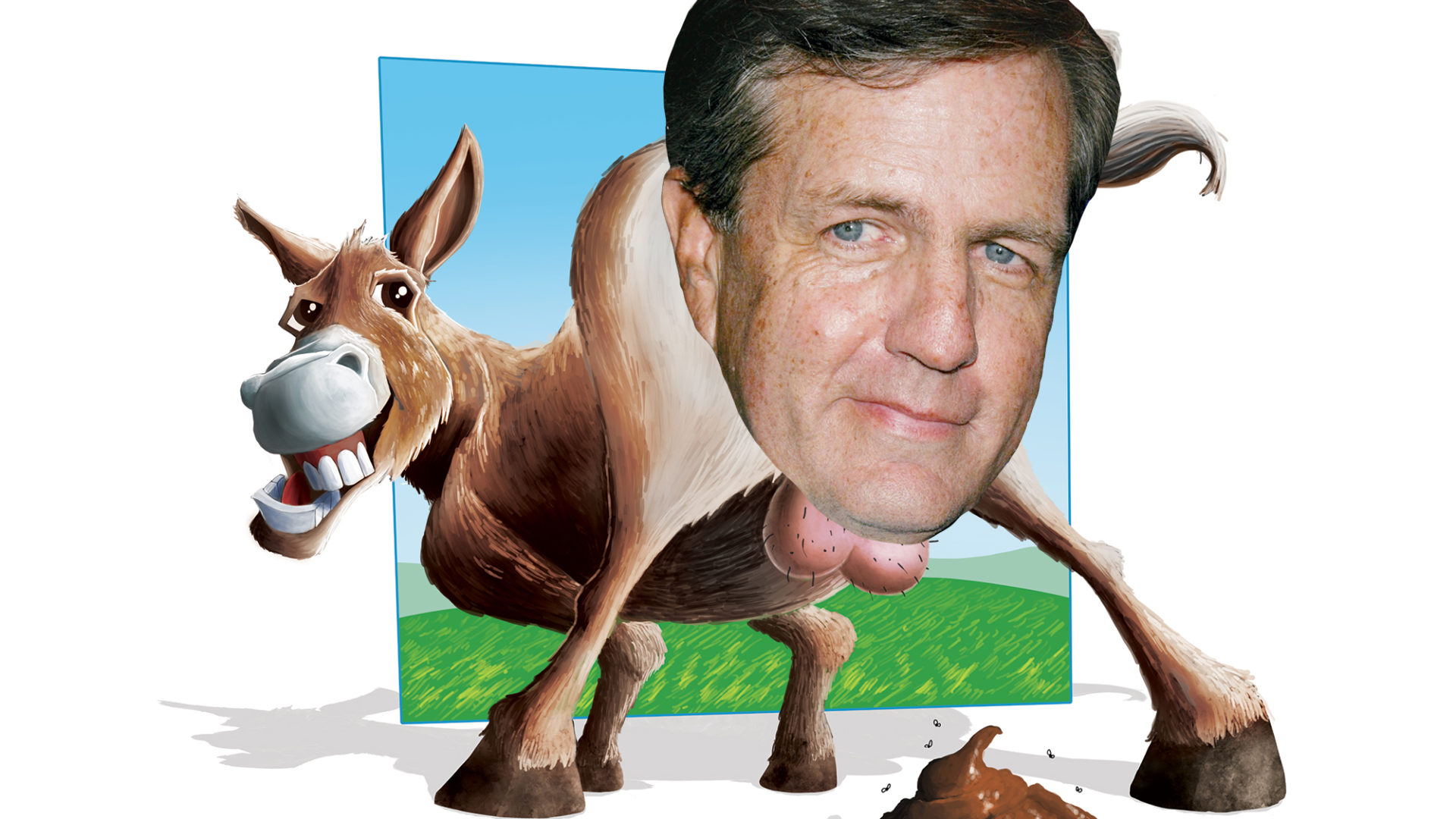 Fox News, the Animal House of American journalism, ends up corrupting every soul who works there. Geraldo Rivera and Bill O'Reilly, in their younger, long-hair days, were good investigative journalists without a political ax to grind. They were honestly "fair and balanced," breaking many important stories and scandals. Then Roger Ailes showered them with huge salaries to become sycophantic talking heads for his new propaganda network. The sky's the limit, boys! There's oil in bamboozling the booboisie, and we're going to drill it!
Brit Hume jumped ship as well. He had been a decent journalist at ABC News before morphing into a right-wing ideologue and Republican Party booster at Fox. In an interview with his good buddy never-met-a-war-I-didn't-love Bill Kristol, Brit confessed that when Fox News was launched in 1996, CNN was number-one in the ratings. Coming in last, as an unknown rookie, Fox only hoped to survive in third or fourth place. Then 9/11 changed everything.
Brit recalls, "Much of the media was consumed with this hand-wringing about 'Why do they hate us, and what have we done wrong, and why has American foreign policy led us to this pass where we're under a terrorist attack'…. We started putting a little American flag—I put a little American flag in my lapel every night…. It was like picking up money off the street. I mean, much of the coverage was so noxious to so many people that we really picked audience. And when the dust settled after 9/11, Fox News Channel was number one in the ratings, and it has been there ever since."
No, there would be no questioning about exactly why a hijacker squad mostly from Saudi Arabia, our close Middle East ally, attacked us, or why Islamic jihadists really held a grudge, or why our continental air defenses blew it that day. Pin the flag on, saddle up, and let's roll for 20 years of nonstop warfare! Fox became the megaphone for the military-industrial complex and the oligarchy, while 17 veterans of our torturous wars commit suicide every day. 9/11 rescued George W. Bush from failure, it rescued Fox from the gutter, and it turned Brit Hume into a rich right-wing hero.