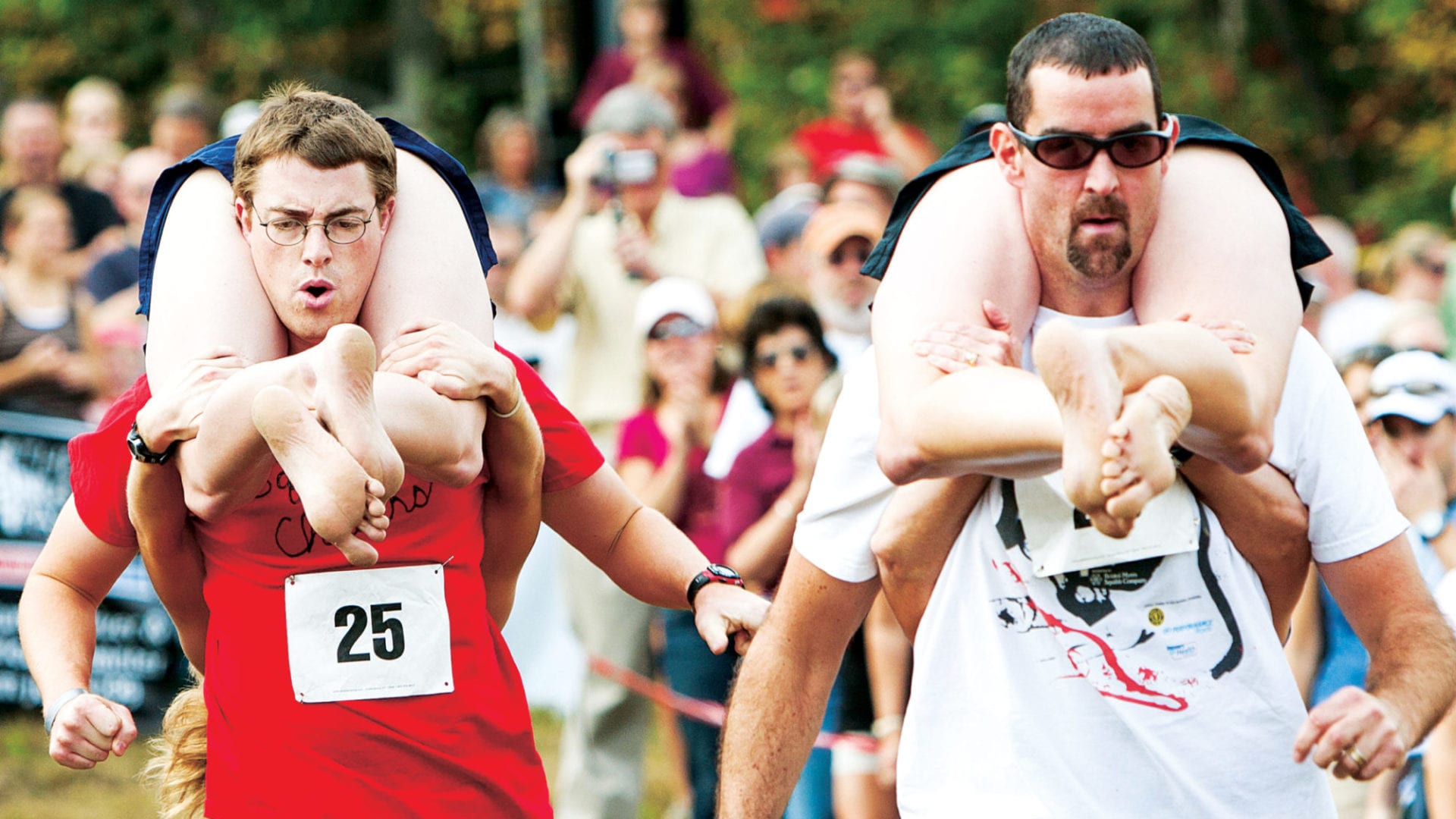 Welcome to the only sporting event that really matters—not even the Super Bowl comes close to capturing the majesty, grandeur and glory of the North American Wife Carrying Championship. Gentlemen, lift your spouses, and take your marks!
The 20th edition of this illustrious competition kicks off October 12, and it's every bit as ludicrous and epic as it sounds. The tradition of wife carrying is steeped in history and Norse mythology, dating back to 19th century Finnish legend Ronkainen the Robber, who maintained the highest of standards for men he let into his nefarious band of scoundrels. To prove their mettle, contenders would have to negotiate a difficult obstacle course carrying a heavy sack. In the absence of a sack, a woman from a neighboring village was considered a viable substitute.
The first modern incarnation of this now friendly and consensual event was held in Finland in 1991, with foreign participants finally being admitted in 1995. Qualifying events are also held in Australia, Sweden and Estonia, which baffles the mind because it means that there are so many people wanting to compete that it requires a process to narrow down the field. 2018 North American event champs Jesse Wall and Christine Arsenault (combined age of 80-plus years, combined weight of 350-plus pounds) are the team to beat this year, but they've got their work cut out for them. How it works: The course is 278 yards (as per international standards), with two dry obstacles and one water obstacle. No weight limits on your wife, and the winner is determined by a head-to-head race and not overall time. The terrain is wildly uneven, and racers must negotiate log hurdles, sand traps and the soul-reckoning widow-maker water hazard.